The Tea Party Hosted By Carol Markel and Debra Rapoport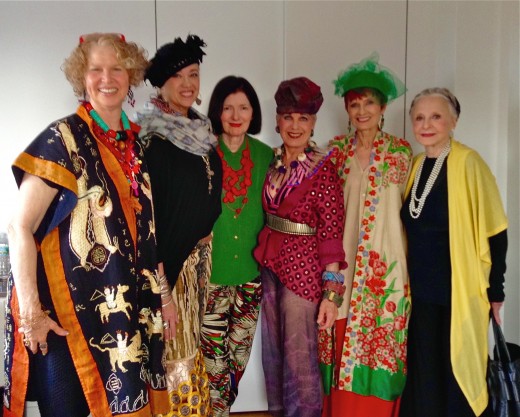 One of the highlights of my NYC adventure was the tea party hosted by artist and milliner Carol Markel of Femme Et Fleur HERE and artist and hat maker Debra Rapoport of Better With Age, Better With Syle HERE at the home of Carol and her husband, artist Richard Cramer.  The tea was in honor of Jean Barrett of Dross Into Gold HERE and moi.
It was a delightful gathering of creatives and this post will focus on the wonderful and kind people who gathered for an afternoon (and into the evening) of frivolity.  Other bloggers present at the tea have included images of the table covered with delicious treats and Carol and Richard's artful home.  Please check out the links throughout my post!
The group above includes several of the attendees; from left to right: Marsha Carlin, Jean, Carol, Debra, myself and the elegant Joyce Carpati, a regular on Advanced Style HERE.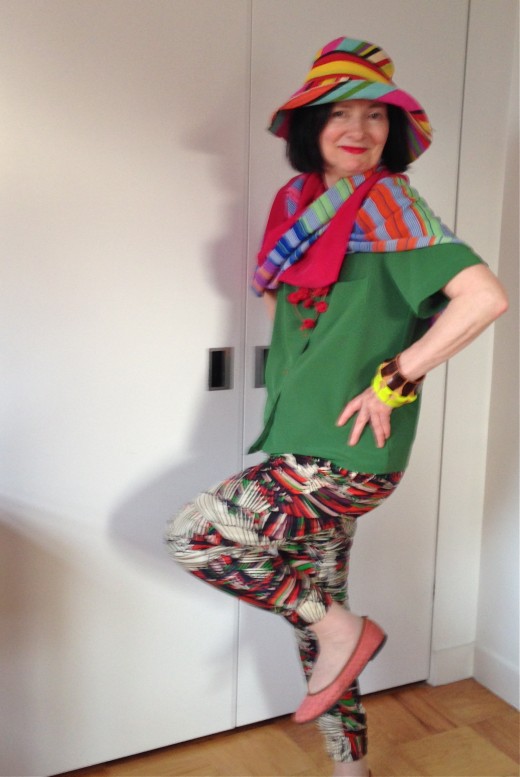 Carol was dressed in her party finery, including a hat from Paris that was pulled from the top shelf of a closet in the middle of the party. Now you know that we were partaking of something other than tea!  She is also wearing the infinity scarf gifted by Jean. I love her mix of colors and her playfulness.  Carol blogged about the tea party HERE.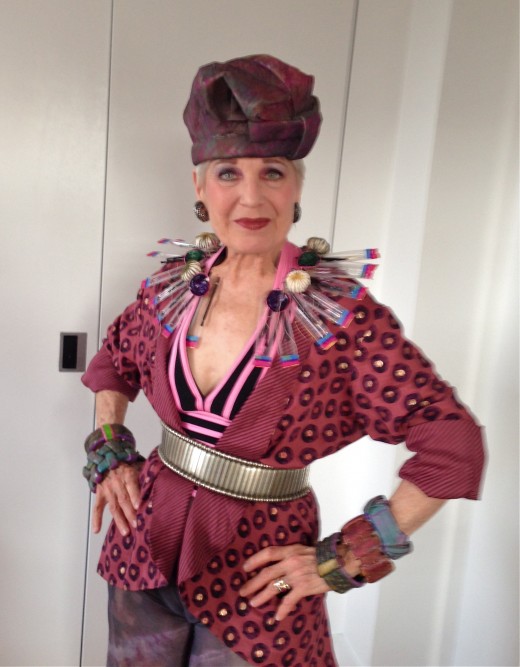 Debra was a vision in her outfit, which was handmade, gifted and thrifted. Her hat was made with papertowels and her neckpiece was handcrafted on the very day of the party.  Now that's talent in all of its glorious spontaneity!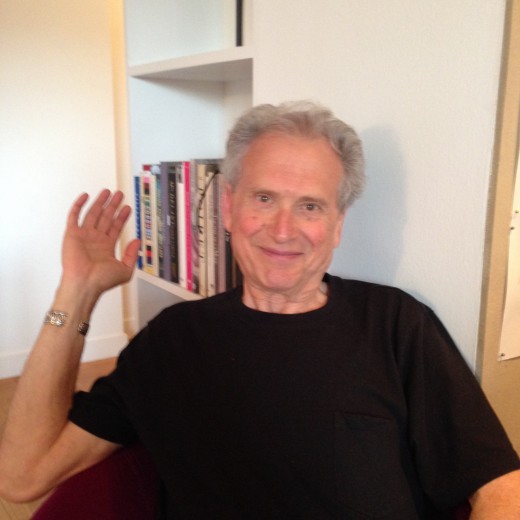 Mr J had a fabulous time at the tea, as evidenced by his warm smile and mischievous expression.  He is the perfect travel companion and I'm grateful to have him in my life.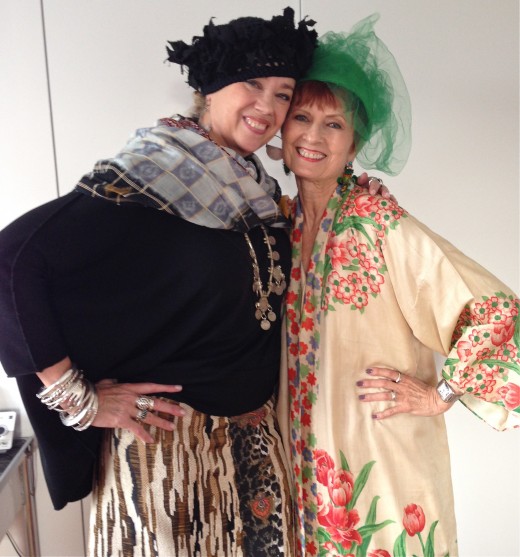 It was wonderful to see the warm and talented Jean Barrett of Dross Into Gold.  Jean was the first blogger that I met after launching Style Crone and is always glamorous in her beautifully upcycled ensembles. Everything she wears is handmade or thrifted, and her hat is truly a work of art. Jean blogged about the party HERE.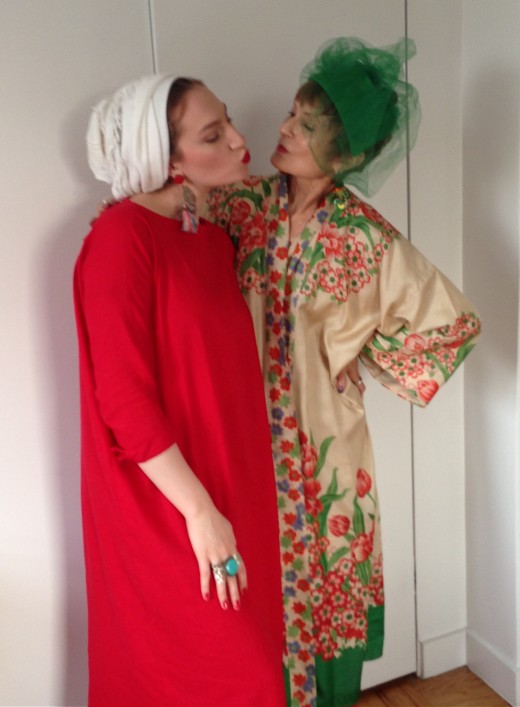 It was a delight to meet the gorgeous artist and talented photographer Feda Eid of The Electic Photographer HERE, after following her incredible blog and Instagram posts.  Her red dress and earrings were handmade and she blogged about the party HERE, including photos of the amazing food and festive surroundings.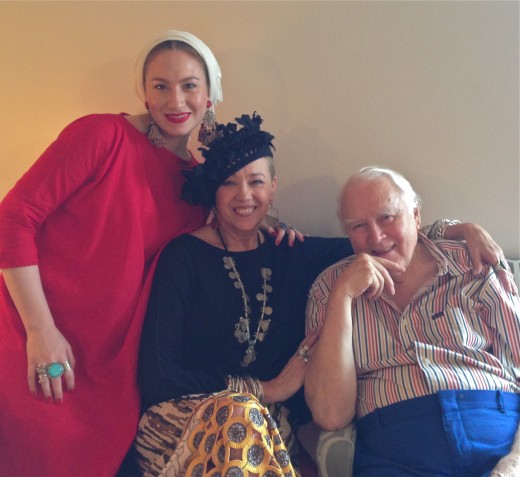 Feda, Jean and Richard shine together in this photo.  Richard is an accomplished artist and art teacher, and shared some of his remarkable stories during the afternoon.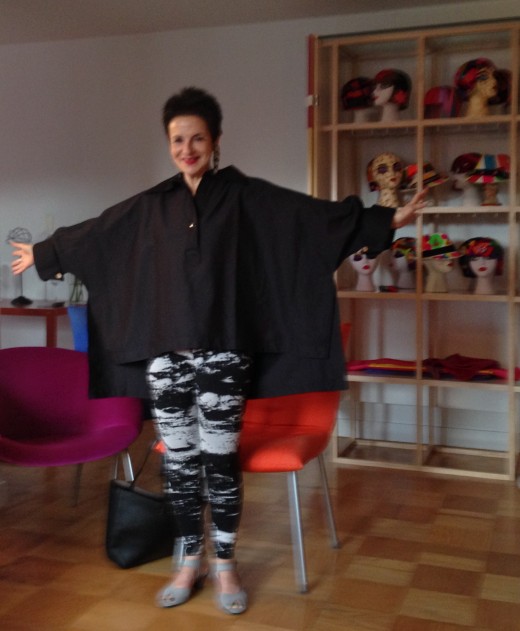 Jewelry designer Diana Gabriel models the stunning jacket that she discovered at Off Broadway Boutique HERE.  I love everything about this look, from her edgy haircut to the shoes on her feet.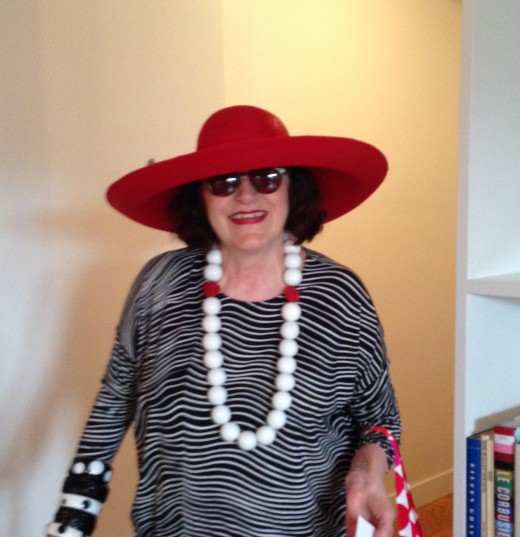 Artist Elke Kuhn made a grand entrance in her red large brimmed Patricia Underwood hat, accessorized by bracelets and beads.  She really knows how to put together black and white, topped off with the perfect amount of red.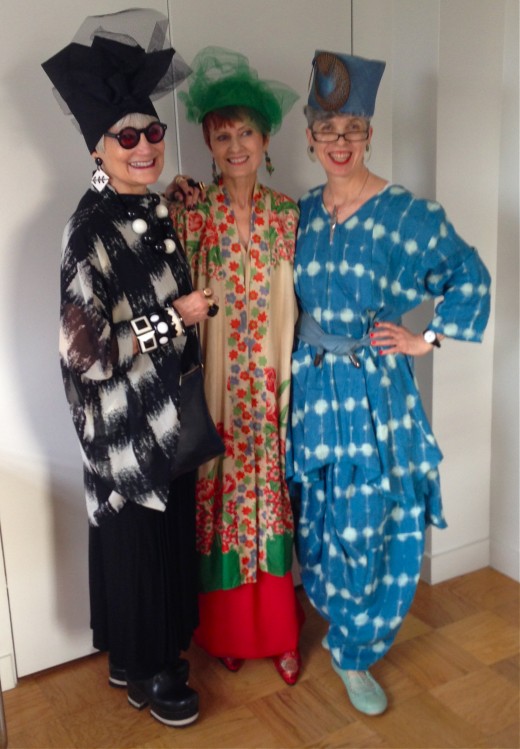 Jean, on the left, and Valerie, on the right, of the Idiosyncratic Fashionistas HERE, add fun, style, magnificent hats and humor to any event that they attend.  No exception here! I loved standing "tulle to tulle" with Jean and her hat by Amy Downs HERE. "Tulle to feather" next to Valerie was quite the treat too!  Read their post about the tea party HERE.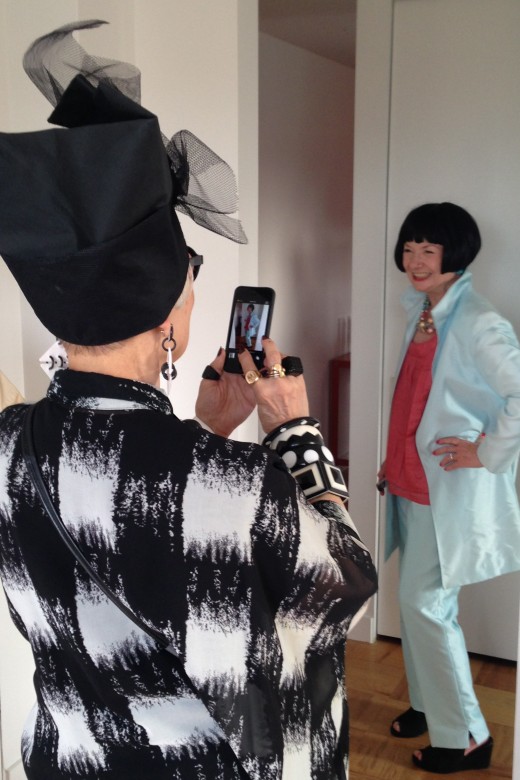 Jean, one of the Ifs, snaps a shot of the fabulous Nonnie Balcer, who wore a lovely pale blue suit and black wig for the event.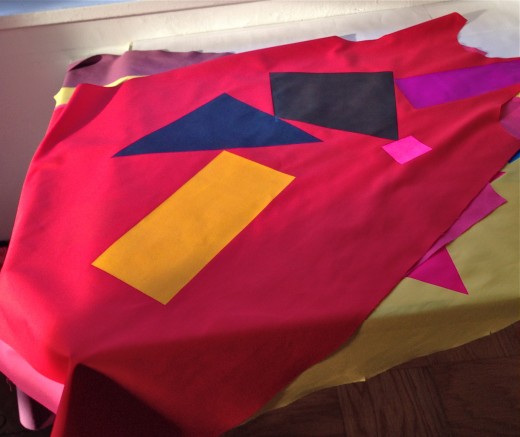 There was art of many types at the tea party.  Outfits, hats, jewelry, scarves and the treasured art of connection. The dresses in the above photo are designed and created by Carol Markel. I know this post is about people, but I couldn't resist including an image of the brilliant colors and geometric shapes that popped before my eyes.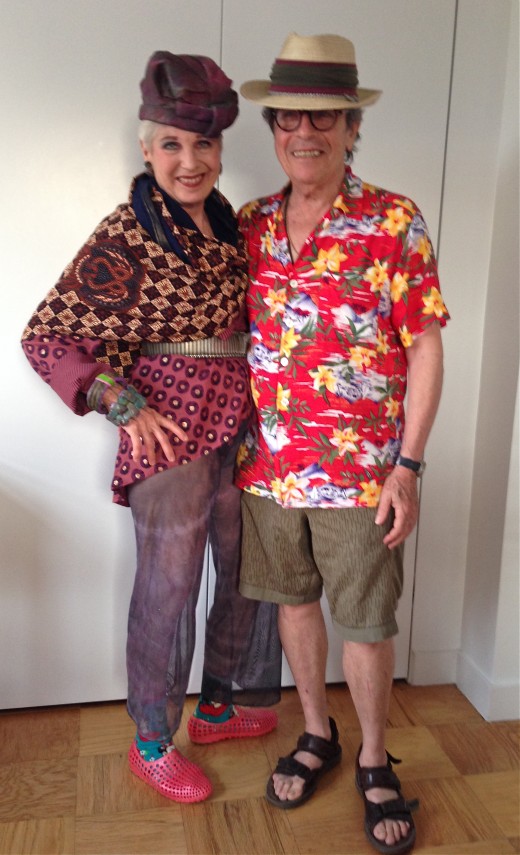 Debra and her partner, singer and songwriter Stan Satlin, are always a visual wonder.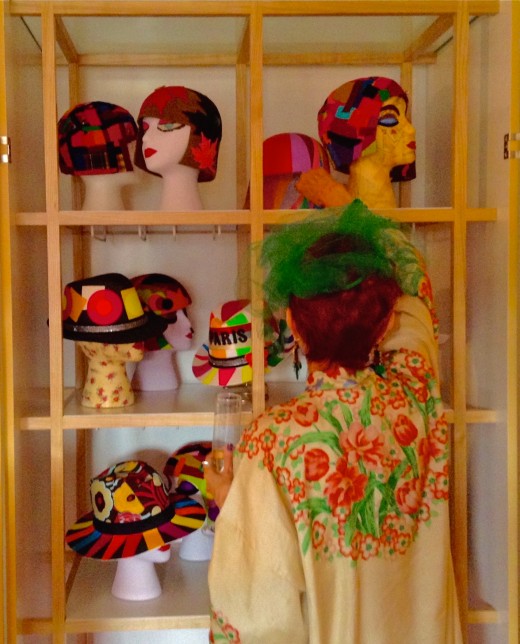 Shopping for a hat in Carol's "Hat Shop In A Box" was a thrill!  I purchased one of these beauties, and it will be featured as July's Hat Attack!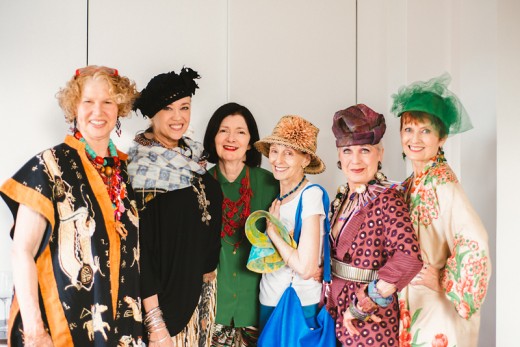 I'm finishing just as I started, with another group photo.  It includes the image of Carola Vecchio,  third from the right, who is not only wearing a hat, but holding another in her hand.  I love it when someone brings two hats to a party.  Many thanks to Carol and Debra for an afternoon to be remembered always!
I began my NYC adventure at the Frida Kahlo Exhibit with the Idiosyncratic Fashionistas HERE, in my vintage floral kimono with vintage man's shirt, vintage red chiffon skirt and red embroidered shoes. I wore this composition again to the tea party.  The only new addition was the vintage green headpiece with attached green tulle, which can be playfully thrown around in any direction at a moment's notice.
Wearing the same outfit twice was a packing strategy, and it was also the first time that I wore the kimono.  It's been in my closet forever, and was waiting for the perfect opportunity to flaunt its florals at two extraordinary events in NYC.  This gives credence to the concept that if a piece can be worn once every 20 years, it's a keeper!