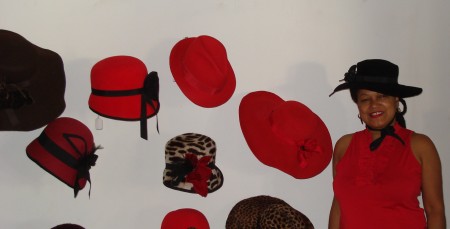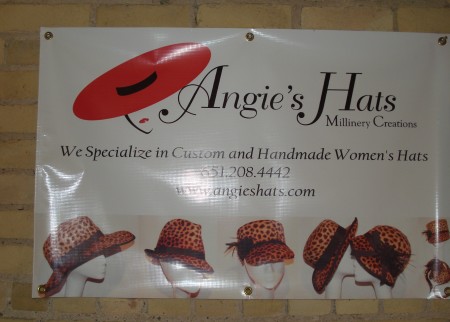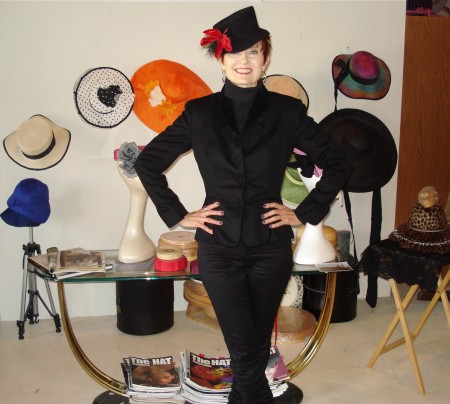 The SC began her 'See the World by Hat Shop and Milliner' series in Saint Paul, Minnesota with Angie Sandifer, who specializes in custom and handmade women's hats.  She inhabits a live/work space in the Northern Warehouse Artist Co-op in Lowertown Saint Paul.  She has a fascinating story!  Angie tells me that in 2003 she was laid off  from her corporate job in the telecommunications industry where she had worked for 31 years.  In the process of retraining she took a desktop communications class and for her class project she built a website for 'Angie's Hats.' This concept then took on a life of its own.  She decided to learn the art of hat making and took private lessons from a master milliner in North Carolina. She started her millinery business in 2006.  Angie believes that it's therapeutic to do what you love and truly enjoys creating a hat for a customer who is then thrilled and excited with her work of art.   'Hats are very personal and provide style, sophistication and elegance,' Angie states with enthusiasm.  Check out Angie's website HERE and to read more about her story CLICK HERE.  She sells her hats by appointment in her studio, at the Artist Mercantile in downtown St. Paul, and in a boutique in New Orleans.
Angie's  studio walls are covered with her creations, all of which are expertly blocked and meticulously handcrafted with distinct quality and workmanship.  A stunning display of hat heaven in the form of cloches, wide brims, fedoras and cocktail hats  After trying on many designs in the fall/winter collection, The SC  fell in love with a small black topper with red velvet flower and black ostrich feather.  This hat will have a noteworthy spot in The SC's hat room!
Spending time with Angie in her millinery studio was magical.  Occupying space with someone who shares my passion for hats is an act of mindfulness; time passes quickly, there is immediate rapport, and hats are the focus of the conversation.  A Millinery Meditation!  It was an honor and pleasure to initiate my new series at Angie's Hats and Millinery Creations.