Syliva Of 40+Style In Denver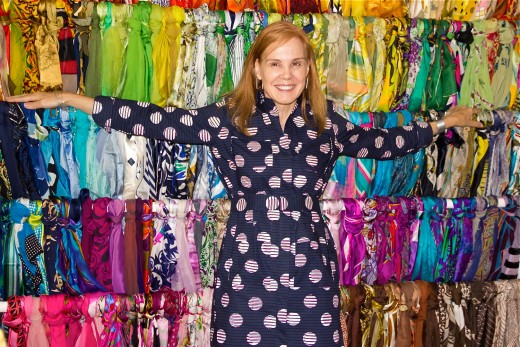 The beautiful and vibrant Sylvia of 40+Style HERE visited Denver in August, and I was fortunate to meet this dynamic and influential blogger and spend an entire day with her.  Though our visit took place two months ago, the importance of her presence in my life has not waned.  A highlight of my summer, the time spent with this accomplished woman resonates as I write this post today.  Sylvia blogged about our meetup on 40+Style HERE and in the photo above, she "owns" the scarf installation in my home.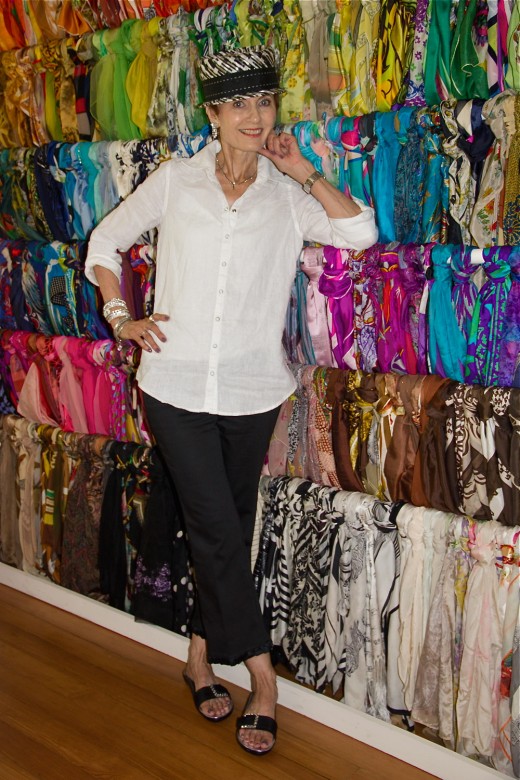 I met Sylvia through blogging shortly after I launched Style Crone, and she has always been extremely supportive and generous over the years.  During the early days of blogging, I remember receiving her email requesting an interview for 40+Style.  It was a time of emotional intensity for me, and it took me forever to complete. Speaking through the lens of grief and unsure of myself and my responses, I wrote and edited until I finally returned my answers to her questions.  Gracious and patient, she offered only encouragement and empathy.
I will never forget this connection so early in my blogging life. To meet Sylvia in person after knowing her "virtually" for years was fun and exhilarating, and I felt instant rapport as soon as we began talking.  Before I knew it she was catching a plane for her adventurous stay in NYC.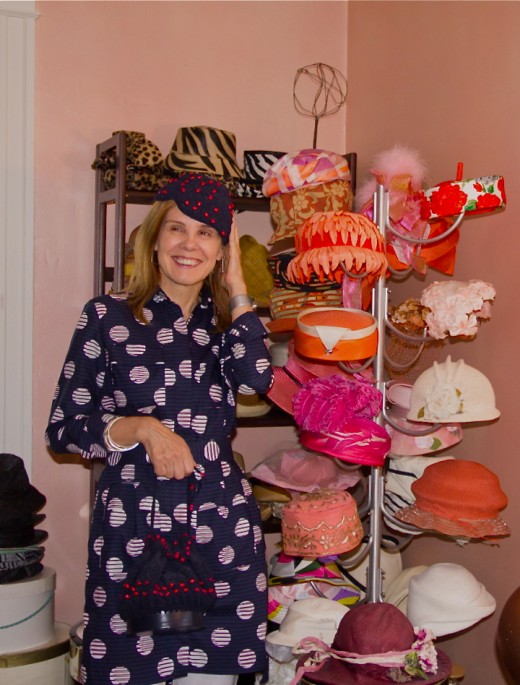 Having followed Sylvia's blog for years, I was aware that she loves to wear white.  In honor of her visit I wore a white linen shirt. Sylvia has inspired me in many ways, and I have experimented with "white" because of her influence.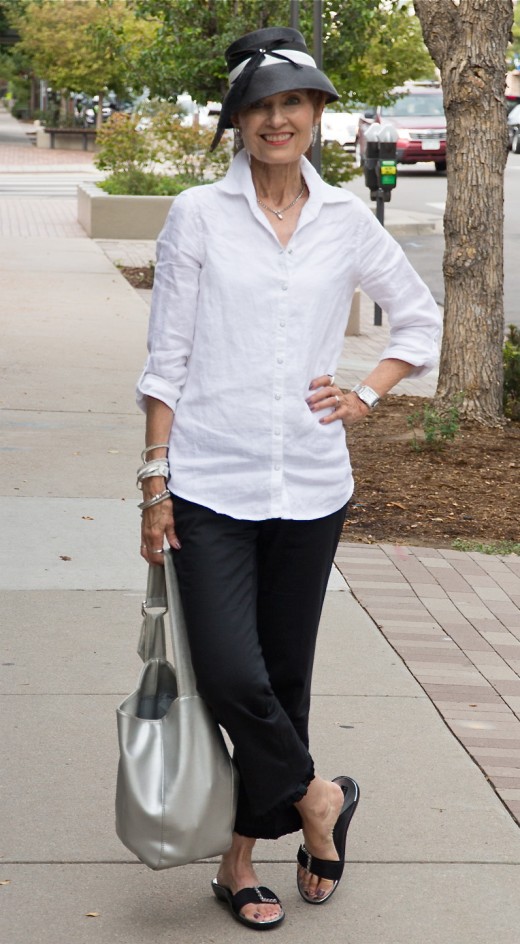 My own experience and the reports from other bloggers along the path of her visit to the states made it clear that Sylvia was sprinkling magical "blogger dust" wherever she landed.  Sylvia is very knowledgeable about blogging and travel, and I felt like a sponge soaking up every piece of information that she so generously shared.  Slowly, I have been working on the suggestions that she spoke of during our conversations.
We hit an estate sale, laughed in the hat room, posed in front of the scarf installation, shopped and stopped for tea, and had dinner at Nocturne HERE, the new jazz club in Denver.  For our evening of live music, Sylvia wore one of the hats from the hat room. which as you can see, accessorized her already stunning ensemble to perfection.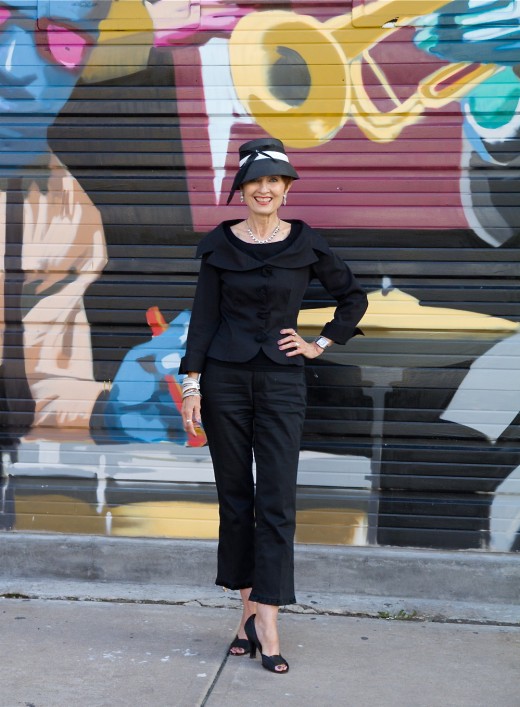 Having lived in numerous countries during her life, Sylvia offered an international perspective that was very stimulating to me. We didn't stop talking from the time that she arrived and the moment that she flew off to NYC on an incredible month's adventure which I intently followed on her blog and on Instagram.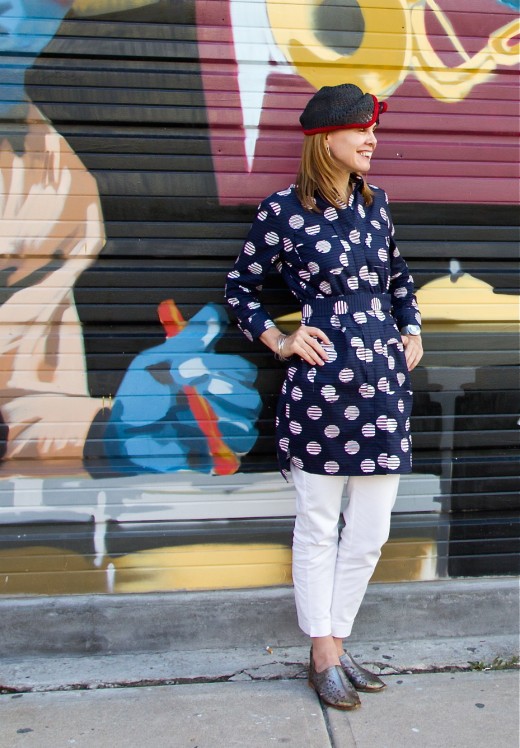 I loved Sylvia's openness, curiosity and global point of view.  I knew she would be interesting, but meeting Sylvia in person exceeded all expectations.
I have found this to be true of every blogger who I've met over the past five and one half years.  Without exception, the people who I have connected with through the wonderful world of blogging have been intelligent, creative, interesting, stylish and accepting.  What an amazing group!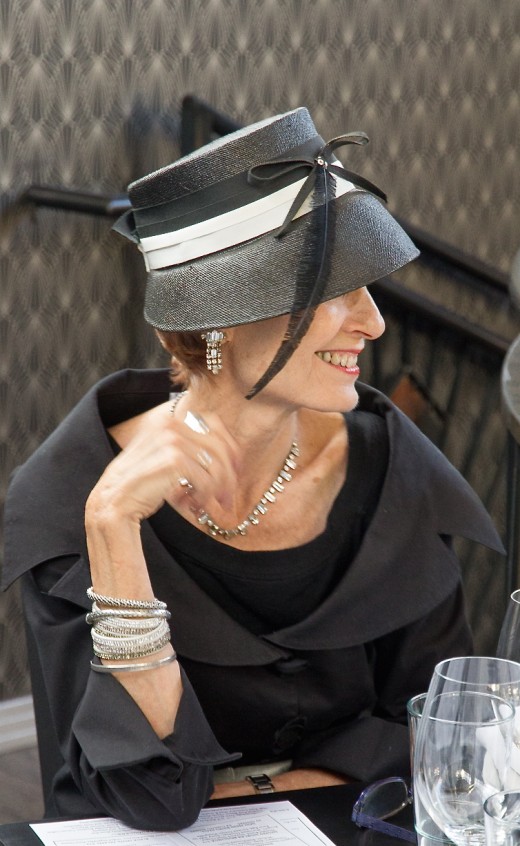 So much happened following Sylvia's visit.  My trip to Minnesota, Susan Wick's art opening, Debra Rapport and her partner Stan's visit, and the preparation for the two events that I hosted with Debra in early October.  I needed focus to write and give Sylvia's time in Denver the energy and attention that it deserved.  Finally I had the opportunity do just that.  Thank you Sylvia, for traveling through Denver on your journey.  I hope I have the pleasure of meeting you again in the future!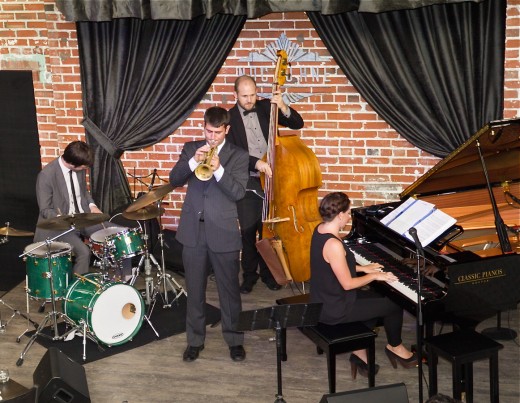 All photos taken by Sylvia or myself with Sylvia's camera.
Linking up with Patti's Visible Monday HERE, Catherines #iwillwearwhatilike HERE, Cherie's Shoe and Tell HERE and Jess's Turning Heads Tuesday HERE.