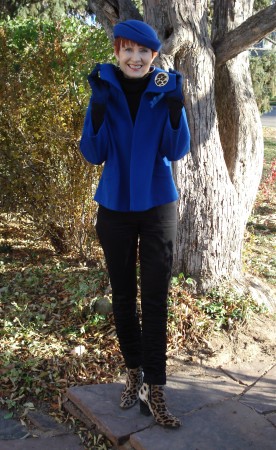 Photo by Daniel N
Saturday at yoga The SC noticed that the woman on the mat in front of her was accompanied by a royal blue towel with leopard trim. Inspiration appears at anytime and anywhere!  I immediately had the desire to repeat this motif with an outfit.  I seem to have blue on the brain, so the idea of pairing leopard with this vibrant color followed me home to my closet.  I brought out the vintage 60's royal blue Einiger wool jacket and the small structured 80's royal blue Importina wool felt hat and accessorized with Donald Pliner consignment store leopard boots.  The quirky 60's leopard pin with gold trim announced itself on my lapel, reflecting the boots and adding a sense of humor to a Monday, a tiny piece of leopard art in a gold frame.  Glove season is here again, and the vintage suede gloves proclaim there can never be too much blue to add to the picture, with a black 'uniform' as background.
Several readers of SC have asked about the 'grounding tools' that I employ to deal with stress.  Heated vinyasa yoga is the main event!  I need the the development of balance, flexibility, and strength to deal with whatever life throws my way.  Many a day I went from 'what to wear to chemo' to 'what to wear to yoga.'  An hour of focusing on the moment, just me and my mat and my inner thoughts, guided by a voice with no judgement, allowing the processing of my experience in a noncompetitive environment. The classes that are held any time of the day, the eclectic choice of music, the variety of teachers, the focus on breath with each pose and the luxurious feeling of lying on my mat in the heat before and after class are what draw me back again and again.  So much about yoga can be applied to life and at any moment a teacher has been known to softly say:
-The pose does not begin until you want to get out of it.
-Turn your eyes inward and gaze upon your heart.
-The transition is as important as the final pose.
-Turn yourself upside down with intention before you begin your day.
-Find peace, even in this pose.
-Look into your own eyes.
-Open your heart to the morning and breathe.
-Be open to the guidance of synchronicity and do not let expectations hinder your path.