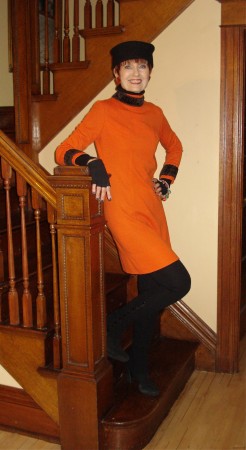 Photos by Daniel N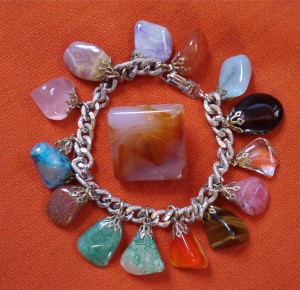 Preparing for Thanksgiving is difficult this year.  Our favorite holiday always, filled with family, friends, food, fun, fashion!  Standing on the staircase in a 60's orange dress with faux persian lamb trim, black wool leggings, vintage handcrafted wool hat, 90's black suede boots, black fingerless wool gloves and vintage jewels, I recall memories of last Thanksgiving with its celebratory yet tentative tone.  It was in the month of November 2010 that it became clear that Nelson's disease had taken a brutal turn in a direction that showed little hope for improvement, and the future was painfully uncertain.  Now it's a question of whether to go up the staircase or down, as many decisions arrive with complexity and ambivalence.
According to Emily Gems HERE , ' Orange is a power color and is one of the healing colors. It also stimulates enthusiasm and creativity. Orange means vitality with endurance.'
I wore the orange dress to the 27th floor of the downtown Hyatt, the Peaks Lounge which overlooks the city, to gain a different perspective.  During the day, from this location, the majestic Rocky Mountains present snow capped beauty and sweeping splendor.  But during the mysterious darkness of the night, the breathtaking view with shimmering lights amidst towering structures as far as the eye can see, reminds The SC that the world is vast, limitless, open and expansive.  A Presecco toast to Nelson, announcing the arrival of the first holiday season in decades without his physical presence.