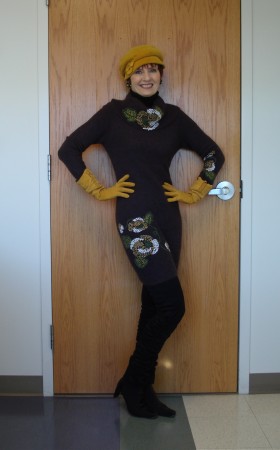 Photo by Nelson
Long dark plum sweater with green/mustard/white floral hand embroidery-NYC flea market, vintage mustard velvet hat and vintage mustard fabric gloves-estate sales, with the foundation of contemporary black boots, pants and turtleneck.
'You present a complicated picture,' are the words from Nelson's oncologist.  The PET scan indicates disease progression, which then involves more decisions.  Nelson's chemo dose will be increased, but not to the full standard dosage because of concerns about his liver numbers.  So poison is the first line of defense, and consultation with specialists and Nelson's wishes will determine the path forward.  The options of cut, burn and poison are included in most cancer treatment protocols. I long for the day when less brutal choices are the reality for the many afflicted with this disease.  I am thankful for treatments which can produce remissions, but the methods can be as influential and painful as the disease. Surely there will be more gentle possibilities in the future.
I have decided to discontinue adding numbers to the 'What to Wear to Chemo' series, as it's misleading and only indicates the number of chemo treatments that Nelson has endured since the launch of Style Crone.  The total number over a six year period is about 75.  Researching the exact number does not deserve focus.  Today is the first time that I heard Nelson say to his physician, 'I'm starting to feel like a sick person.'  With a heavy heart I experienced the moment as if we were watching ourselves in a film and not one for which we had auditioned.
Today in the chemo lounge an entirely new cast is on the set.  A woman with a bright yellow tee and an equally bright yellow textured scarf travels by with her chemo pump, tubes and transparent fluid filled plastic bags.  A  striking  young woman walks by encumbered with similar equipment, with a vibrant long purple, lavender and black striped scarf with fringe.  I am touched by the efforts and remarkable courage of these women; they have added a touch of splendor to the intense experience of this gathered collective.  I am reminded of my yoga teacher's statement, 'Find something that you like about this pose.'  Today The Style Crone finds beauty and inspiration in these women in this moving picture in this much too expansive room.