What to Wear to Chemo #10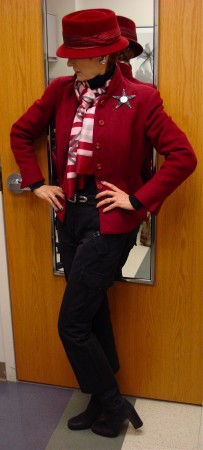 Photo by Nelson
Makins burgundy hat from deep within the hat room inventory,  Michael Kors boots-department store sale several years ago, Marc Jacobs black cropped pants-Buffalo Exchange, vintage burgundy jacket-gifted by a friend who found this beauty at an Amsterdam flea market in the '70's, multicolored silk scarf, belt and star pin-estate sales.
From "Sparkle-A-Plenty" to "Zone Chemo",  life turns on a dime.  The news is not good today with significant lab value indicators flying up with abandon, leaving us shaken in response.  Time slows down and a surreal quality fills the air.  The "fight or flight response"  has been activated and I find myself having visions of Nelson and The SC  bursting forth from this reality and into the kinder/gentler space of the life that we had before health care dominated so many corners of our existence. Sometimes it takes an act of defiance and dedication to our quality of life to crowd out the endless intrusions that a chronic disease brings to bear.  I am also aware that we have many comrades in the midst of medical trauma and my heart goes out to all in the human collective who share a similar journey, many more difficult than ours.
Hats have many functions, and the brim on The Style Crone's Makins fedora serves her well today as it comforts and protects her as if it were body armor.  The SC's hat shop in the '80's featured Makins Hats, so this fedora feels like a friend, providing a sense of safety from the storm.  Perhaps yesterday's first snow of the season had prophetic significance?
The shared decision is for Nelson to have another CT scan and an additional procedure to investigate the source of the abnormal trends.  How he tolerates this level of stress with such dignity and strength I will never know.  My position is difficult enough, but he is the one who experiences the brunt of this disease directly.  He wears a hat with a brim today too!