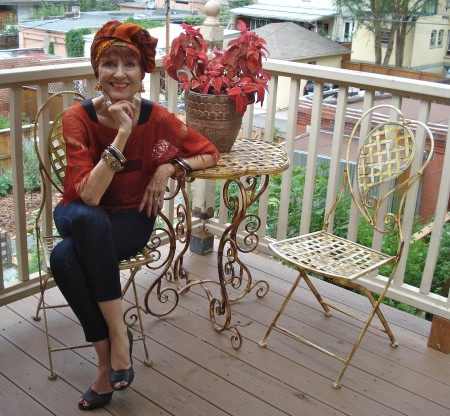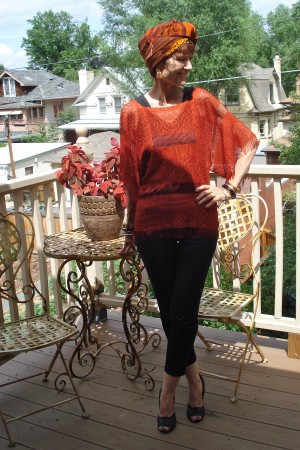 The vintage scarf with double-faced fabric was perfect for a headwrap with just the right texture, shape retention and flexibility without stiffness to tie once and tuck within its own folds.  I enjoy the process of wrapping and how the end result changes every time, and presents a unique perspective at every angle.  This scarf provides multiple possibilities, with only creativity as the guide for the 'wrap of the moment.'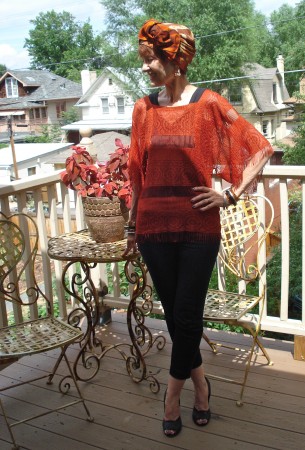 Photos by Camille
Vintage double-faced scarf for headwrap – gifted,  70's estate sale rust fringed semi-sheer top over black tank top,  cropped skinny jeans – Buffalo Exchange, vintage Troylings peep toe heels and vintage earrings and bangles – estate sales.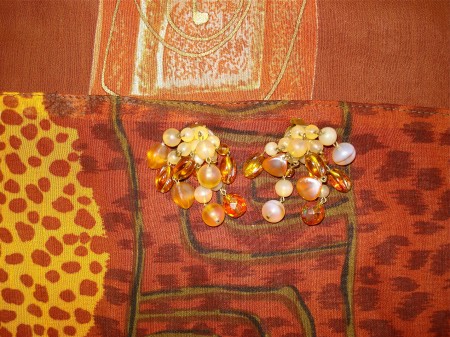 Close-up of outer face of scarf and earrings.
The SC has been avoiding estate sales as much as possible for over two years.  My intention is to cycle out instead of in.  However, I turn automatically and involuntarily, analogous to breathing, if a sign with the words 'estate sale' appears before me on a street as I drive by.  This was my experience last weekend, and I was rewarded with this antique distressed table and chairs (pot with plant included ) which fit to perfection on the small porch upstairs off of what has now been declared my bedroom.  It's a small outdoor living space which I refer to as the veranda, which provides a view of my neighbor's urban vegetable garden below and the upper levels of the many Denver squares in my neighborhood.
I've been going to estate sales since the 70's and most of my inventory comes from discoveries at these 'in home markets' held across the city, usually on weekends.  It's a great way to explore diverse neighborhoods and the people watching is superb.  It's a bit of a subculture including the small businesses that run the sales, regular customers and the collective thrill of the hunt.  Years ago I went every weekend with my friend who was looking for sheet music.  I would run to the bedrooms for the clothes and he would head for the basement in search of the prize of the day.  However, over the past few years I am a sporadic thrill seeker, but my heart still beats fast when I find a sale that has a few fascinating items which make me stop in my tracks with awe.  It's that feeling of surprise and the discovery of treasures that keeps me coming back for more, even if it's only a few times a year.