'Camping It Up' In The Garden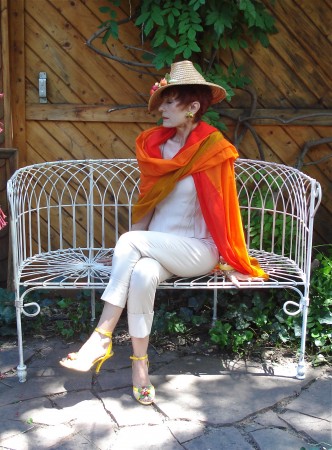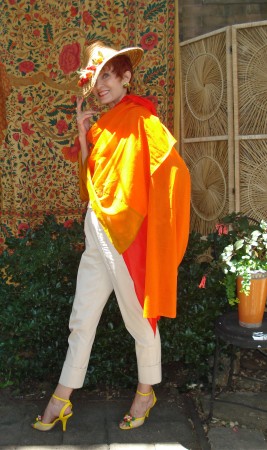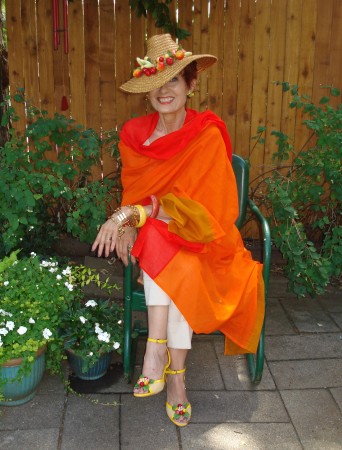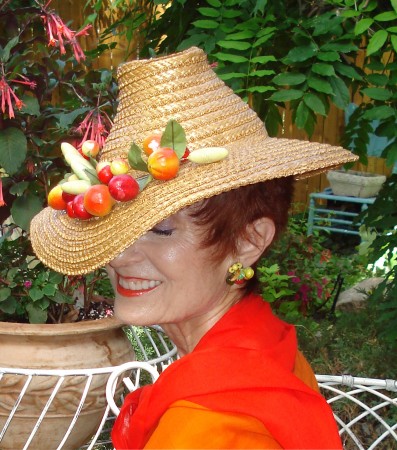 Photos by Diana
Vintage straw sun hat with fruit trim – gifted,  cotton multicolored orange scarf – NYC street vendor, neutral cotton cropped pants and tank top – consignment shops, vintage fruit earrings and multiple bangles – estate sales, heeled sandals with fruit trim – summer retail sale years ago.
The SC might as well consider orange a neutral, similar to leopard print.  I love to coordinate small and large amounts of this vibrant and powerful color.  In this instance a large cotton and verging on sheer scarf has the ability to function in multiple ways.  It can be transformed into a dress with the addition of a belt, a skirt, a scarf, a headwrap.  I could have spent the entire day playing with endless variations, but I do have a house to organize and a garden to tame.
Coming up with fruit trimmed accessories was not a challenge.  There's more where that came from!
I cannot avoid speaking of the horrifying mass killing that occurred in Aurora, a suburb to the east of Denver. This massacre has dominated my thoughts over this past weekend and has flooded the news and conversations between friends and everyone I came in contact with over the past few days. Another incidence of the public health problem that persists as gun violence, bringing back memories of the Columbine shootings that took place in another Denver suburb over a decade ago.  Creating peace within is a first step, but focusing my energy on the facilitation of change feels imperative at this life stage. How can we let stand the murder of children (or people of any age) in schools and a movie theatre?  Or in any community on the face of the earth, for that matter.
Once again, there's an outfit for every endeavor!
Linking once again to the brilliant Patti's Visible Monday HERE.