The March Of Time Across My Face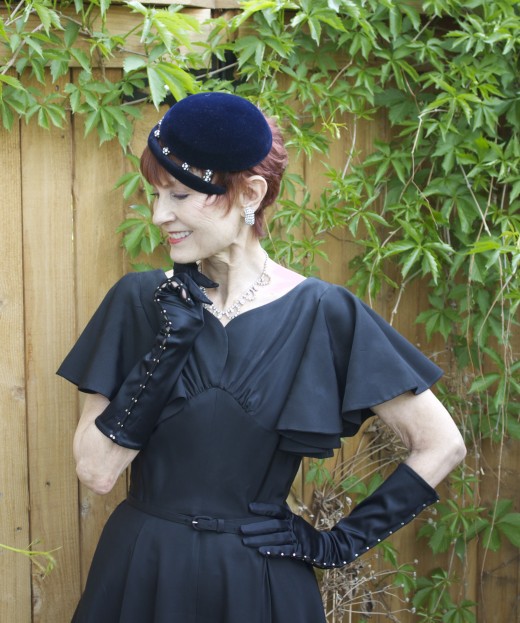 I have been blogging for almost four years, and over this period of time I have watched myself travel from the age of  67 to 71.  I seldom look back at my posts from the past, but when I do, I notice the changes that happen with growing older.  I post what I perceive to be flattering photos, based on my how I'm feeling at the time and my comfort level.  I don't photoshop my skin; I do use iPhoto edit to crop, brighten and reduce the shadows of an image when necessary.
I have decided not to intervene in the aging process with cosmetic surgery or fillers. It's a personal choice, and I don't judge those who decide differently.  Feelings of judgement cause stress, which is hard on the skin and hair.
What's up with all of this self disclosure?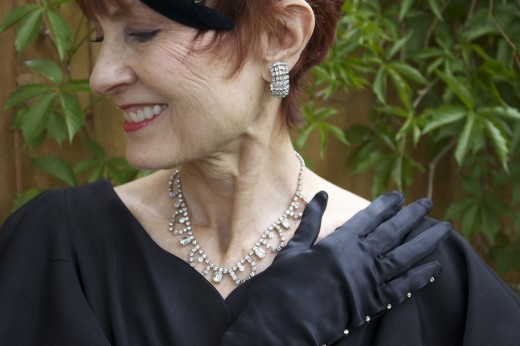 During our last photoshoot, Daniel spontaneously took a few close-ups, which had me thinking about why I feel uncomfortable publishing an image that tells the story of the march of time across my face.  The lines and skin changes caused by aging that appear in different places when I smile or don't smile.
If I am to mirror the tree that appears beautiful no matter its length of life, am I contributing to the denial of my age by feeling comfortable only with photos that portray my skin from a distance?  Close-ups make me feel vulnerable, exposed, unmasked, transparent.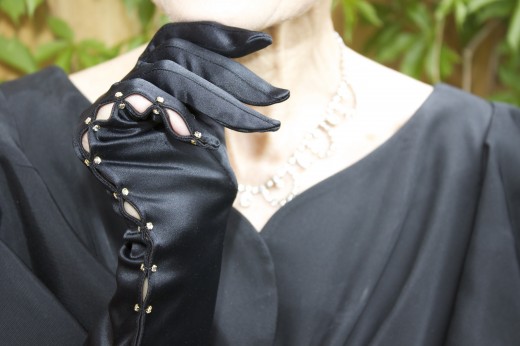 If I am to consciously love myself as a crone, why not let the camera tell the truth? The bark of an older tree appears different from the surface of a sapling.  A sapling I am not!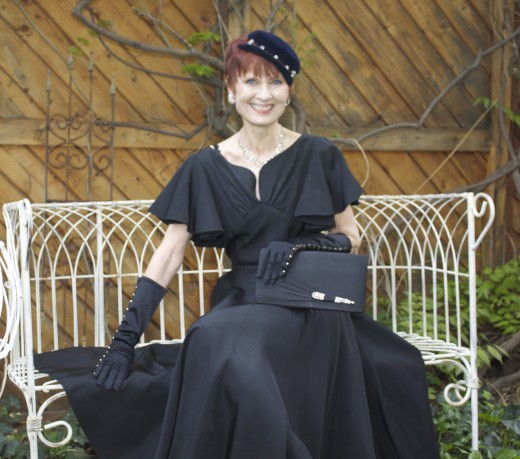 My inner ageist dislikes the skin changes that appear with aging.  My inner activist loves them.  After all, I'm alive, and that is a privilege.  All I have to do is count the number of loved ones who have disappeared from the orbit that is my life.  The number is increasing and I don't expect that to change, but rather escalate.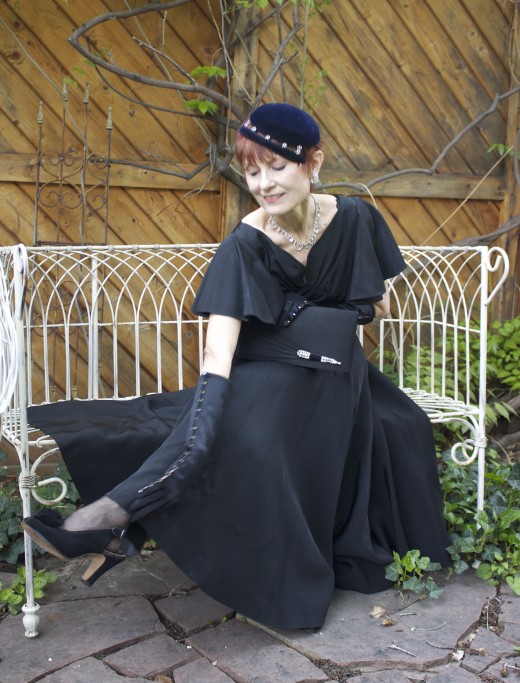 The issue is complex and just telling myself that the changes of aging are beautiful does not make it happen.  My brain makes sure of that!  The beliefs about myself don't magically go away without internal work.  Every day!  Many times I fall short of the expectations I have of myself in this process, as I become aware of the collaborations by numerous inner and outer saboteurs.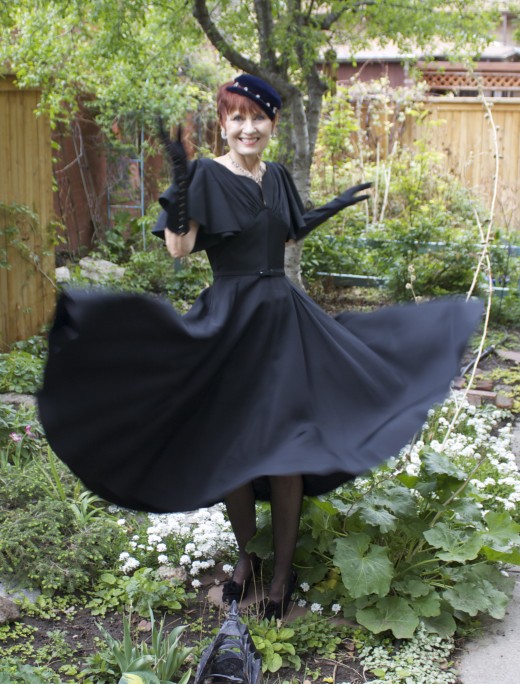 I am committed to the strategies of mastery over self-love and self-worth as much as I'm determined to make this summer the year of the garden.  Why hold back in either area, as they both contribute to my quality of life and the amount of energy, compassion, and love that I have to give.  Consider this image of my back yard to be the "before photo," as I throw caution to the wind.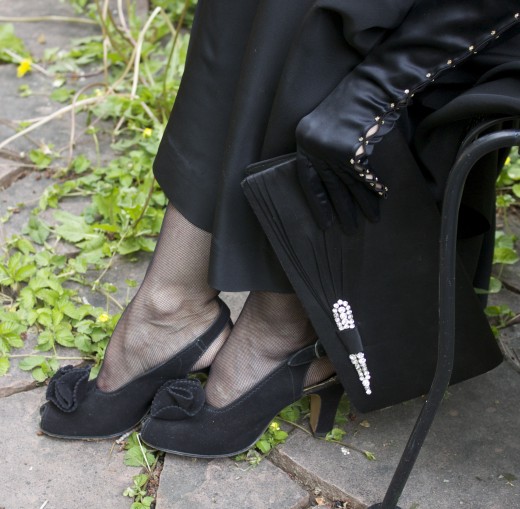 My crone feet are embraced and adorned with vintage black suede peep toe heeled slingbacks that are about the same age as The SC.  Everything that I'm wearing in this post is vintage and was purchased at estate sales over the years.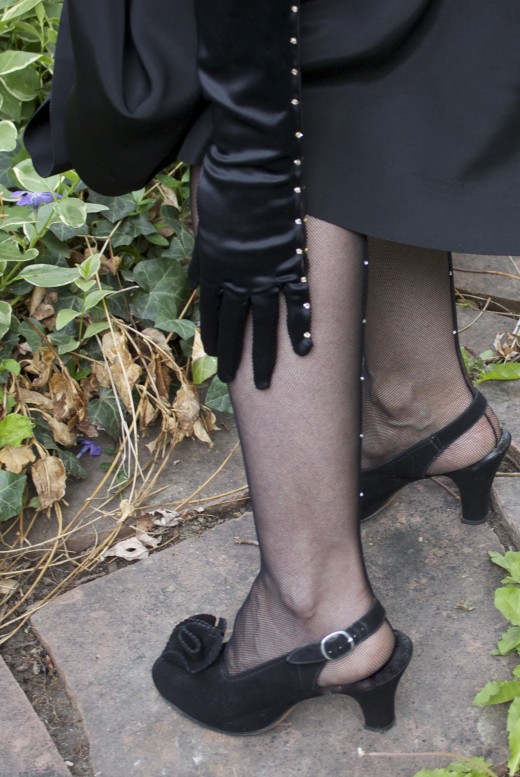 Photos By Daniel
This study in black with rhinestones would not be complete without the intermittent rhinestones on the seams of my hose, repeated by similar embellishment on the outer aspects of my long black gloves.  The smallest detail can make an outfit sing or change the trajectory of a life.
I'm taking my black ensemble with a bit of sparkle over to Patti's Visible Monday HERE at Not Dead Yet Style.  The blogging crowd is of great support, as we play together across the planet.  Thank you Patti, for making this party happen!
On another very important note, Vote For Vix for Vintage Personality 2014 HERE!  The Vintage Vixen is one of the most spectacular bloggers in every way possible and very much deserves this award.
I'm taking my totally vintage ensemble over to the gorgeous Bella's Secondhand First link-up party at The Citizen Rosebud HERE and I'm joining Sacramento's Share-in-Style gathering at Mis Papelicos HERE even though I'm not in red.  I wouldn't want to miss out on the fun!  And I wouldn't miss Sheila's Shoe Shine #2 at Ephemera HERE. My vintage pumps are enjoying her high-spirited party!