Hat Shopping With The Idiosyncratic Fashionistas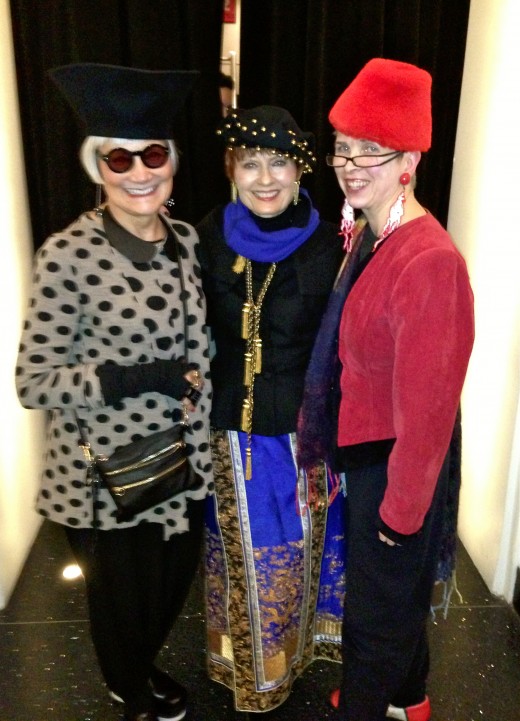 The SC made the decision to spontaneously travel to NYC to finish off 2013 with a spectacular adventure.  A message to myself that life is precious and delicious, and to visit the city of dreams because I longed for its energy, its people and the endless opportunities to delight the senses.
I had the privilege of hat shopping with Jean and Valerie of the Idiosyncratic Fashionistas, who exquisitely blogged about our time together HERE. Their ability to describe experiences has me feeling as though I'm repeating every detail of this event again in real-time.
Who better to hang out with to explore the magical landscape of the NYC hat world? It was a supreme pleasure to walk the streets between two of the 50 most stylish New Yorkers selected by Stylecaster for their 2013 Edition HERE!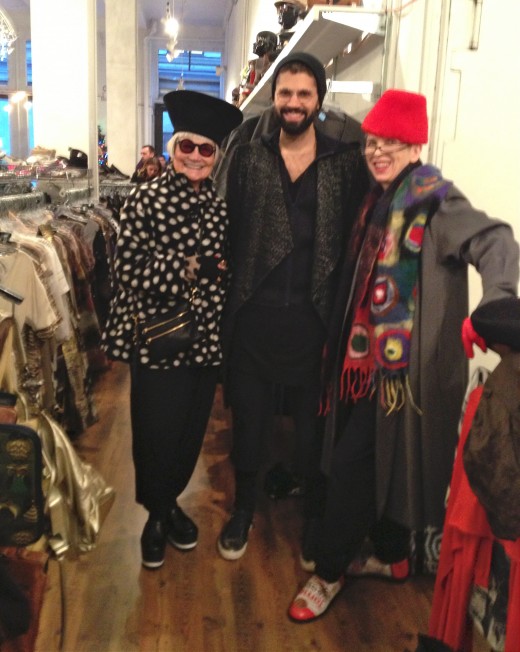 On our first stop Jean discovered a hat which didn't fit her and wasn't Valerie's cup of tea.  But it was my hot cup of coffee, black and steamy, with just the right amount of smooth and creamy almond milk added to make it even more delish.  It's on its way to Denver in a package soon to arrive, along with other beauties that will surely have perches in the hat room.
I was struck, but not surprised, by the gorgeous and friendly people who knew Jean and Valerie, and stopped to chat along the way.  In the photo above, Andrew Medlin, who the IFs met at a recent Issey Miyake party, stands between Jean and Valerie, wearing a fabulous ensemble.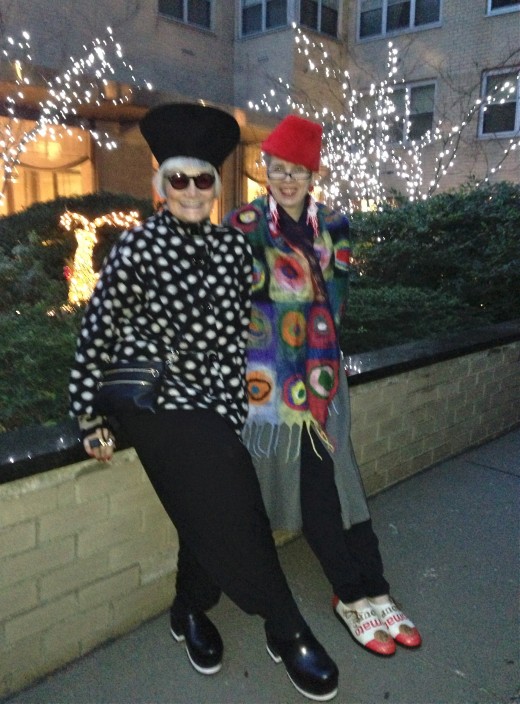 We stopped for a photo opportunity as we made our way to yet another hat haven.  I love the combination of Jean's black and white ensemble and Valerie's splashes of color.  Don't the hats and the shoes say it all???  Not to mention the scarf and the jacket!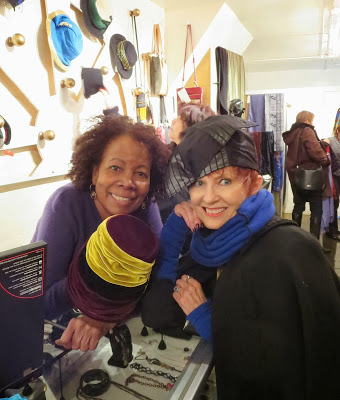 Photo by The Idiosyncratic Fashionistas
Arriving at Gallery Vercon HERE, I was in hat heaven again, inspired and fascinated by the headwear display that greeted our arrival.  Assisted by the beautiful Vashti de Verteuil, the studio's founder and designer extraordinaire HERE, I was able to narrow down choices that flew at me from every direction.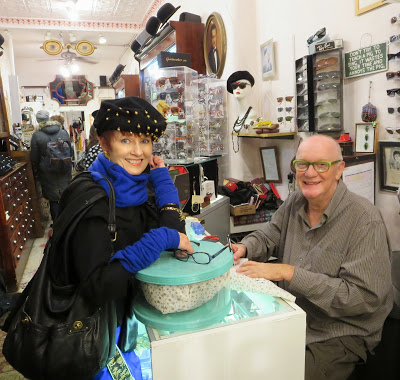 Photo by The Idiosyncratic Fashionistas
Then off to Fabulous Fanny's HERE, where I was mesmerized by more hats on display, which covered an entire wall of this magical shop specializing in vintage glasses, hats and other vintage pieces.  Again, the difficult process of elimination came into play! I was greeted with warmth and generosity by the folks at Fabulous Fanny's, who gifted The SC with a vintage vinyl hat box to carry my treasures in style.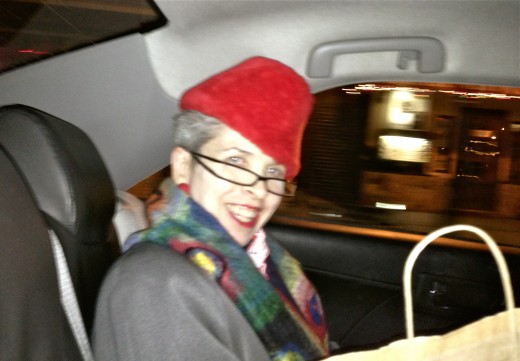 And then there was the cab ride to Joe's Pub for a bite to eat and the new Sandra Bernhard show, Sandyland. Sitting next to Valerie's smiling face surrounded by a bag of hats and other treasures was the perfect end to the afternoon's hat escapade.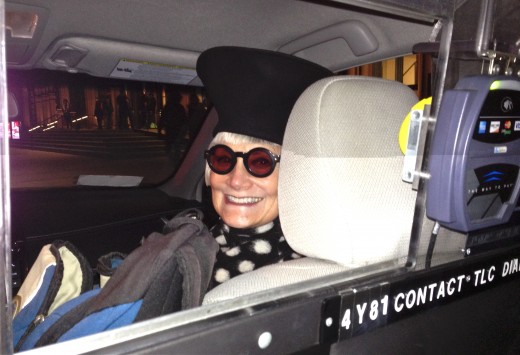 Jean's beaming smile from the front seat indicated that the evening was about to begin and that our destination would be as entertaining as the afternoon that flew by as though it were only a few minutes.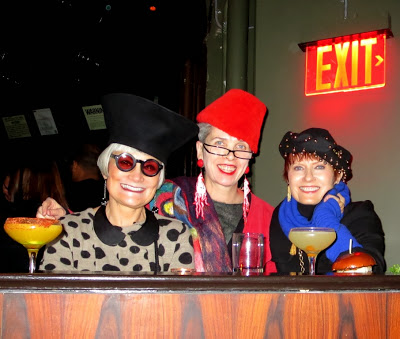 Photo from the blog, The Idiosyncratic Fashionistas HERE.
Time for cocktails and more laughs, sharing life stories and reminiscing about the frivolity of the day.  I chose my cocktail based on its name, which I can't remember, but which was similar to the name of the designer of one of my newly purchased hats. I was not disappointed!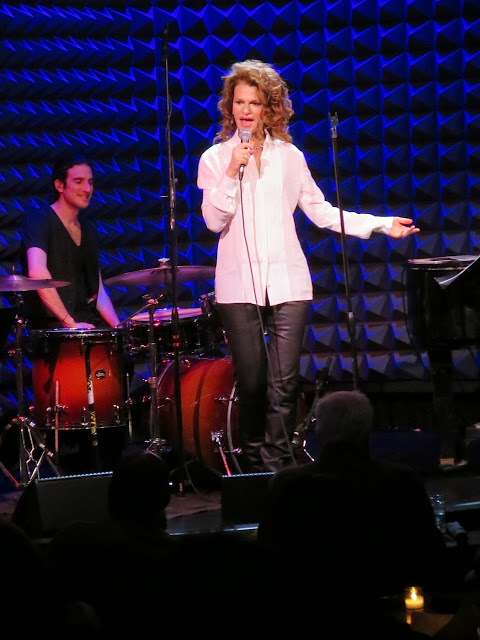 This photo was posted by the IFs, which depicts Sandra Bernhard, the star of the show, in all of her comedic glory.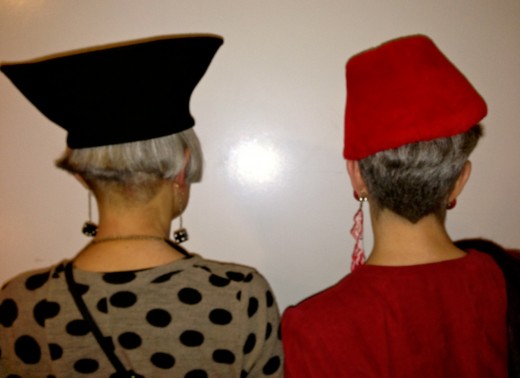 As we came to the end of the evening, I followed the Ifs to the "coat/packages filled with hats" check area. I was fascinated by the sculptural visual of hats, hair, and earrings.  The shapes, the textures, the art, and the beauty of it all inspired this photo.
Thank you Jean and Valerie, for a day that I will always remember, for your knowledge and love of NYC and headwear, for your ability to laugh and enjoy the moment, and for your generous gift of time.
Wearing: vintage black jacket, antique Chinese blue/gold wedding skirt, gold ear and neck bling, 1920's black cape, and felt hat with gold dangling beads – estate sales, tall black boots – retail sale, blue cowl and armlets – gifted by Jean of Dross Into Gold HERE.  Thank you Jean, for the New Year's Eve mention!
HAT ATTACK remains open for participation until 12 midnight tomorrow, Tuesday, January 7th HERE.  It's not to late to give The Style Crone a New Year's hat attack!