Hat Attack #66 – East Village Hats NYC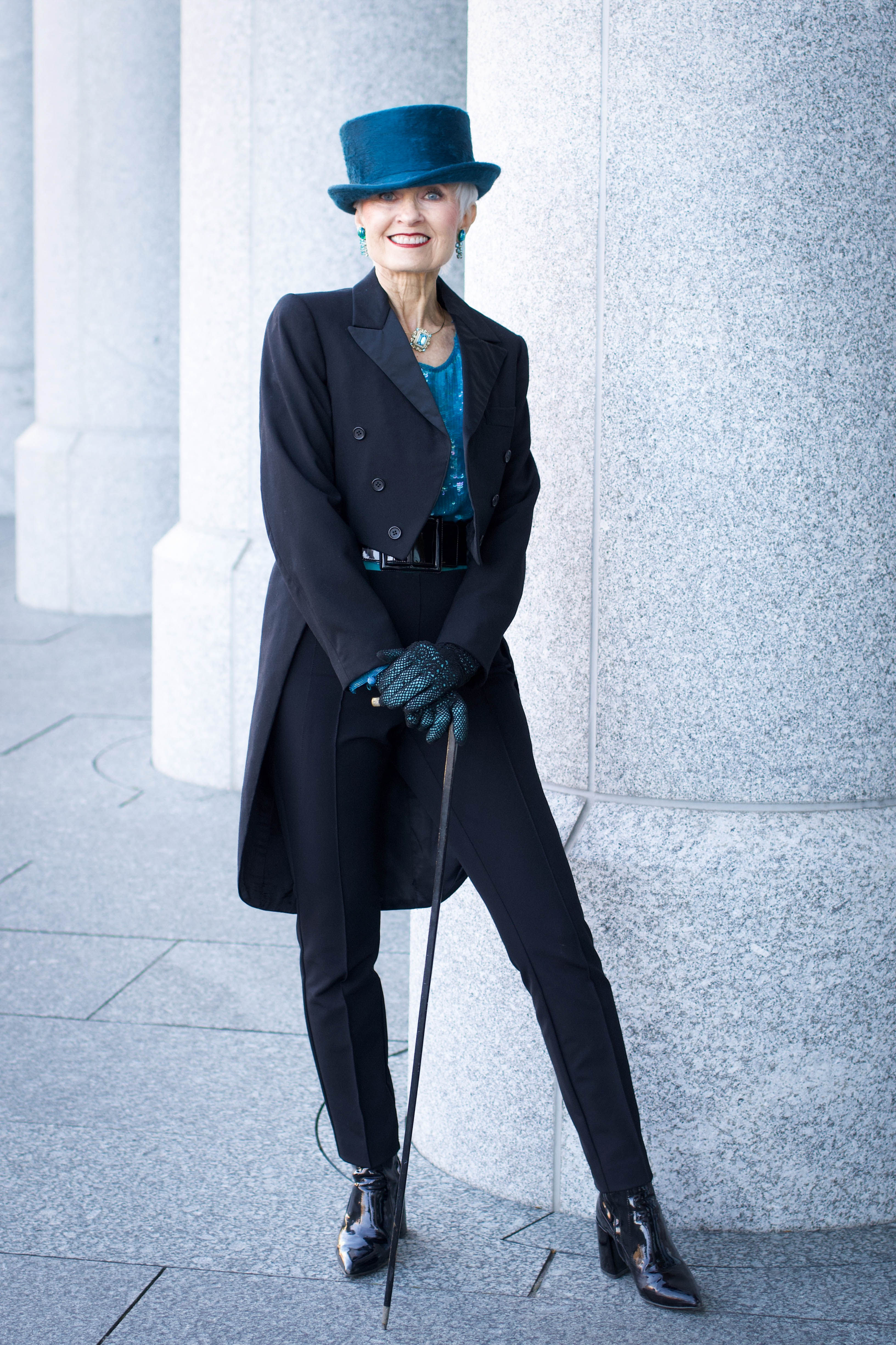 Welcome to the Hat Attack dedicated to January, 2019.  Happy New Year beautiful followers.  I wish you the very best in the New Year, including health, happiness, and abundance in all forms.  I embrace 2019 with high hopes and anticipation, along with a year filled with magnificent headwear in all of its diversity and beauty.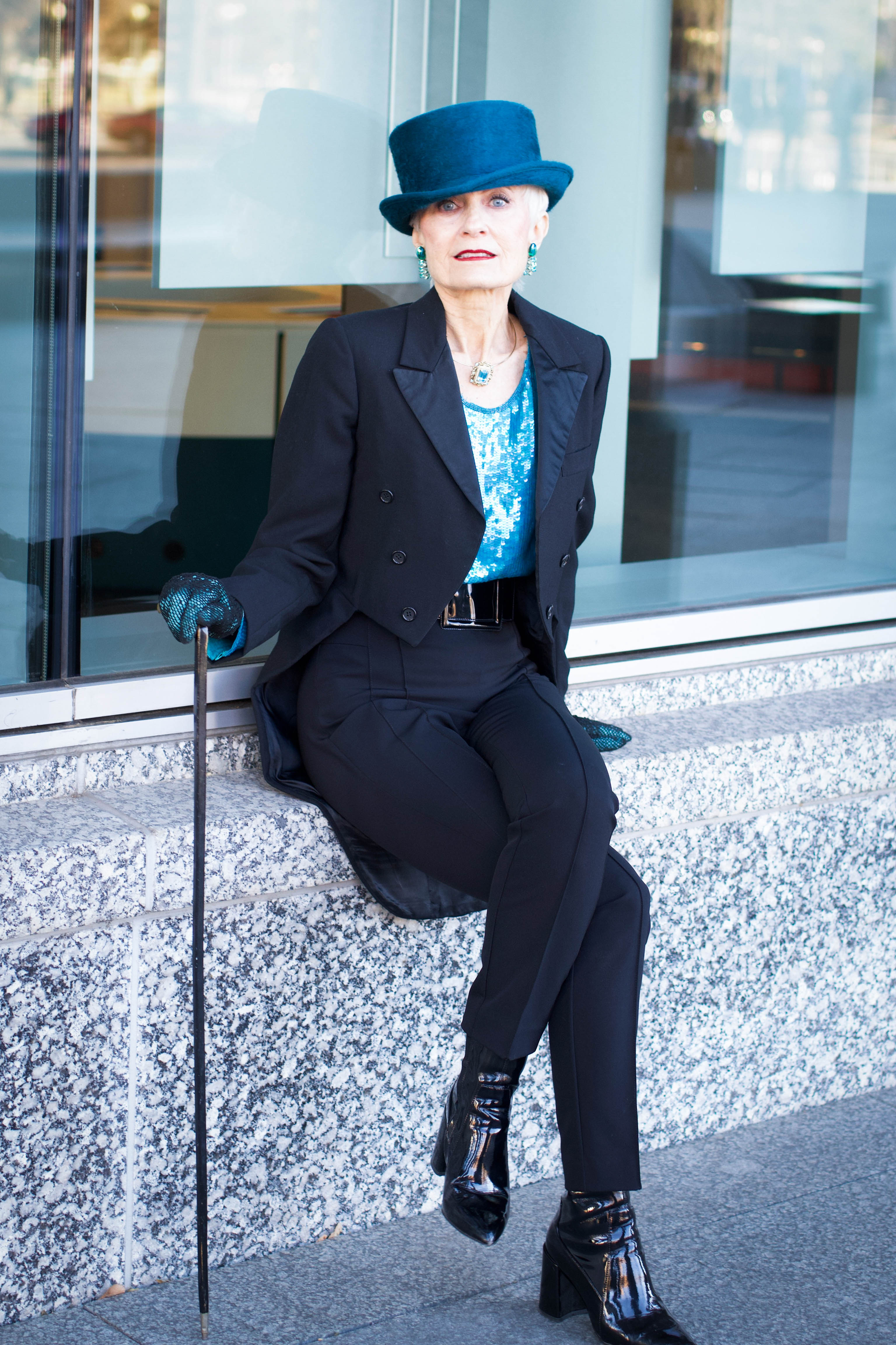 The featured milliner for January is Julia Emily Knox of East Village Hats NYC. "Julia is an English Milliner, trained in New York, who heads up a small team of milliners at East Village Hats, where they hand craft the hats on the premises, using traditional tools, methods and materials. Julia was trained as a milliner at FIT and joined Barbara Feinman Millinery in 2012, taking over the business when it moved to its current location in 2016." …East Village Hats website.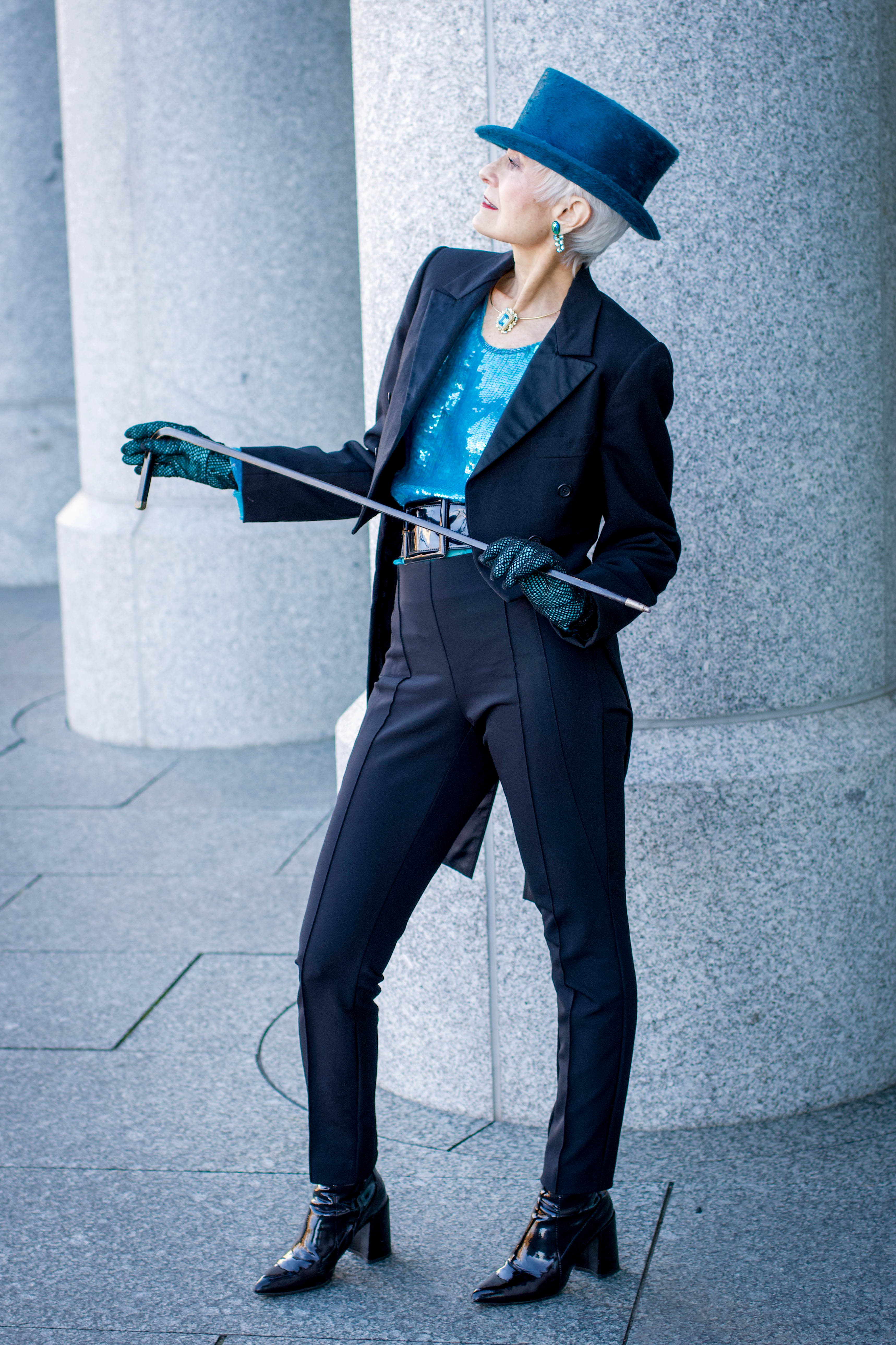 The exquisite top hat that I'm wearing in the photos on this post has been named the "Deadman," and was handmade from emerald beaver finish fur felt.  It's four inches tall with a two inch brim and fits like a glove.  Julia made sure of that!
I love wearing this chapeau with vintage tuxedo tails, vintage turquoise sequin top, vintage gloves, vintage jewelry, patent leather belt and boots, and of course my black vintage cane.  This is the perfect New Years Eve ensemble, and the hat is the ideal topper for an evening of celebration!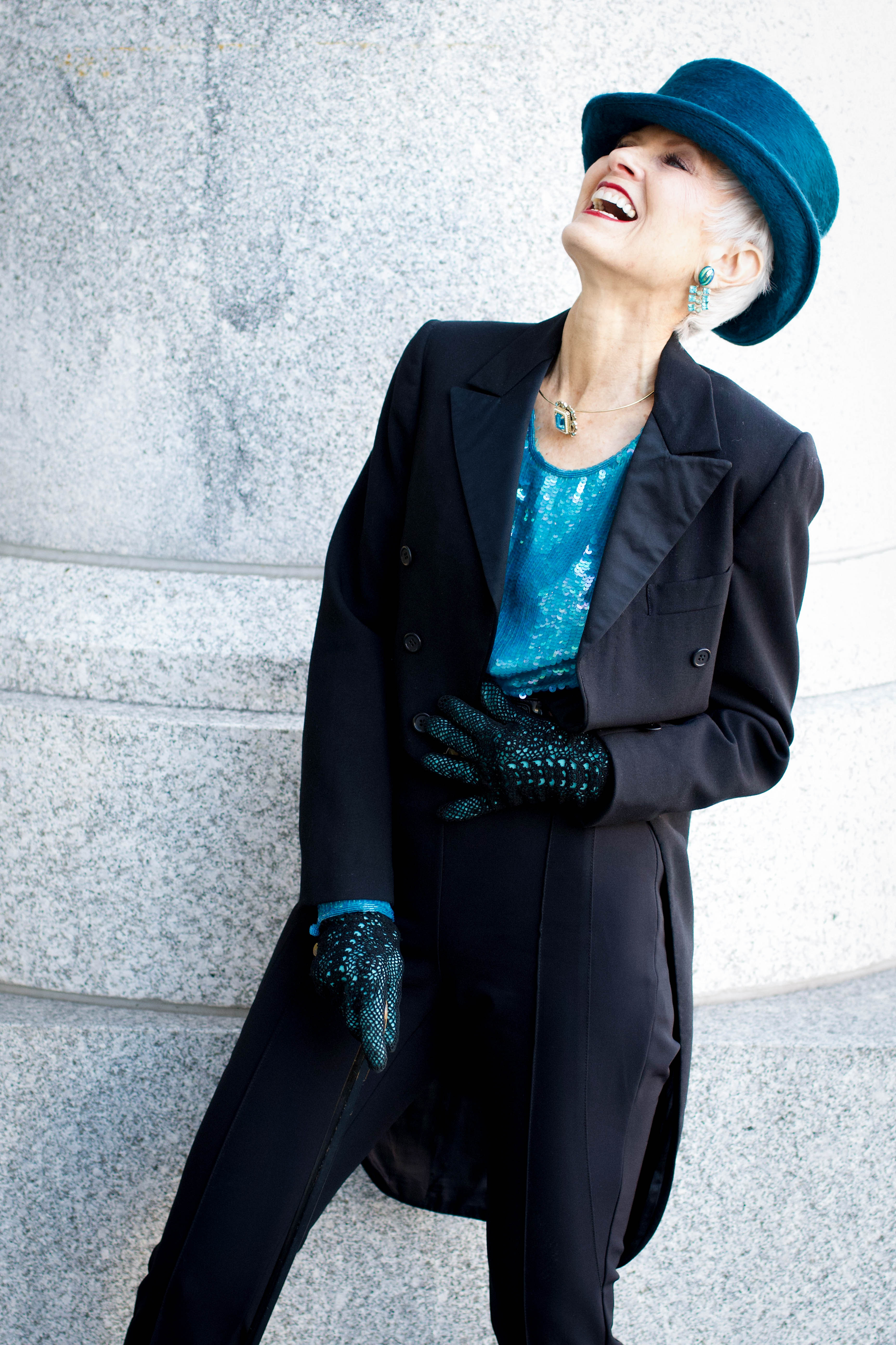 I visited Julia and East Village Hats during my September 2018 trip to NYC.  I had a wonderful time playing with the headwear and have been a fan or Julia's "Urban Turbans" over the past few years.  I see that there are a few available on the website  I was tempted by the leather turban, but decided to leave it available for another lucky hat lover.  The top hat was my choice of the day, after much contemplation.
In the store workshop, surrounded by an incredible selection of felts, straws and trims, the work is done on a sewing machine which dates back to the industrial revolution. The block collection, on which the hats are molded, has been built over a period of 25 years since Julia's predecessor, Barbara Feinman, first started her career as a milliner, and includes blocks from more than a century ago, as well as from every decade since. Julia has continued to grow the selection, adding blocks of her own design….East Village Hats Website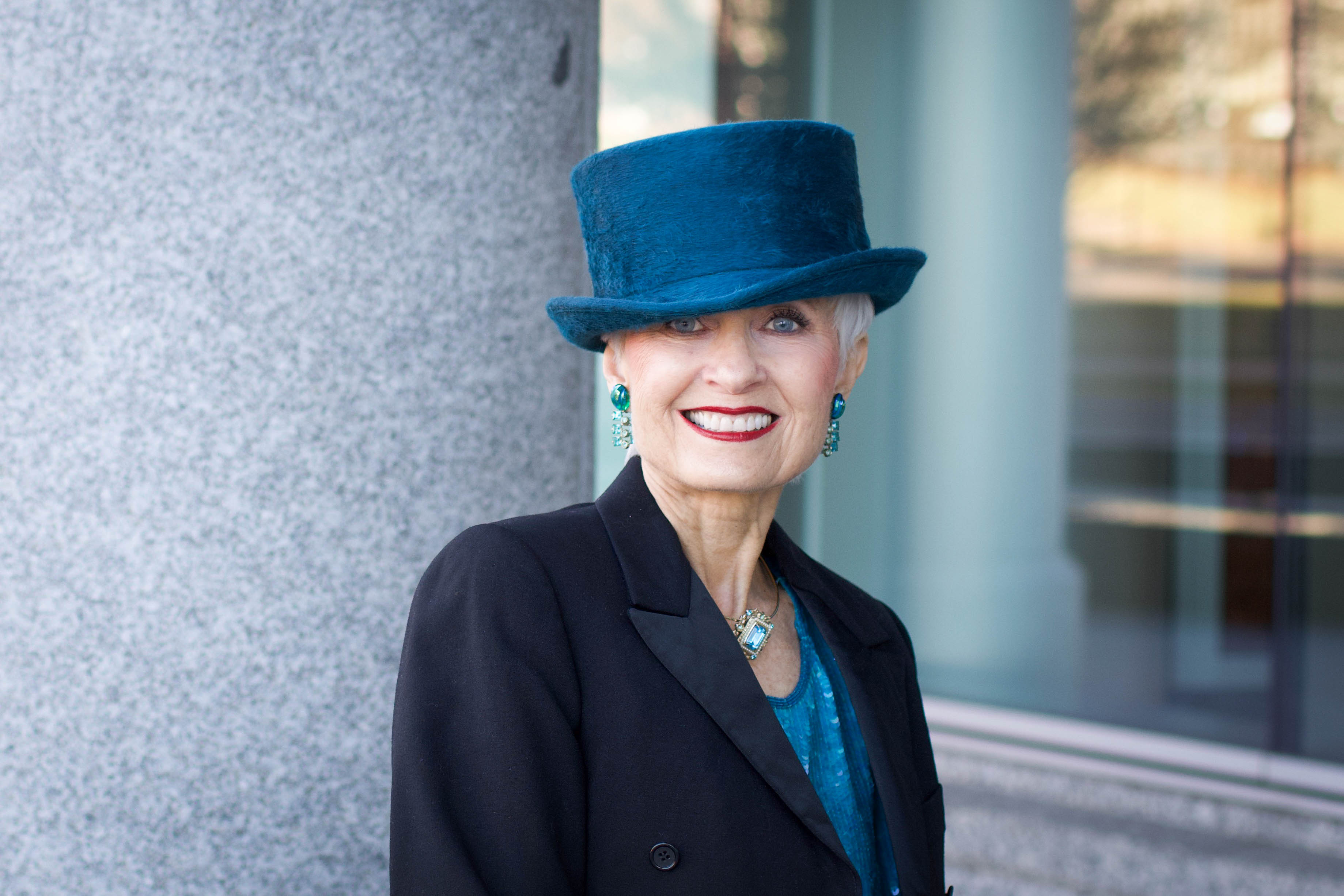 Photos By Daniel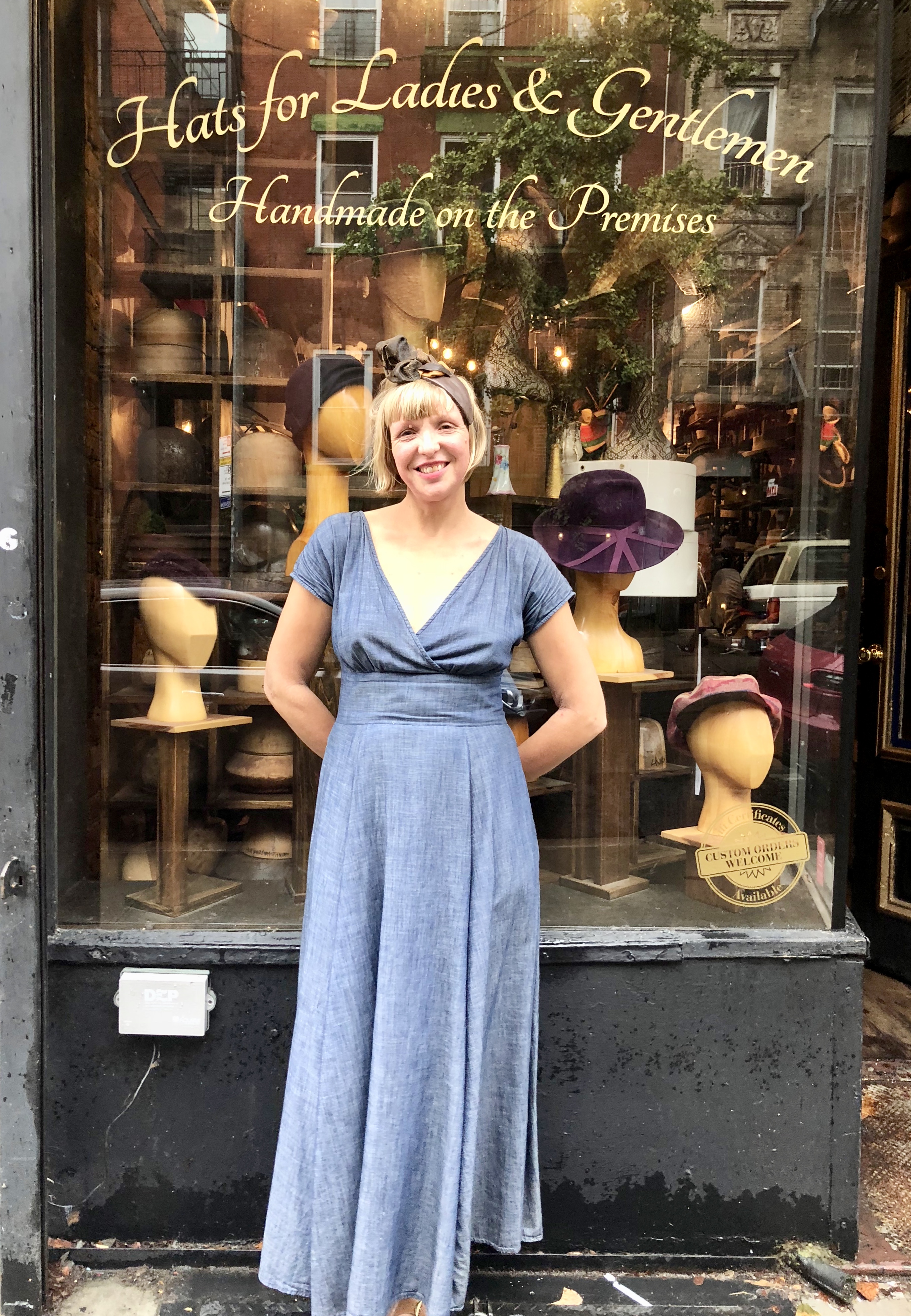 Photo above of Julia Emily Knox, in front of East Village Hats NYC.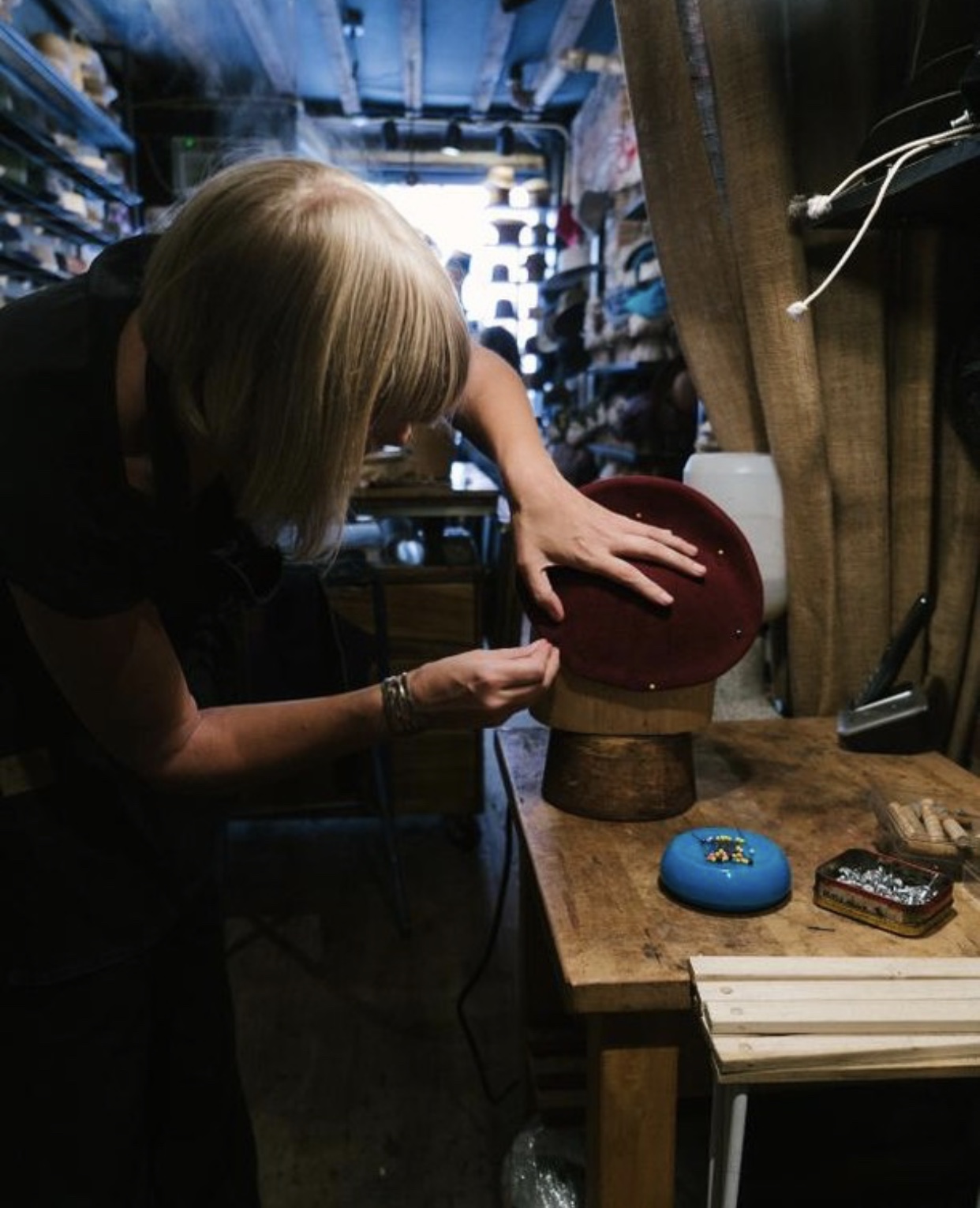 In addition to the hats made on site, the selection is completed with work by emerging designers:  Maor Zabar, Stephanie Spencer Millinery, Jaycow, Marine & Deerfield, Two Foxes, Tierre Taylor, Firsthand by Denise Arellano and Laura Catignani Millinery. Complementing the hats, you'll find vintage hat pins and glamorous travel cases...East Village Hats Website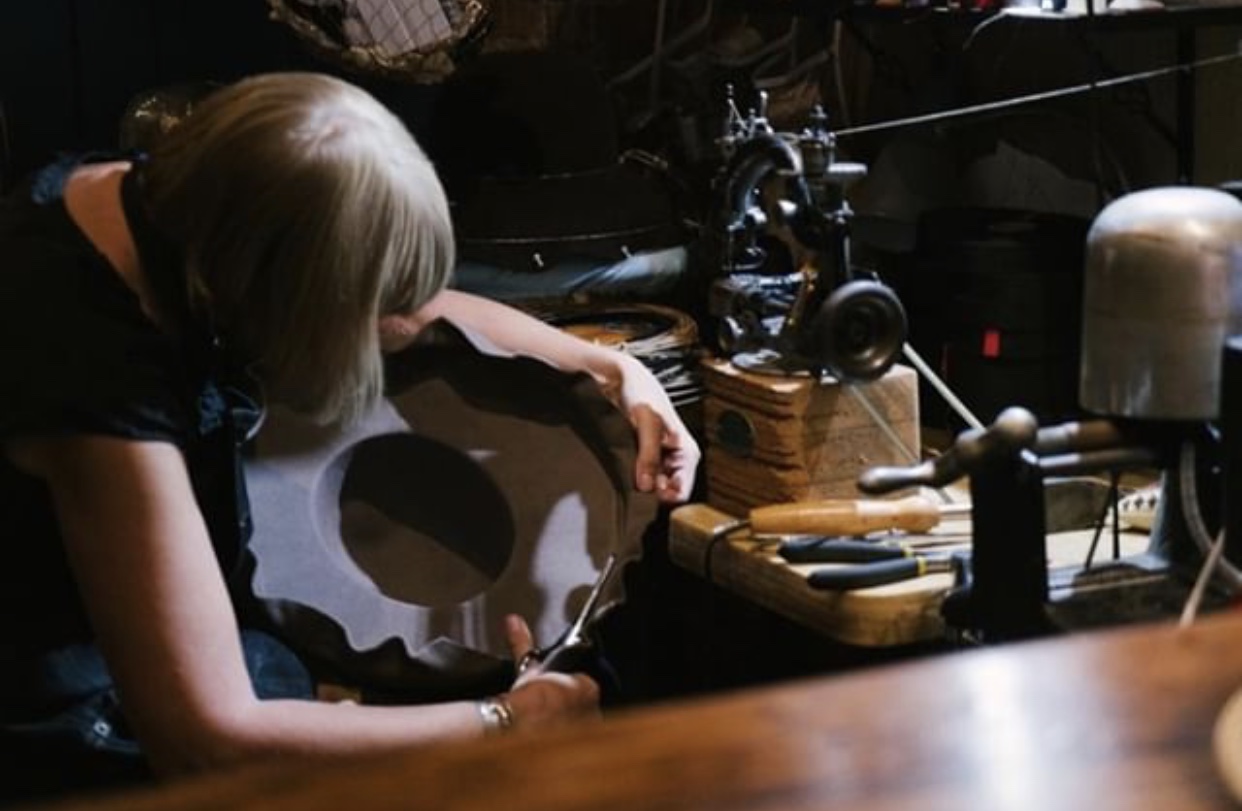 East Village Hats also offers reblocking of vintage hats and old favorites as well as restoration and retrimming. Bring your hats in for a quote. Stretching and reshaping can usually be done while you wait.  Also, millinery workshops are held on the premises.  Check the website for times and dates…East Village Hats Website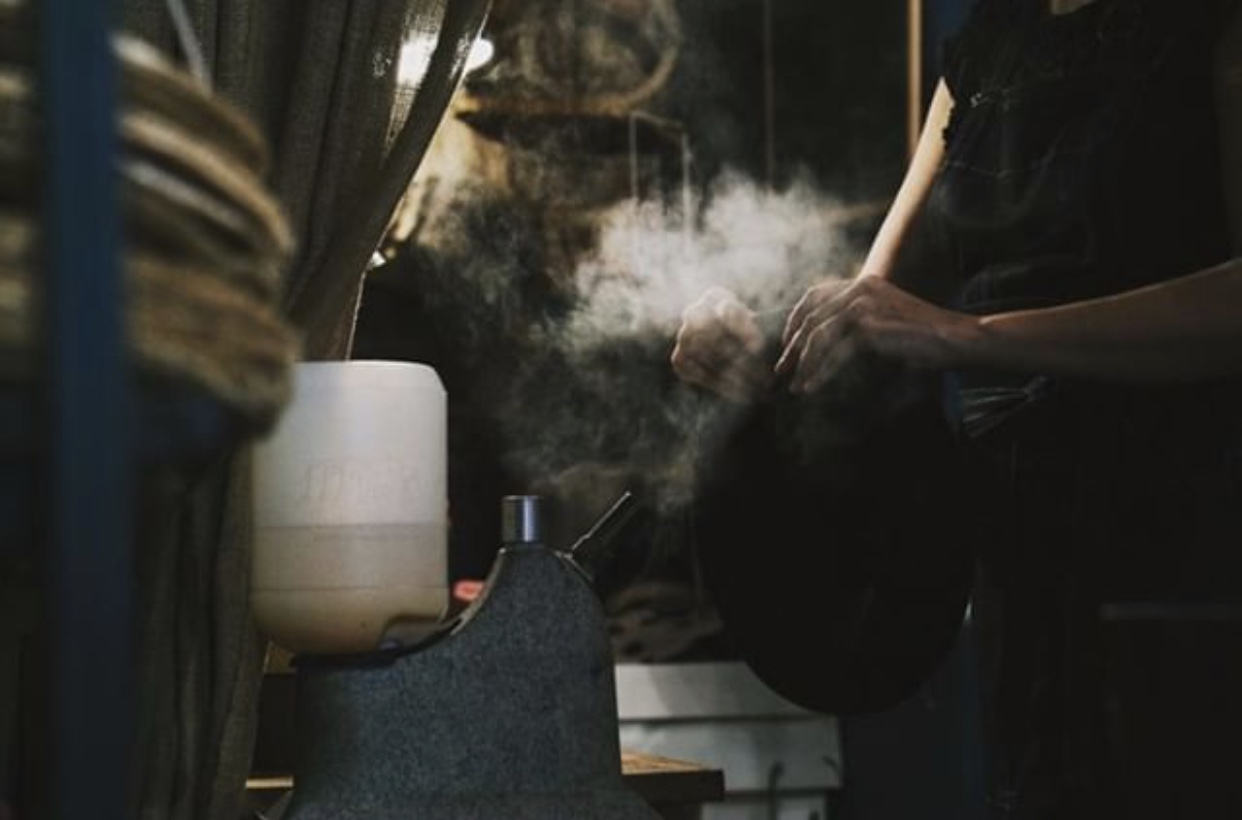 Julia sent the above photos of the hat making process, which demonstrates handmade at its best.  If  you are a hat lover, and haven't been to East Village Hats, it's time to stop in for a visit. I found it to be a fascinating destination, filled with art and charm.  Thank you Julia, for the superb millinery experience!
Anyone can participate in the celebration of headwear!  Click on the blue link-up button and there are a number of ways to share your photo from your blog, Instagram or your computer photo files.  All forms of headwear are appreciated:  hat, headwrap, headscarf, headpiece, fascinator, hair flower, headband or other adornment for your head that you enjoy.  Multiple photos are encouraged!
Now it's your turn to throw a little headwear my way. Give The SC a JANUARY HAT ATTACK and kindly link to Style Crone somewhere in your post. The link-up will be open through January 31st.
[inlinkz_linkup id=811837 mode=1]