A Tribute to Lyn Dell, The Countess Of Glamour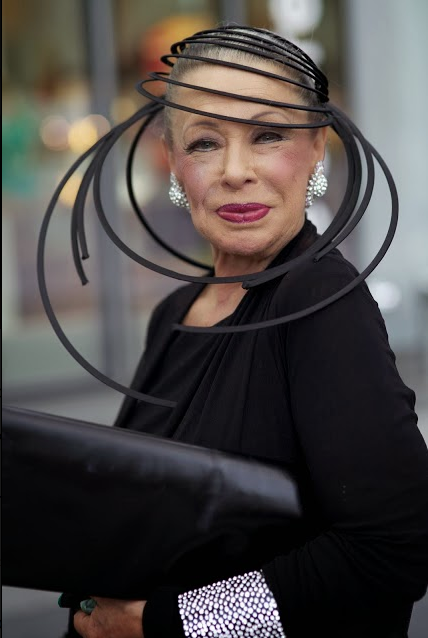 I've been home from NYC for a week now, and have been reviewing photos and preparing posts about my adventures. However, I found that I was unable to move forward without devoting today's post to Lynn Dell, The Countess of Glamour.  Her story became a part of the trip because I learned of her hospitalization during the time that I spent in the "city of dreams."  By the time I returned home she was gone.
It was a surprise to me because she seemed invincible.  But I have come to know that disbelief lies in wake when a beloved soul leaves us behind to collectively weep.  Bold, beautiful, energetic, full of life, glamorous, charismatic, powerful.  When she entered a room all eyes were upon her.  Almost always wearing headwear and accessorizing with flair, she was a continual and evolving work of art.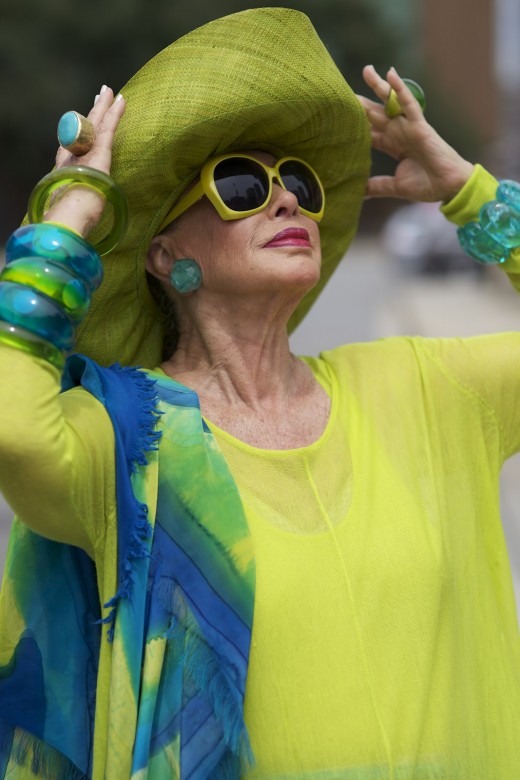 Photos By Ari Seth Cohen
Brought to life by Ari Seth Cohen of Advanced Style HERE, through his blog, book and documentary, the world came to know her as a symbol of aging with style and glorious self-expression.  The tribute that Ari wrote HERE is deeply moving and the Idiosyncratic Fashionistas wrote a beautiful post in her memory HERE.
I was enamored with her ability to live life to the fullest and of her accomplishments. As the proprietress of Off Broadway HERE, a boutique on the Upper West Side of Manhattan, her window displays were dramatic and enticing.
I had the privilege of meeting Lynn several times over the years, but didn't know her well.  I admired her from afar. I began frequenting her boutique in 1999, when my daughter Camille moved to NYC to attend college.  She was usually sitting near the entrance as I passed by, greeting customers with an endearing smile and a compliment, always making me feel special.  I loved going to the back of the shop, which was filled with previously worn treasures.  I usually found something wonderful to add to my collections.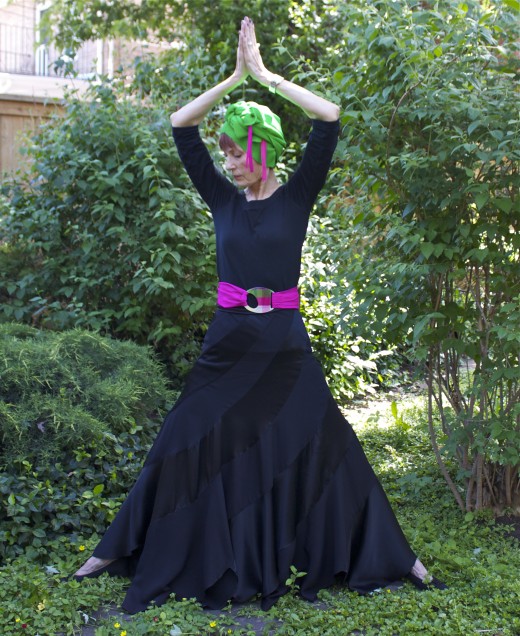 Photo By Daniel
This skirt was purchased at Off Broadway during my most recent visit.  Lynn wasn't sitting in her usual spot as I entered the store. From this point on, I will always remember her when I wear this long, full black beauty, cut on the bias with scalloped hemline.  It's perfect for twirling and it reminds me of her, with its wide-reaching swirls of luxurious satin.  It's generous enough to allow star pose in prayer position, in honor of a spirit who profoundly inspired me.  She will always be remembered for the life that she lived, changing how our culture views aging.  It was an honor and a privilege to have been in the presence of Lynn Dell.
I'm taking my Off Broadway skirt over to the gorgeous Patti's Visible Monday HERE at Not Dead Yet Style.  Miraculously, I ran into Patti in NYC over a week ago, and will be blogging about that cosmic meeting over the coming weeks.