Hat Attack #39 – Louise Green Millinery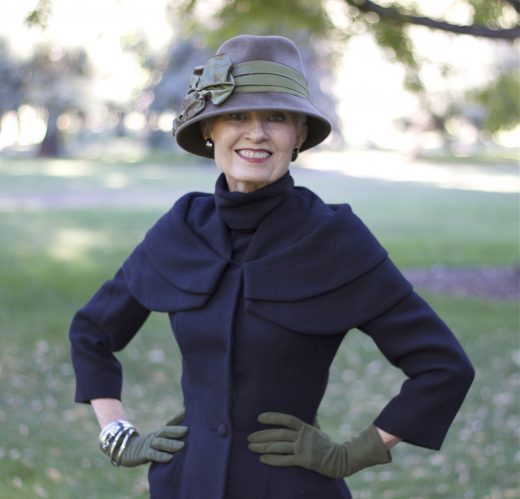 Two weeks ago I had the privilege and honor of visiting Louise Green Millinery HERE during my trip to Los Angeles to attend the book signing for Ari Seth Cohen's Older And Wiser HERE.  The book signing took place at the Louise Green Millinery Studio, and was hosted by Louise and her husband Lawrence (I will be blogging about the event next week). I was embraced with open arms and felt very welcomed by their generosity and kindness.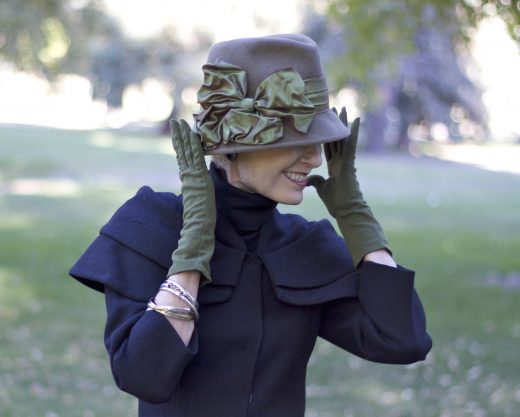 During the book signing I meticulously scanned the hats on display. I was stopped in my tracks by this lush sage green profile fedora with its breathtaking luminous green bow. Its overall personality, perfect workmanship and what appeared to be lovingly handcrafted details drew me in and wouldn't let go.  That's what I call hat love at first sight!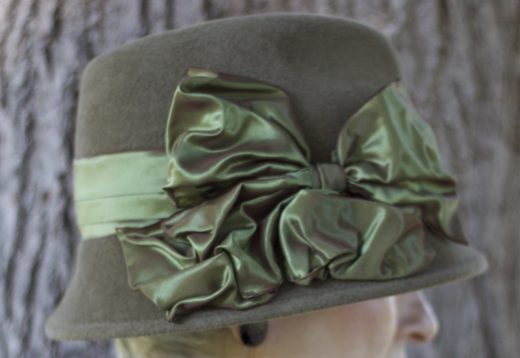 Photos By Daniel
The chapeau named "Max" now has its special spot in the hat room, and it will soon have its Denver debut.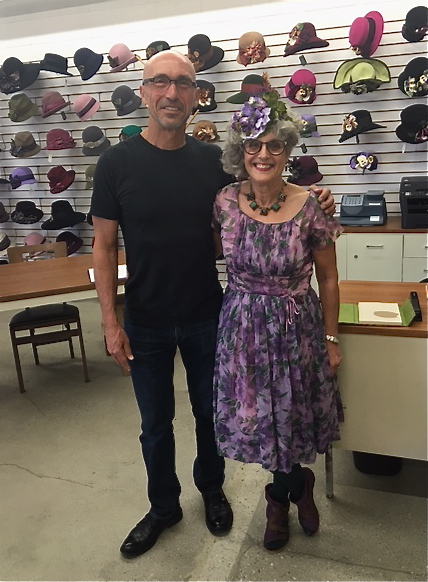 Louise and Lawrence work together like an inspiring and impressive "well oiled machine!" Louise designs the hats and Lawrence does the business side for Louise Green Millinery.  It was a joy to behold their mutual respect, admiration and love for one another. As a hat lover and a former hat shop owner, and as a human being, I was captivated by their creation and the magical energy that resides in this space that holds so much beauty and obvious attention to detail.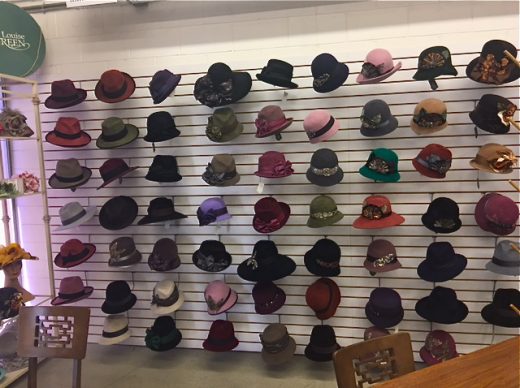 A glorious sea of headwear covers the walls and hatracks in the display area of the studio.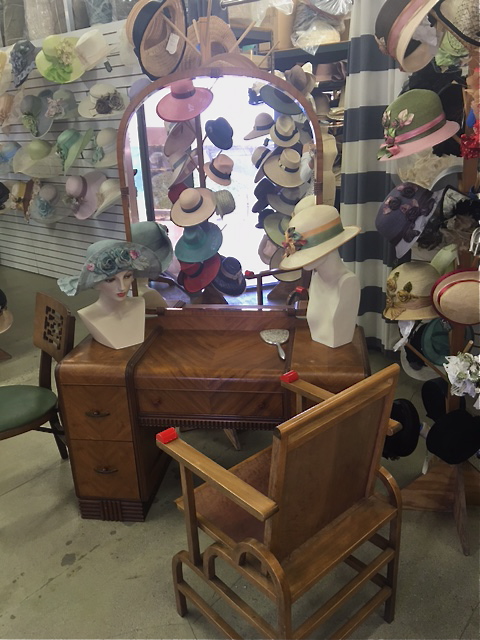 Who could possible resist sitting in front of this vintage vanity while trying on a hat!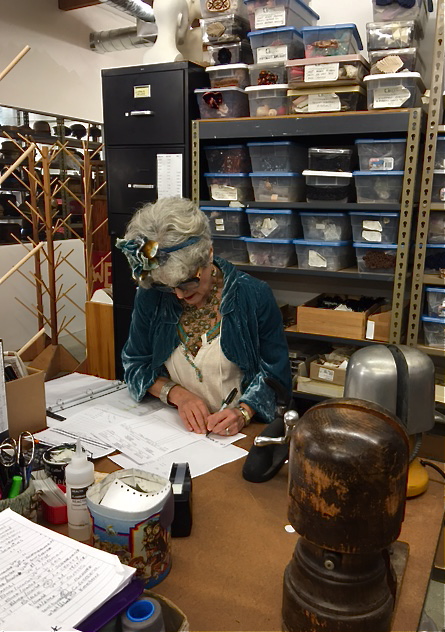 The stunning Louise at work, wearing a floral "whimsy" of her own design, which adorns her silver hair.
The Story of Louise Green Millinery by Louise Green
"In my youth I was a crafter before I even knew there was such a word.  Patchwork, beading, knitting, rug making, hand sewing.  I also loved thrifting.  I studied fine art at a college in England and moved to LA from London in 1983 with two young kids.  I had no usable skills.
I started thrifting for men's tuxedo jackets and decorating them for women.  Big shoulders were in at the time.  I added a feminine touch to them and sold them in a consignment store.  One day I came upon a box of vintage hats, bought them, took off the trim and re-trimmed them in my own style.  They sold out!
I did that for awhile and decided to look for millinery classes, as I always loved hats. I found classes with the African-American church community.  They accepted me into their circle,  jokingly telling me that I was making white women's hats.  I was using all vintage materials in dark rich colors in a 20's style, while their's were bright and rhinestoned and showy for church. I loved these women. They were fun and funny and would sing to my newborn Jazzy when she woke up from a nap.
I took the hats in bags or boxes around town while very pregnant to the finest stores in LA.  I think they felt sorry for me and my belly because they always bought everything that I made.  A rep from the California Market Center (The Mart at the time) asked me to design a line and she would sell them for me.  Before that, all hats were one of a kind.
That was 30 years ago.  The business kept growing organically.  Lawrence came in with me after a couple of years to deal with the business side.  As they say, the rest is history!"  ~ Louise Green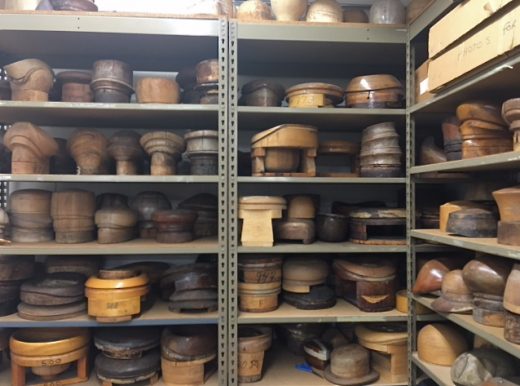 The millinery workroom was beautifully organized for maximum efficiency.  I loved the shelves of hat blocks, which are pieces of art in their own right.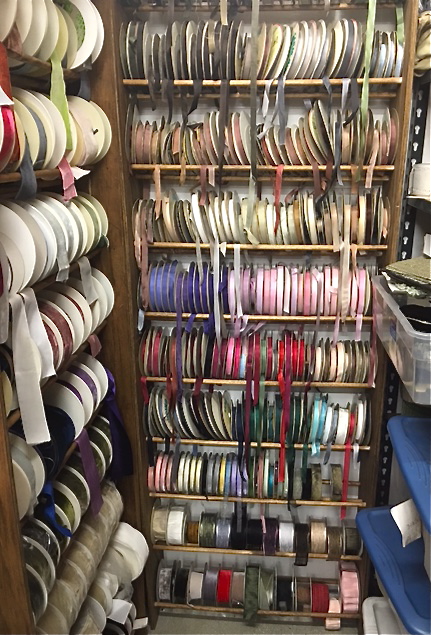 And then there were the ribbons!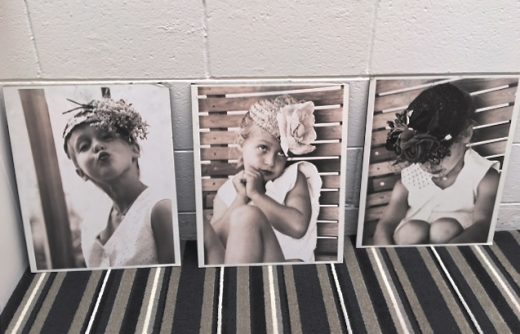 The above photos of Louise and Lawrence's daughter Jazzy modeling whimsies at four years of age delightfully greet visitors at the stair landing, prior to entering the millinery studio. Jazzy is now 26!  These photos speak to the devotion and commitment to the art form of millinery that is palpable at Louise Green Millinery.
Thank you Louise and Lawrence, and your wonderful staff, for one of the millinery thrills of my life.  It was grand and unforgettable!
Thank you Deborah Boland of Fabulous After 40 for the inclusion in your post "What Over 40 Styleblazers Wore."  HERE
Now it's your turn to throw a little headwear my way. Give The SC an OCTOBER HAT ATTACK and kindly link to Style Crone somewhere in your post. The link-up will be open through October 31st.
Anyone can participate in the celebration of headwear!  All you need is a URL, which can be acquired from Instagram, Facebook or your website.  All forms of headwear are appreciated:  hat, headwrap, headscarf, headpiece, fascinator, hair flower, headband or other adornment for your head that you enjoy.  Multiple photos are encouraged!
[inlinkz_linkup id=666680 mode=1]