The Dining Room in the Orange Sequin Gown
It's almost the end of 2019, and here I am, back to featuring my home, with today's focus on my dining room. Almost everything in this room was purchased second-hand, which is true throughout the house.  My home reflects my clothing collections in that regard. It's good for the planet and good for my soul.
An example of recycling is the red velvet table cloth with fringed edges, which I found at an estate sale. It was a bedspread in a former life. I bring it out for the holidays, and it usually stays for the remainder of the winter. I can't resist its luxurious color, the plush velvet fabric, and the ornamental border of fringe.
I have become obsessed with chandeliers, and am always on the lookout at estate sales, antique malls, and thrift shops. They portray a sense of grandeur and elegance, and soon I will have one or more in every room. And the garden, of course. The chandelier in the dining room was discovered at an antique mall this past Mother's Day, and I decided to gift myself with its beauty.
The wall of mirrors in the dining room is composed of estate sale treasures found over the years. They make the room appear larger than it is, and I love how they reflect the pieces that live together in the room. They have all been chosen for their beauty and only because I loved them. Like all of my collections that I've gathered over many years.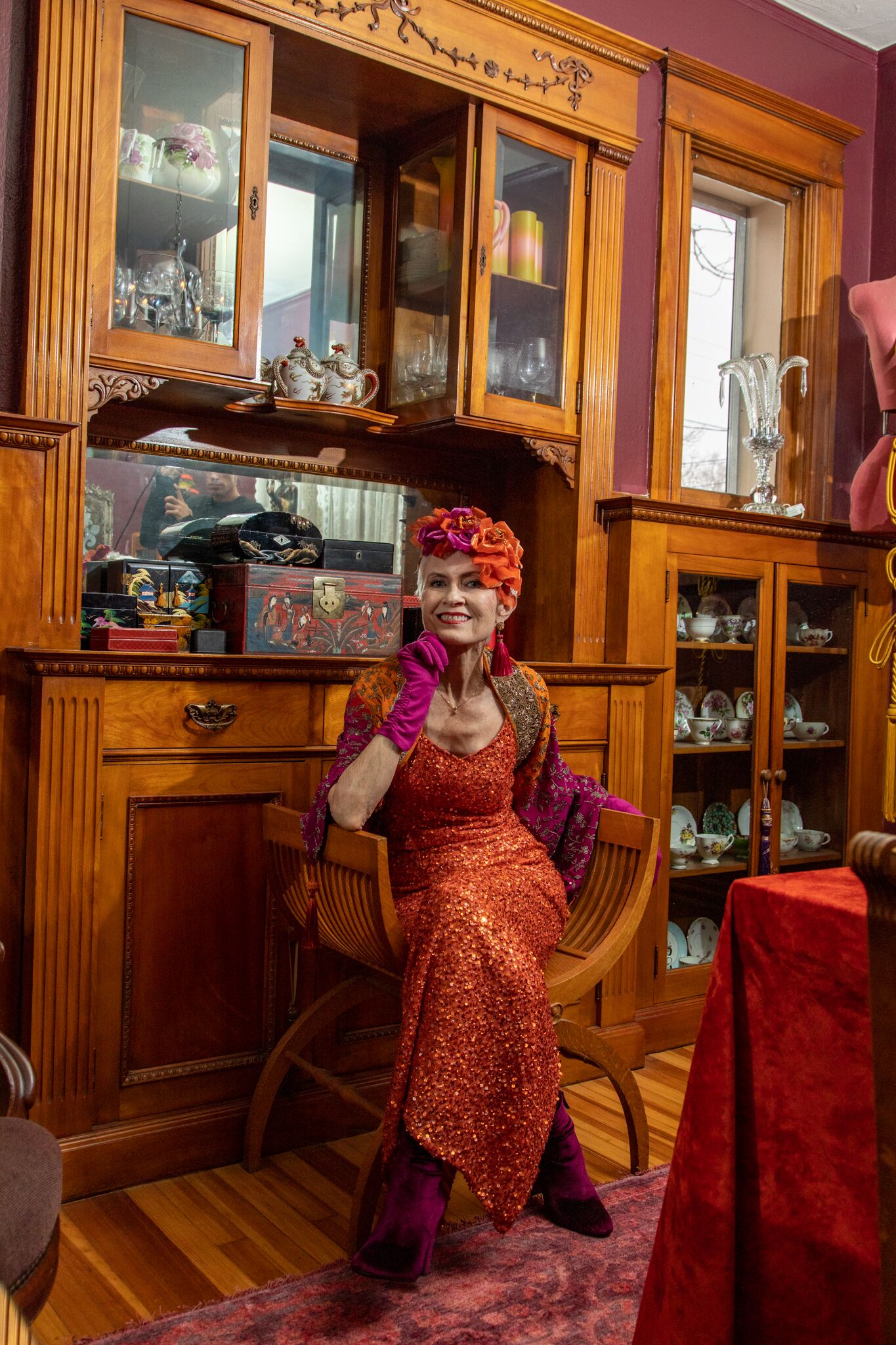 The hutch in the dining room, the wood throughout the house, and the hardwood floors are all original to the structure, which was built in 1907. I feel that it's a responsibility to be a steward of maintaining my home, and I'm devoted to the concept of preserving it for the next generation to enjoy as much as I do on a daily basis.
I have been finding pieces in the basement that I have been bringing up to display and be seen. The pink manikin recently found at an estate sale is embellished by a gold Asian hanging that I discovered decades ago. Finding places for hidden art is an analogy to embracing parts of myself that I have been resisting to support and accept, no matter how difficult they are to acknowledge. I find that my home is a reflection of myself and is an ongoing unfolding of my creativity and self expression, similar to my love for style. It is all a never-ending process of growth and change.
The antique secretary has always displayed headwear, and as I look around, there are hats in every room of the house, with the exception of the kitchen and back porch. I'm going to have to do something about that! Chandeliers and hats are the perfect accessories for every space in my sanctuary.
Photos by Nicole Marcelli
I'm wearing the orange sequin gown which I discovered at a consignment shop this past summer. Sometimes I spot a piece that immediately finds a place in my Style Crone heart, and I have a weakness for gowns. I've published a "gown series" in the past on Style Crone, and I may do so again.
I accessorized with a floral headband by Louise Green Millinery (sadly for hat lovers Louise has now retired and no longer has her millinery business). I am also wearing vintage pink gloves, a vintage pendant, plum colored heeled booties, a beaded silk scarf with tassels, and tasseled earrings.