Sleeveless And Bedazzled At Nocturne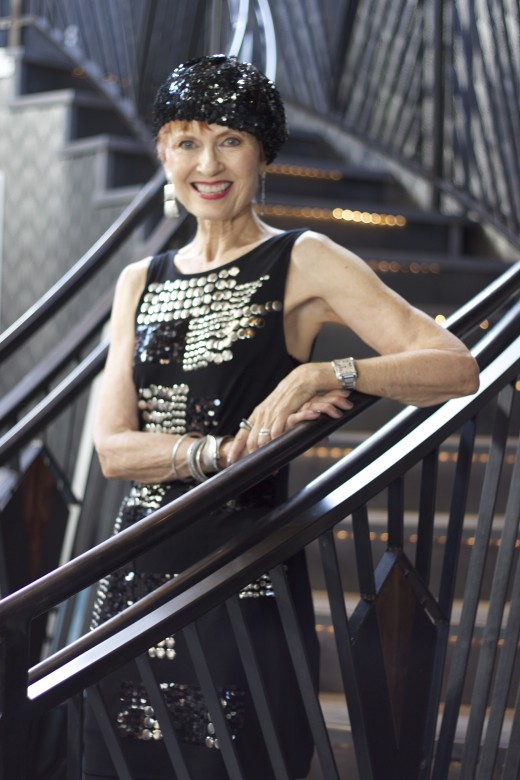 The gorgeous Catherine of Not Dressed as Lamb HERE has inspired many of us on Instagram with her challenge to wear what had appeared on a list of "24 things you should stop wearing after 30 HERE."  Catherine added a few more items to the list and the challenge continues through August HERE, with the hashtag #iwillwearwhatilike.
It's been fun to participate!  One of the items on the list was anything bedazzled, and my inventory is deep in this area, as evidenced by the photo above.  I seldom go sleeveless these day, but I was up for the challenge to bare arms (also included on the list) during the sweltering days of August.
Never one to pay attention to limiting lists or the pressure to conform based on age, I'm enjoying the life enhancing opportunity to play with others who enjoy "wearing what we love."  I dress for myself and I make my own list. Thank you Catherine, for initiating this brilliant (no pun intended) challenge.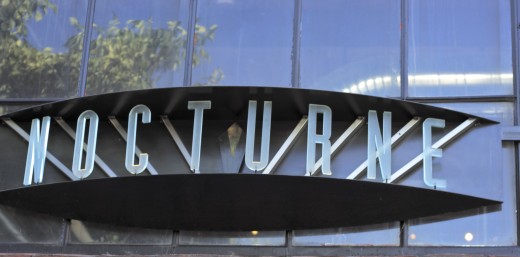 Daniel and The SC traveled to the River North area of Denver to Nocturne, a modern jazz and supper club HERE, which is the ideal setting to wear anything that sparkles.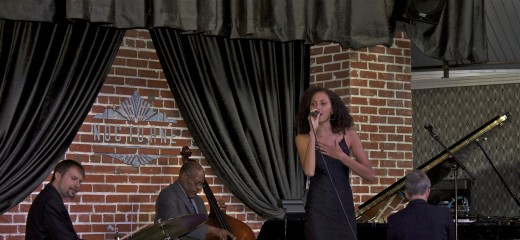 We were fortunate to be in the audience on Torch Singer Tuesday for the appearance of Wellington Bullings and the Scott Martin Trio HERE.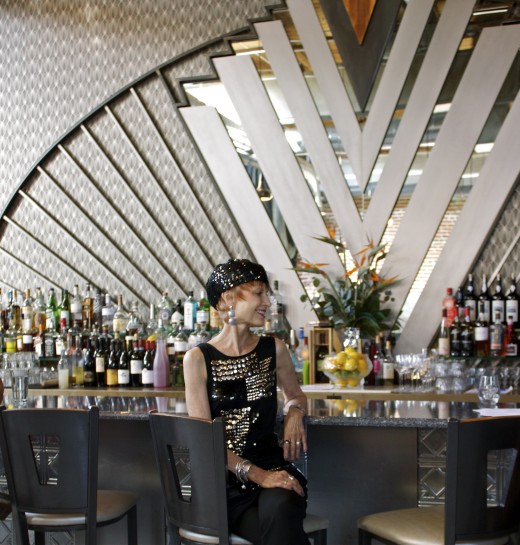 The Art Deco-inspired interior of Nocturne is magnificent and the dazzling bar provided the perfect backdrop to my shimmering attire.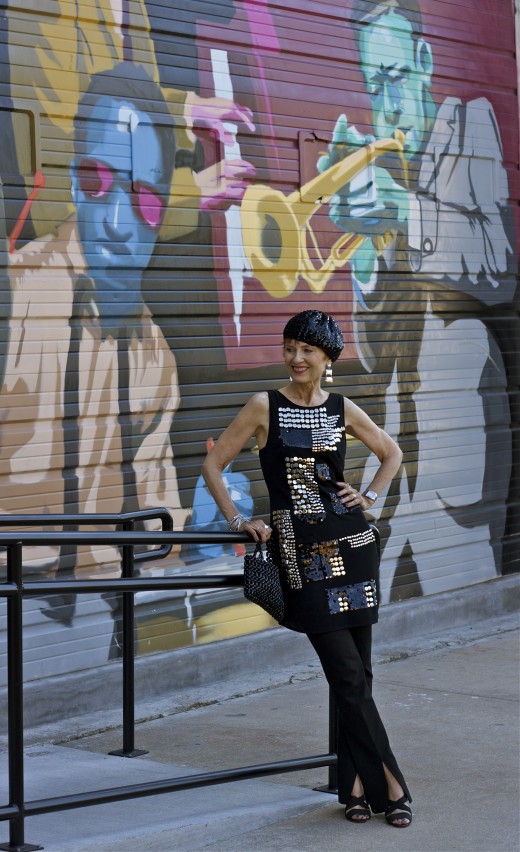 The exterior of the club displays a mural which is representative of the jazz scene inside.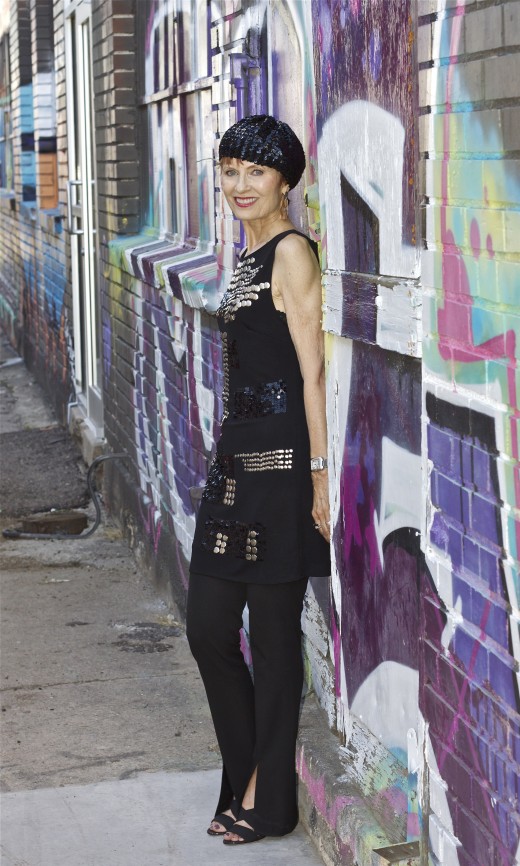 The buildings in the alley adjacent to Nocturne are covered with street art and murals, and serve as a breathtaking outdoor gallery space.  This area of the city is bursting with creativity and stimulating energy, and motivates me to be more of who I am, which includes ignoring lists that restrict and suppress self-expression at any age.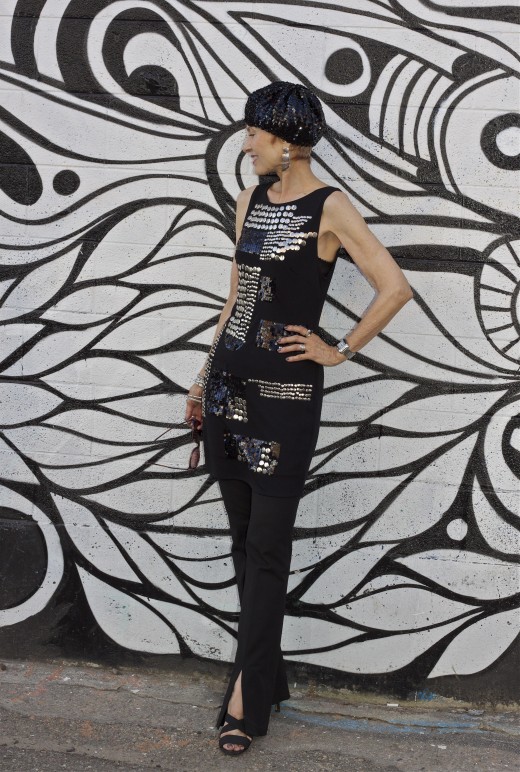 Photos By Daniel
Mural by Mariano Padilla HERE
Seguin beret – estate sale, bedazzled dress, black pants and black heeled sandals – consignment stores,  jewelry – gifted, estate sales, flea markets.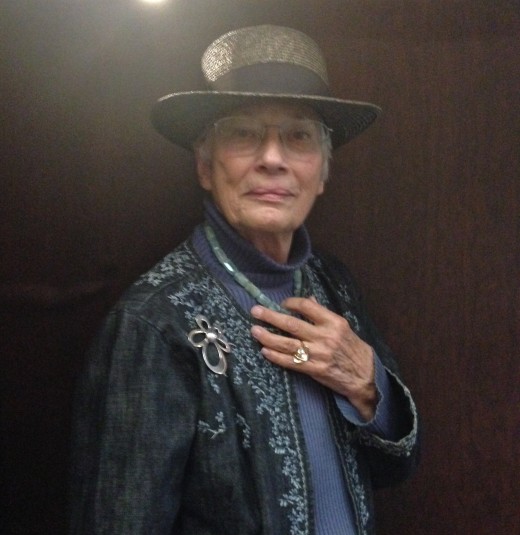 Captivating Crone Series
The elegant and regal Alice Abrams, designer, goldsmith HERE, and longtime supporter of young talent in the jewelry industry HERE, came across my path several weeks ago.  Alice gave me a card which she presents to new acquaintances which states:
Thank you for your thoughtful comment! You have lifted the spirit of an octogenarian!  In life as in the dance, grace glides on blistered feet.
Thank you Alice, for granting me permission to include you in my "Captivating Crone Series."