Advanced Style: Older And Wiser Book Signing At Louise Green Millinery
Several weeks ago I traveled to Los Angeles to the Advanced Style: Older And Wiser HERE book signing at Louise Green Millinery HERE. How could I possibly miss Ari's book signing in a millinery studio?
This West Coast adventure lived up to my expectations and beyond.  I met many new and interesting people and had the opportunity to explore the millinery wonderland created by Louise and her husband Lawrence (as described in my post of last week). The above video of the event was created by Lawrence, and depicts the fun and frivolity of an experience that I will never forget.  It includes images that I was not able to capture in the few hours that rapidly flew by in a whirl of books, beautifully dressed and intriguing people and magnificent hats.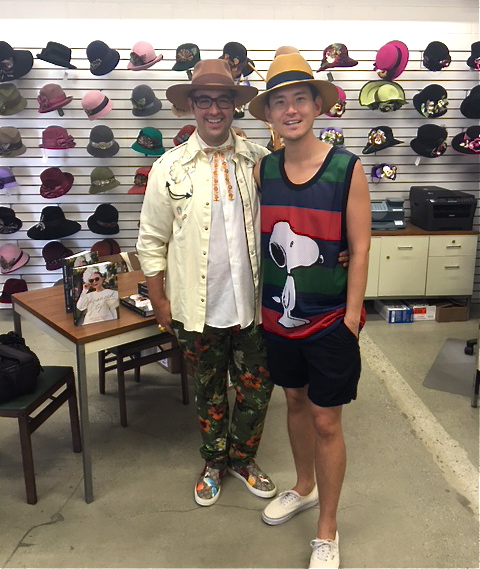 Ari and his wonderful husband Eric were looking dapper as always!  If it were not for the Advanced Style Movement created by Ari, I would not have been at Louise's Millinery studio.  I would not have met the wonderful and creative people at the event. I would not have discovered the headwear that now has a prominent perch in the hat room, which evokes joyful memories whenever I lay eyes upon its elegance.  The Advanced Style circle gets larger and more fabulous over time.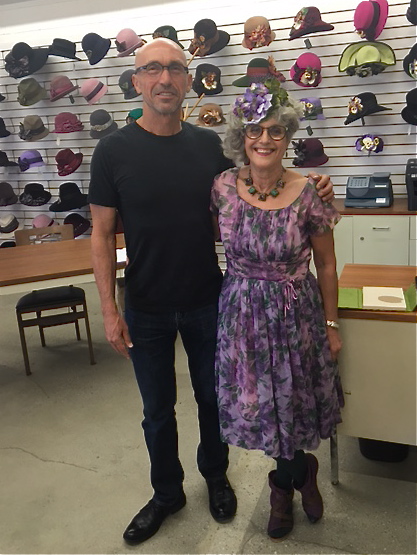 Louise and Lawrence Green provided the perfect environment for the book signing. Every detail was seamlessly attended to, and there was magic in the air.  The people who were present and in the book were busy signing their page and almost everyone was trying on hats.  The hours flew by as though they were mere minutes, as laughter and playful connections filled the space of the showroom.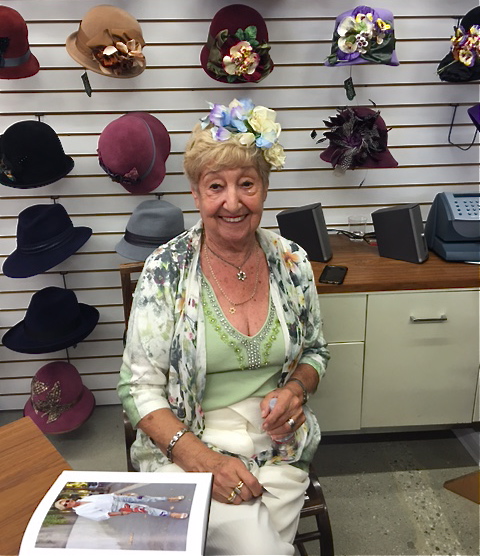 Louise's 87-year-old mother Sheila Raznick was lovely and vivacious in one of her daughter's floral whimseys.  I was entranced by the stories of her life and her resilient spirit.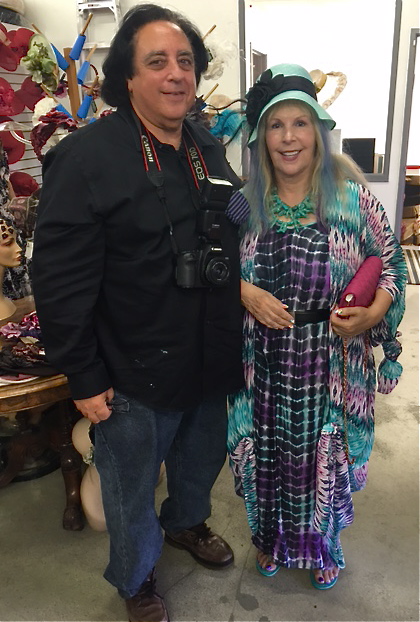 It was a family affair, with Ari's parents Jack and Frances Cohen in attendance.  It's easy to see where Ari gets his sense of style, with Jack in understated black and denim, accessorized with a camera, and Frances in splashes of glorious color, topped off with the perfect hat.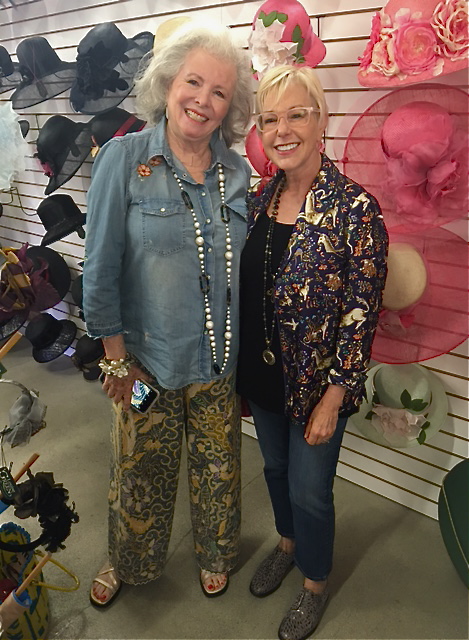 One of the highlights of the event was meeting beautiful bloggers Sandra Sallin of "Apart From My Art" HERE and Susan Blakely of "une femme d'un certain age" HERE. I have followed Susan's blog for many years and felt that I already knew her.  She is even more beautiful and clever in person, and we had great fun catching up on each other's lives face to face.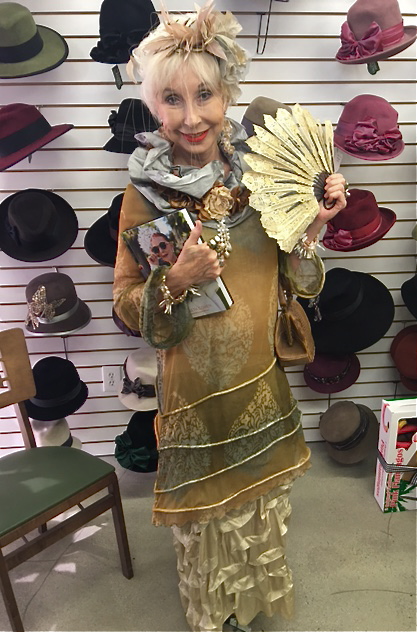 The artist and designer Gretchen Shields HERE was lovely in layers.  The background of hats accentuates her beauty.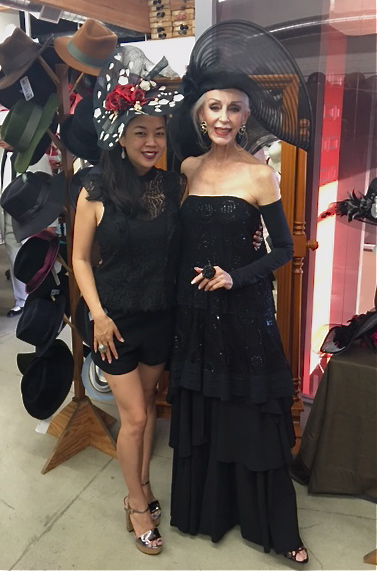 Ryh-Ming Poon and the glamorous and kind Colleen Heidemann were radiant and resplendent in Louise Green headwear!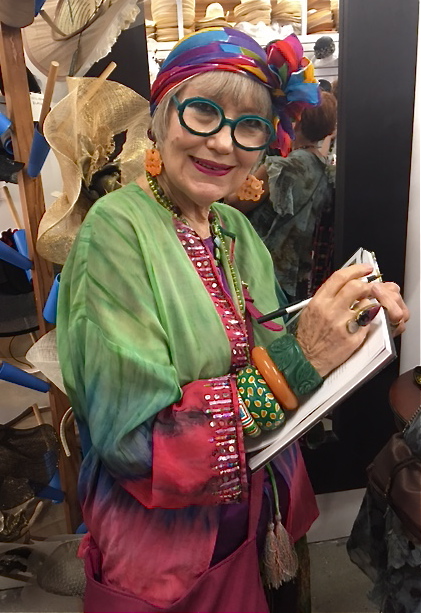 The colorful artist and designer Suzi Click HERE was caught signing her page in Ari's book!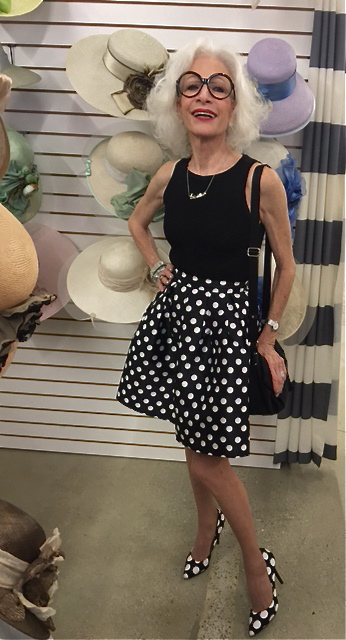 The beautiful model Ellen Jamison rocked polka dots and her stunning silver hair.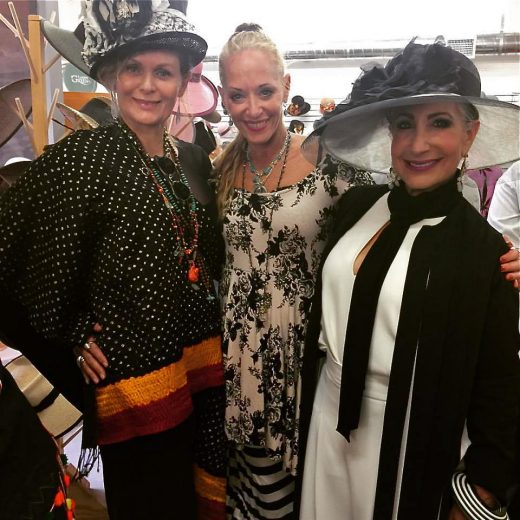 New friends (from left) artist Kerrie Smith, designer and photographer Susan Freedman Londoner of "What Would Susie Wear" HERE and artist Allyson Rowen Taylor were smashing in black and white.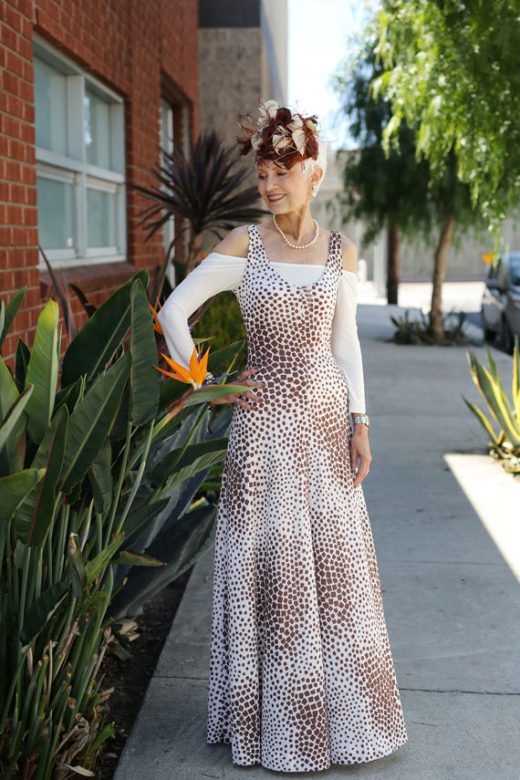 Thank you to Ari Seth Cohen for posting this photo of The Style Crone on Advanced Style HERE.  For the book signing event I combined pieces gathered from my travels over the past few years.  The vintage Diane von Furstenberg maxi dress was purchased at Lili Vintage Boutique HERE in New Orleans and the feather headpiece flew to my head at Fabulous Fanny's HERE in NYC.  The vintage pearl accessories are treasures discovered at Denver estate sales.  I love how Ari's brilliant eye captured the bird-of-paradise as bracelet.  That's one accessory that did not travel home with me to Denver!
I was thrilled and honored to be included in the Daily Mail's piece on "The six senior street style stars that are taking over social media HERE."  I was humbled to be in the company of gorgeous and creative Instagrammers Debra Rapoport, Colleen Heidemann, Linda Rodin, Cynthia Pastor and Sarah Jane Adams, all over the age of 60. Do wonders never cease!
As a reminder, Hat Attack is open for participation, all day, every day