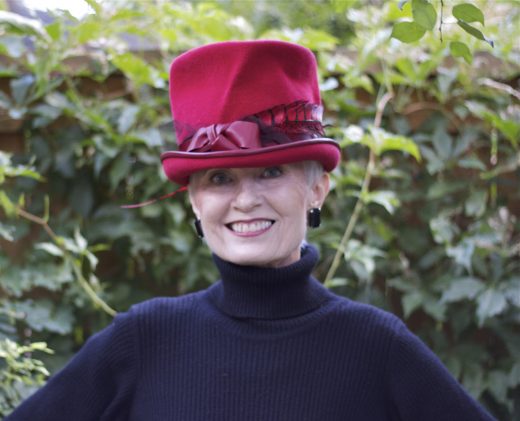 September's Hat Attack celebrates my first formal collaboration with a milliner.  Months ago Cha Cha HERE contacted me by email, asking if I would be interested in working together.  In the past, nothing of this nature had peaked my interest, but when I visited her website I was very impressed and to my surprise, and without hesitation, I said "yes."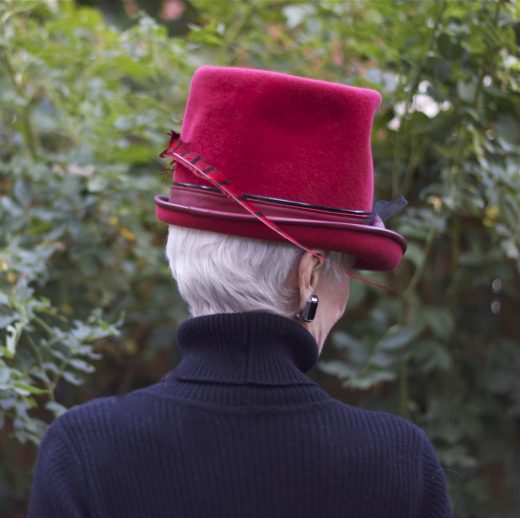 During my most recent trip to New York I visited her studio, and it was then that I realized that my instincts had been right.  Cha Cha was warm, fun, interesting and engaging.  Her staff was welcoming and her workroom was abundant with activity that drew me in. Her studio was filled with racks of gorgeous headwear, and it was clear that she was talented and skilled.  It was at that time that I fell in love with this ruby velour top hat with its captivating red and black pheasant feather.  And so my thrilling collaboration with Cha Cha began.  Another unexpected gift from the world of blogging.
Nothing is more exhilarating to me than supporting and engaging with the headwear community.  My love for the art of millinery and hat making is written all over this post.  Thank you Cha Cha, for initiating a new chapter in the series that is Hat Attack.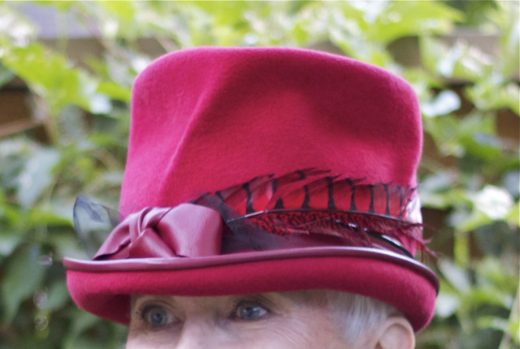 Photos By Daniel
Description of the Melora by Cha Cha
"The Melora is a distressed, ruby velour top hat with tonal lambskin leather piping on the brim. The leather piping on the brim is one of my signature details. It holds the brim shape well and makes the hat a "Cha Cha". The Ruby leather trim is piped with black patent leather. Distressed black tulle and a black/red wrap around pheasant tail complete the look.
This season we looked to some of my favorite hat wearing music icons for inspiration. Melora is the lead singer of a long time favorite band called Rasputina HERE. She plays cello and writes quirky songs about Victorian oddities." ~Cha Cha
Video – Finn Wells, Creative Director – Daniel
Cha Cha's Melora has inspired me to add video to my monthly Hat Attack, and today I'm posting my first attempt at this new medium.  I'm totally "101" at this, but there's a thrill in starting something new.  Thank you to Finn and Daniel for the expertise and fun!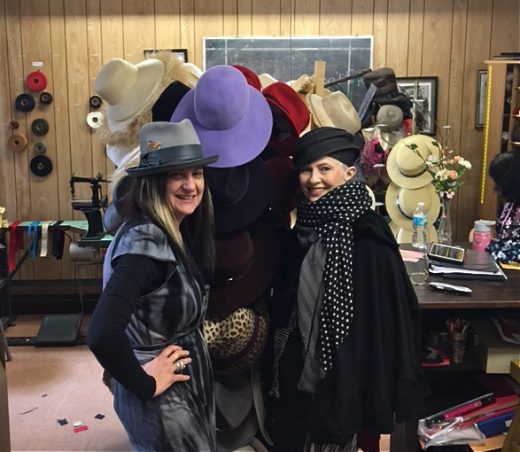 Visiting Cha Cha in her studio in NYC in April
Cha Cha's Biography
"Cha Cha began studying the craft of millinery in 1994 under the
tutelage of the highly regarded milliner, Anne Allbrizzio. After completing
the millinery program at FIT she began designing for private clients.
Soon she started collaborating with the East Village designer Mark Montano.
In August of 2001 she opened her millinery design studio,
Cha Cha's House of Ill Repute. Since then she has steadily built a unique
clientele ranging from NYC to Tokyo to Shanghai. All hats are made in NYC.
They are hand blocked on Cha Cha's collection of vintage and specially
designed blocks using the finest quality straws and felts. She scours local
& regional flea markets for vintage millinery, antique trimmings and feathers
to inspire her designs. Her signature style includes hand dying blended
with free form blocking techniques which give the hats a unique vintage
look while remaining modern and wearable.
Cha Cha's hats have attracted the attention of the entertainment industry.
She counts several celebrities as devoted clients including Alicia Keyes and
Justin Timberlake. Her hats have also been purchased by Queen Latifah,
Pink, & Christina Aquilera among others."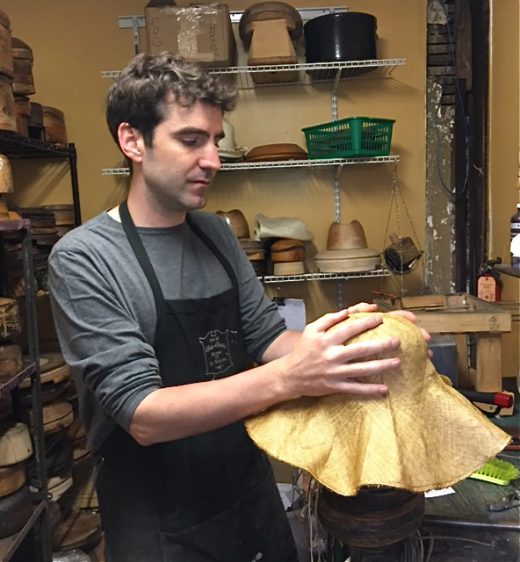 Calvin blocking a straw hat in Cha Cha's millinery workroom in April.
"Why I love Millinery" – By Cha Cha
"I became a Milliner because I absolutely love the process: blocking, finishing, etc. I originally went to school for fashion design but was a terrible pattern maker, sewer, etc.
When I landed in NYC after graduation I took a millinery class at FIT and fell in love with the techniques, much more like sculpting or pottery, very hands on. Also more room for errors which can lead to interesting accidents and new ideas. I felt very at home here and was inspired creatively which had never happened in design school. I love wearing hats frankly because I'm naturally shy and wearing a hat attracts attention these days. Walk into a party in a hat and you may not talk to the coolest or most popular person there, but you likely will end up talking to the most interesting one. They will seek you out.
I like the community around hat wearing and the way they make you feel and the confidence they confer to the wearer, almost by accident.
One of my favorite quotes about wearing hats is by Lily Dache. I like the idea of literally putting on a new hat and adding that to your personality stew.  It's also an easy way to stand out and look great without too much worry about the rest of your outfit.
"A woman's hat is close to her heart, though she wears it on her head. It is her way of saying to the world: See this is what I am like-or this is what I would like to be." ~Lily Dache
The Melora is available on Cha Cha's website HERE.  Cha Cha is offering a 15%  off discount through the link on my post using the discount code "stylecrone" on her website from Sept 1 -7.
The Melora is courtesy of Cha Cha. All the writing (except for quotations) and opinions are my own.  Style Crone does not receive commission from purchases.
Now it's your turn to throw a little headwear my way. Give The SC a SEPTEMBER HAT ATTACK and kindly link to Style Crone somewhere in your post. The link-up will be open through September 30th.
Anyone can participate in the celebration of headwear!  All you need is a URL, which can be acquired from Instagram, Facebook or your website.  All forms of headwear are appreciated:  hat, headwrap, headscarf, headpiece, fascinator, hair flower, headband or other adornment for your head that you enjoy.  Multiple photos are encouraged!
[inlinkz_linkup id=659686 mode=1]