Black, White And Electric Blue
Now that spring has officially arrived, The SC is "flipping" the hat room, transitioning the fall/winter hats to their tissue lined boxes, and bringing forth the spring/summer beauties.  In the process, I gave one last felt hat a spin, pairing it with a long vintage black and white graphic patterned jacket that I found at a yard sale years ago for five dollars.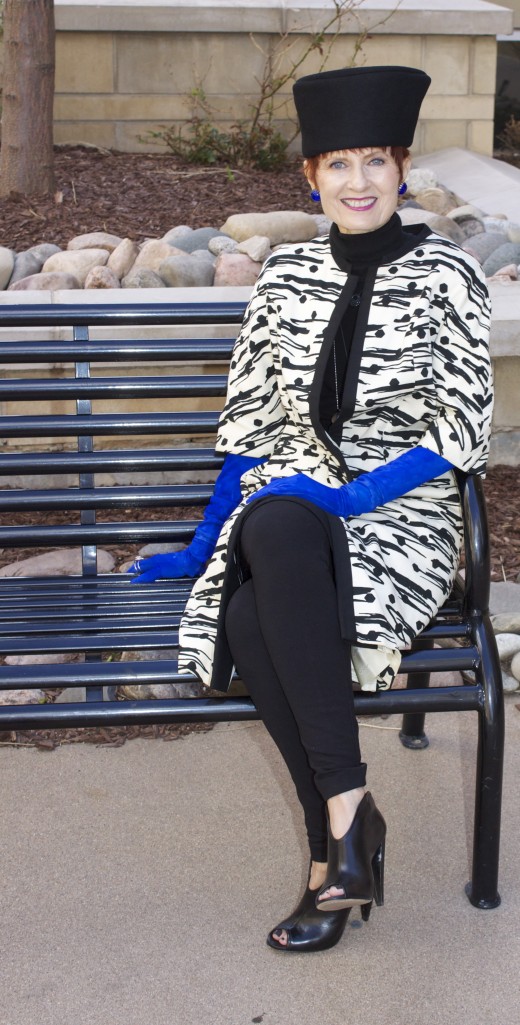 The jacket has been featured on Style Crone before, accompanied by red.  This spring electric blue was the chosen color to accessorize the jacket's bold lines.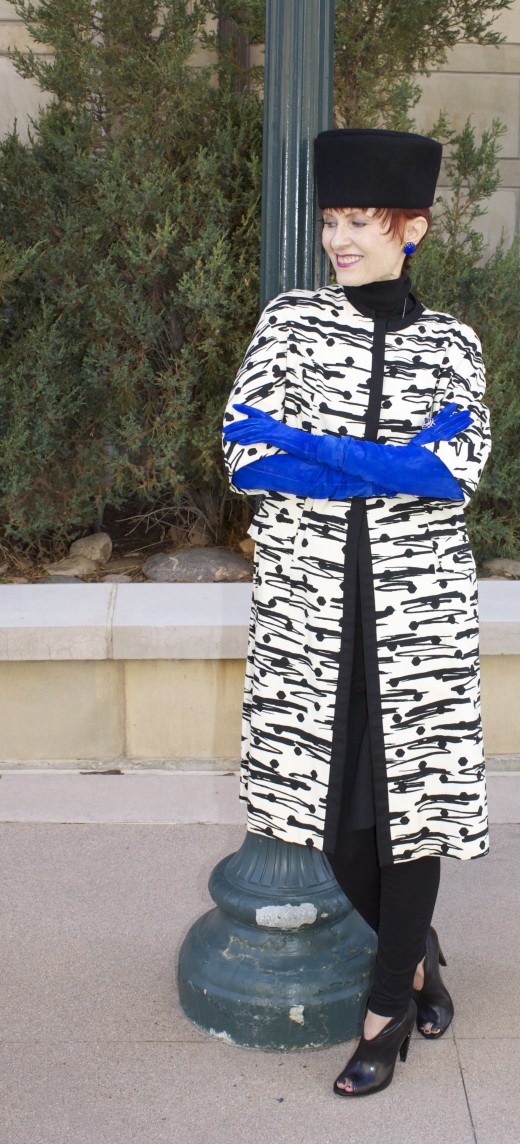 However, I'm not feeling blue!  Mr. J has made a flight into health, and his recovery from life saving surgery is nothing less than miraculous.  He is not in need of chemo and he does not need a follow-up scan for one year.  My head is spinning with the speed and intensity of the events of the past two months.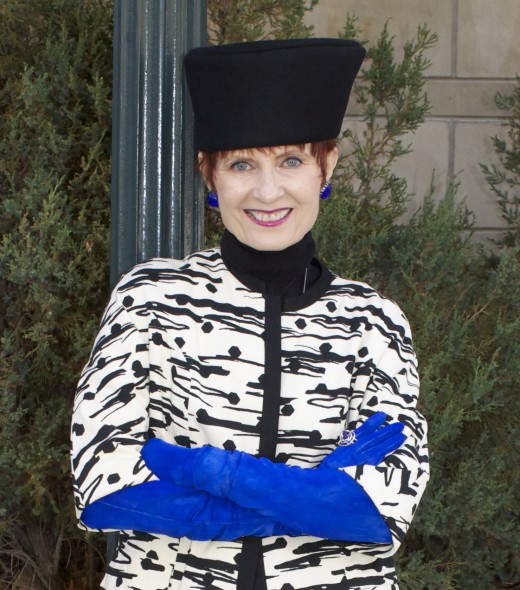 The black felt architecturally structured Frank Olive hat from my hat shop in the 80's reflects the elevation of feelings that move through me.  Though recovery from major surgery takes time, there is much hope for a life filled with a return and continuation of the fun and sense of adventure that began with our relationship just six months ago.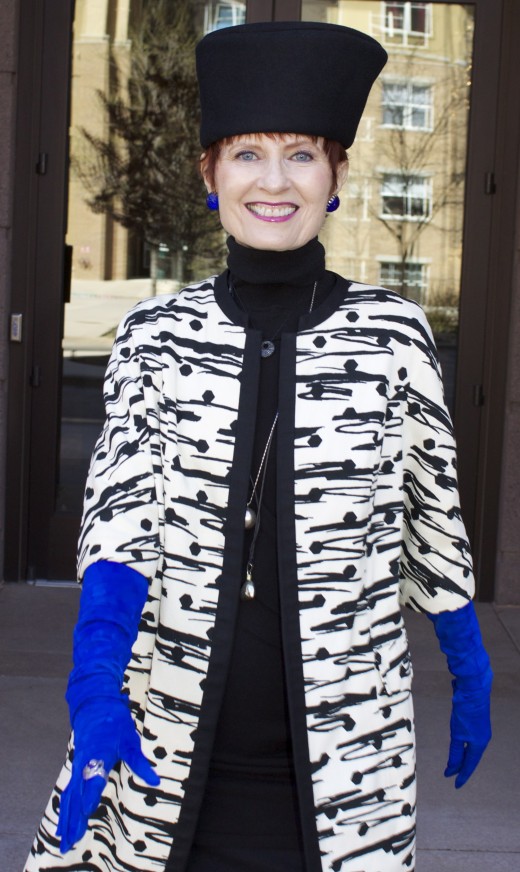 Overcoming fear, yet allowing its presence to be felt, has provided the opportunity to learn that a cancer diagnosis does not necessarily lead to a devastating outcome. Love is more powerful than the barriers that stand in its way.
Like yoga.  Holding a pose and deepening, not too far into the pain of injury, but stretching and twisting into new growth, strength, flexibility and awareness.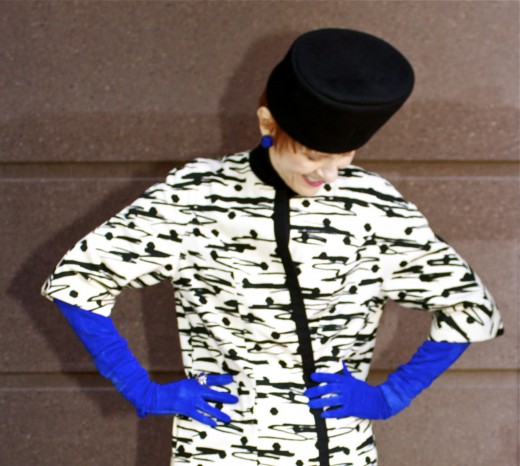 I have been astounded by the new life that I have encountered.  It is never too late to live every day in all areas to the fullest, to be transparent in the process and to be open to all the possibilities that my heart feels are right for me.  The configuration within my cells will change and transform until I wear my last hat.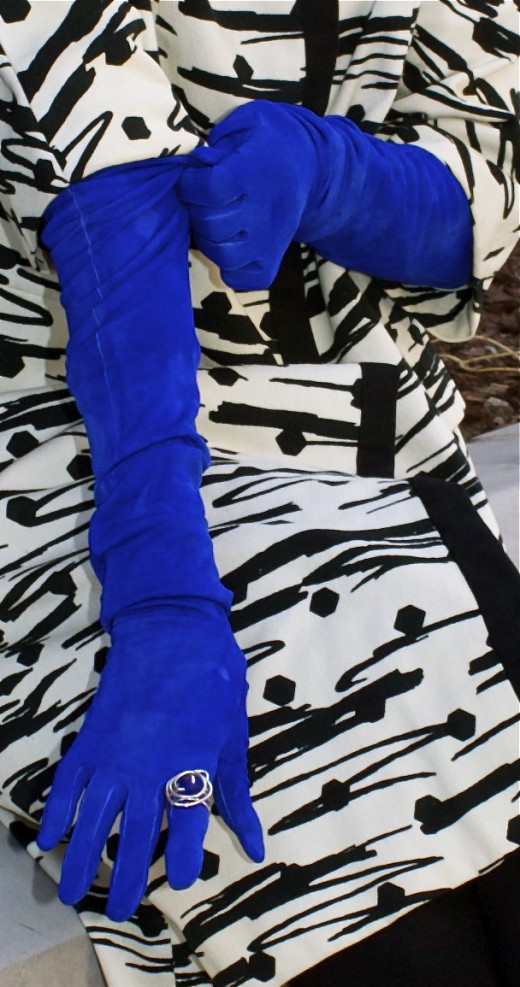 The silver ring with blue stone was purchased at a Denver art fair last summer.  The three neck pieces were gifted, and the vintage blue earrings and gloves were estate sale treasures.   The vintage black skirt was discovered at an estate sale and the turtleneck and leggings functioning as background were retail finds.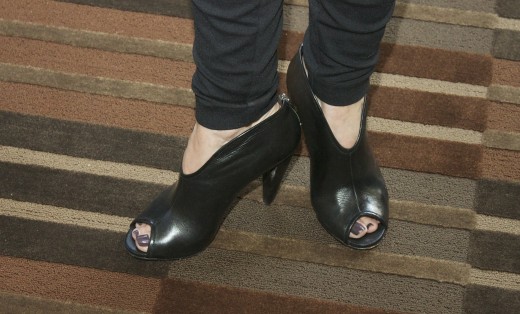 Photos By Daniel
The open toed heeled booties that were found at a retail sale years ago finish off my ensemble.  Like the hat room, the transition to spring/summer shoes is a ritual that twice yearly announces the change of seasons.
Hat Attack continues through Wednesday, May 7th.  There is still time to give The SC a May Hat Attack.  Thank you to all who have participated so far.  Your gorgeous headwear thrills me!
I'm linking up with Patti's Visible Monday HERE at Not Dead Yet Style.  Patti is wearing a lovely black top with back detail.  Not to be missed!
Bella's Secondhand First link-up happens every Friday, so I'm taking my vintage treasures to the party at The Citizen Rosebud HERE.  Thanks Bella, for reminding us to shop sustainably.
Sheila's Shoe Shine #1 is a "happening" taking place at Ephemera HERE every other Saturday, and The SC is taking her open toed booties over to the party!