It was a cold and windy morning in downtown NYC as Camille and The SC gathered for brunch with friends and celebrated Nelson's life with stories, laughter, tears and mutual support.  I wore his wedding ring on a silver chain around my neck.  We were enveloped in black with a splash of vibrant color to represent a life well lived.  I had neglected to bring gloves from my extensive collection, which left my hands exposed to the chill of the day.  Nelson would have been amused that I had forgotten an accessory!
We then traveled to Washington Square Park where he loved to sit and 'people watch.'  Always the astute observer!  He enjoyed the diversity, the chess players and the beauty of the space.  The SC read from a card which had been given to him on our first anniversary.  We proceeded to spread his ashes in the area where he had spent time talking about life with his good friend of many years, a musician who performed at the memorial service following his death and who took these photos.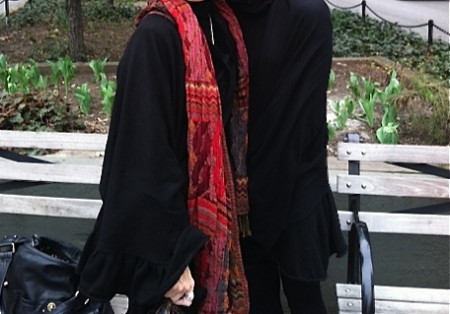 Photos by Phil
We then took the train to the Upper West Side to the location of several hotels where we had stayed over the 12 years that Camille had lived in NYC.  He was know to sit on the bench in the median on Broadway, and observe the activities of the day.  We spread his ashes and I again read from a card that expressed a sweet moment from the past.  The ritual was complete.  Nelson's ashes rest in peace in places that he loved.
The remainder of the day unfolded in slow motion as Camille and The SC walked familiar streets, spent time with friends, and toasted Nelson with a glass of wine (with ungloved hand) in a restaurant that he had enjoyed. Nelson's NYC memorial service was complete and we felt a sense of tranquility and release that we had dedicated our trip to this purpose.