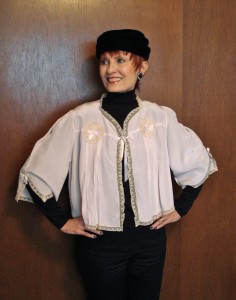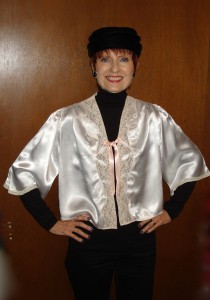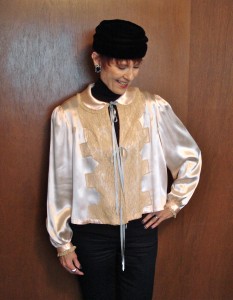 Photos by Alexis
The SC has been fascinated with bed jackets since the 70's.  I love the lace, silk, satin, ribbons, delicate details and the soft muted colors of mostly blue, pink, lavender and peach.  The photos above are a small sampling of my cherished collection.  These historical pieces of art were discovered over the years at estate sales, flea markets and vintage shops, and I have worn them out on date night, dancing or to dinner, or to an occasional party.  I have been known to wear a quilted bed jacket to the grocery store!
Wickipedia states, 'Bedgowns lingered as fashion garments into the mid-20th century, usually under the newer name bedjackets, in the form of short robes or wrappers worn over a nightgown or negligee for warmth and modesty while sitting up in bed for breakfast, reading, or similar pursuits. They had mostly fallen out of fashion by the 1960s.'  They may have fallen out of fashion in the 60's for the activities described, but I find them irresistible and they are too divine to keep hidden while reading in bed or tucked away in a closet.  Better for a bed jacket, or any collection of art,  to bask in the light of day or the mystery of the night, and allow their unique beauty to reign.
Thank you to Ari Seth Cohen of Advanced Style HERE and Shelley of Forest City Fashionista HERE for brightening my week of Thanksgiving!