1930's Silk Satin And The Fab Over Fifty Bash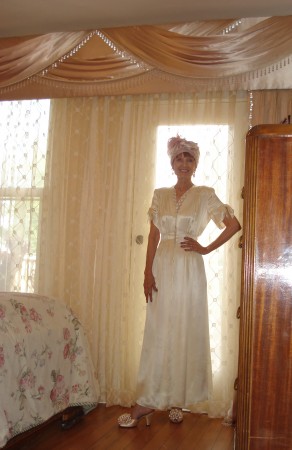 The SC purchased six panels of vintage pale pink silk satin drapery with crystal trim at an estate sale over 15 years ago for next to nothing and they were recently rediscovered during my organizing efforts. My brilliant designer friend Barbara HERE made a dream become reality, creating graceful folds of silk satin and crystal and with the inclusion of sheers, my bedroom wall with its window and door to the veranda continues to have me catching my breath as I enter the room that is my sanctuary.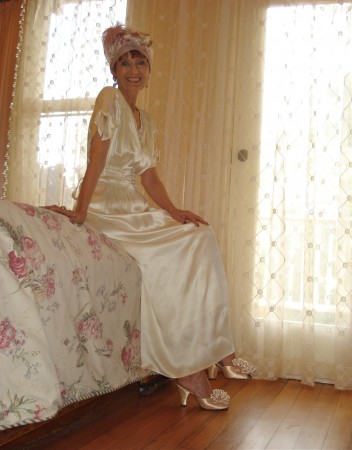 In celebration of the new look of my bedroom, The SC threw on an off white silk satin vintage dressing gown with vintage off white satin slippers and improvised a headwrap with a silk satin patterned pink scarf layered over a pale pink silk chiffon scarf along with a pink feather hat pin, all estate sale finds. Nelson's touch was like the brush of silk satin on my skin, so surrounding myself with an externalization of that sensation seemed fitting and with the discovery of these drapes, the perfect thing to do.
The 1930's bedroom furniture was a trade for vintage clothing with a friend who had an antique store many years ago.  And the rose patterned duvet cover was, of course, acquired at an estate sale.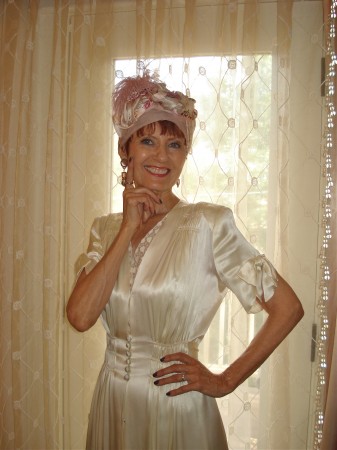 Photos by Diana
An exciting, unexpected and surprising development has emerged.  The SC has been invited to model at a fashion show at Geri Brin's Fab Over Fifty's Beauty Bash HERE on September 29th in NYC.  Marla Wynne, designer extraordinaire HERE, will be showing her elegant and stylish line of clothing (on her Facebook Page HERE) and I am honored to be participating with a number of remarkable women that I had the pleasure of meeting during my last two visits to New York.
This is a new experience for me, having roamed the halls of psychiatric emergency rooms, hospitals, medical clinics, mental health centers, rehab facilities and other health care venues.  The mysterious twitsts and turns and the intricate circumstances of life continue to unfold in unfamiliar and surprising ways.
So I'm off to New York with Camille and will blog as I can along the way.  I will also be looking for headwrap fabric as I move forward on the project that engages my passion.
I am very grateful to all who follow and comment on Style Crone.  You continue to be a lifeline along the ongoing journey of transformation.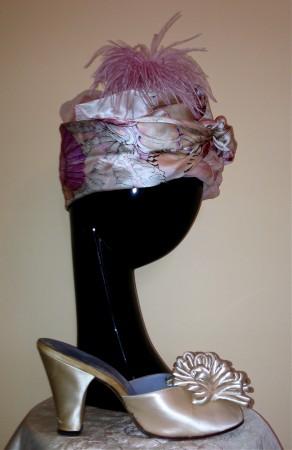 Close-up of improvised headwrap with vintage satin slippers.
A special thank you to Alison Gary of the incredible blog Wardrobe Oxygen HERE for featuring The SC in her True Fashionista Series.  Per Alison's About Page HERE, " Wardrobe Oxygen is a blog that offers tips and advice for all women to achieve personal style, regardless of age, figure, budget, or lifestyle."  She does all of this and more with her beautiful and creative style, outfit features and vibrant personality.
The SC is taking the silk satin headwrap over to Patti's playful weekly gathering  at Visible Monday HERE.