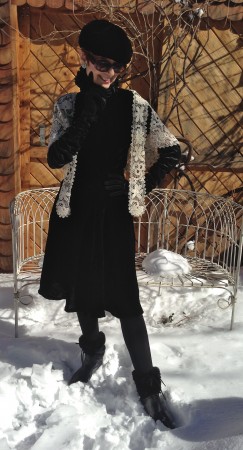 To celebrate the much needed snow, which provided moisture to relieve our dry winter, I wore black velvet, accessorized by a vintage lace apron that was found in a box during my excavation.  There have been many treasures that have revealed themselves over the past months, and within two weeks (I have promised myself) I will have gone through everything in my inventory.  But today it was time to take a few minutes to play in the snow.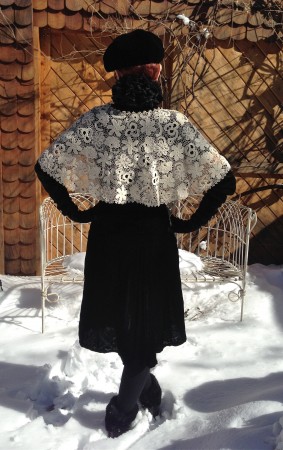 Without the help of dear and generous friends, Camille and the two young women from the Art Institute of Colorado, I would not be able to accomplish this goal.  At times my home feels like a beehive, radiating warmth and creative energy, which I can feel in my Style Crone heart.  Yesterday I threw a brightly colored bow on my front door, rescued from the 'to go' scarf pile.  Everything around me and within is in the process of rearrangement and change.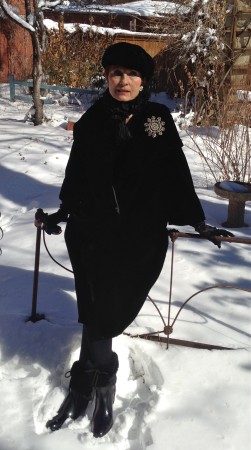 Though the Colorado sun shines brightly, the chill in the air in the middle of the afternoon required the addition of a velvet coat and a huge rhinestone pin.  Rhinestones shine much more brightly when greeted by the sun.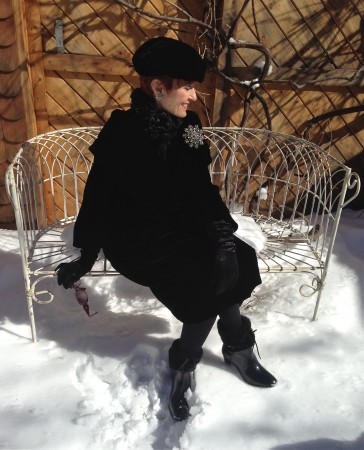 Photos by Diana
I asked Diana, "What will it look like in two weeks when my home is finished?"  She said, "You will see the beauty of Nelson."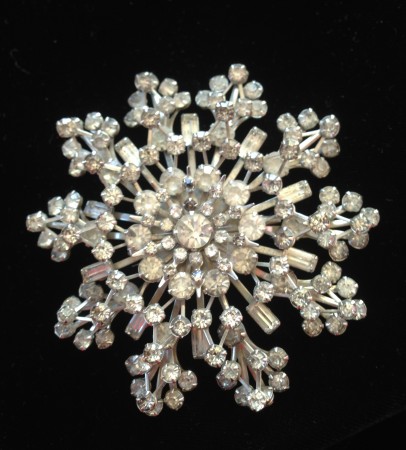 The Rhinestone Snowflake.
Vintage black velvet dress – belonged to my friend's mother, vintage black velvet beret, vintage lace apron, vintage black snow boots with faux fur trim, vintage black silk ruffle scarf, vintage long black velvet gloves and vintage jewels – estate sales.
I'm joining Patti over at Visible Monday HERE, at the weekly gathering that brings kindred spirits together at Not Dead Yet Style.