The Magical World of Sue Kreitzman
Photo by Carol Markel of Femme et Fleur HERE
The SC was thrilled beyond words to accompany Carol Markel and Richard Cramer to Sue Kreitzman's HERE studio and home in the Washington Heights area of NYC on a rainy day, which did nothing to decrease the absolute joy and exhilaration that I felt when I entered Sue's magical world of color and creativity.  For the occasion I wore Denise, the hat that I purchased from Carol Markel at her studio earlier in the week. Denise fit right in with the color that surrounded her on this day of her debut.
The above photo was published on Carol's blog Femme et Fleur HERE, where Carol writes eloquently and with humor about our visit to Sue's world, her history and her art.  It was a day that will always be remembered for its jaw-dropping explosion of art.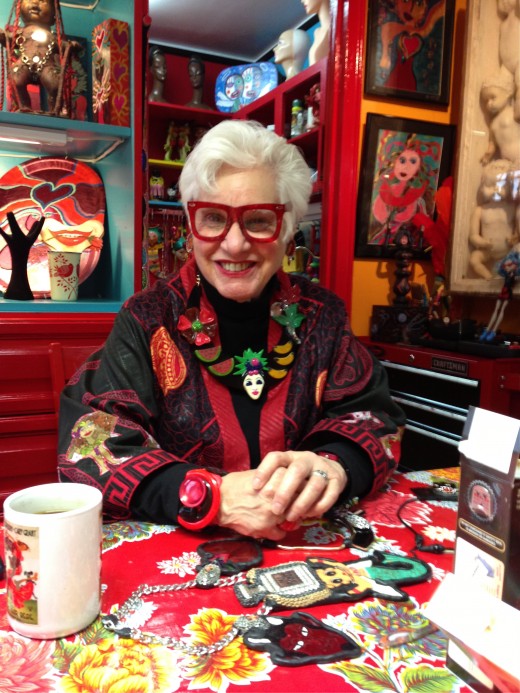 This photo captures the self-expression of a woman who possesses extraordinary creativity and warmth.  I felt embraced and electrified by her art and her very presence, inhaling the energy that surrounded me, and look forward to how it will inspire me in the future.  How it will it engage and influence me as time unfolds.  This was an experience that deeply affected me on all levels and with all of my senses.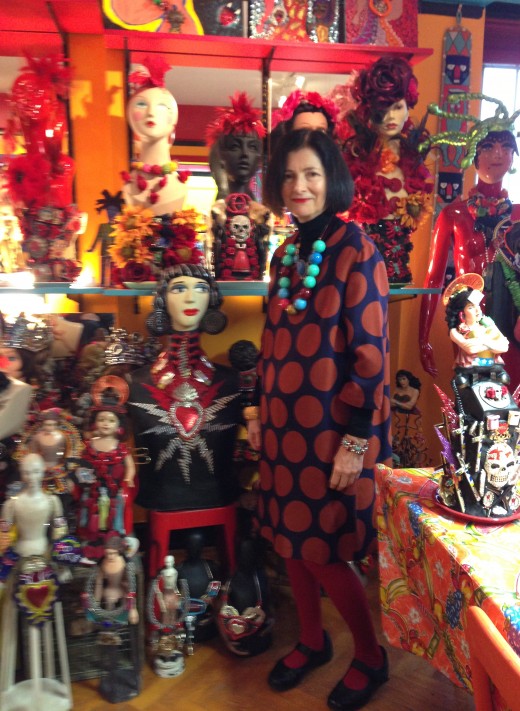 Carol Markel, wearing the beautiful beads of her own creation, amidst Sue's world of endless and abundant artistry.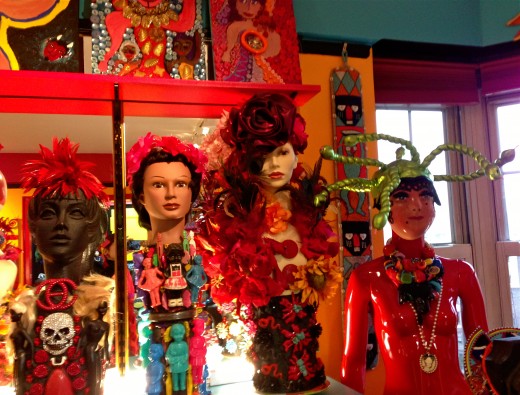 Sue's work speaks for itself!  The following photos captured a small amount of the wonder on display.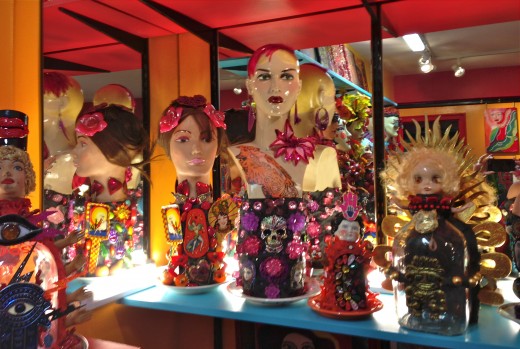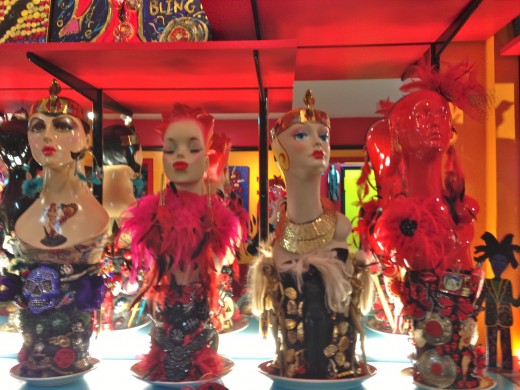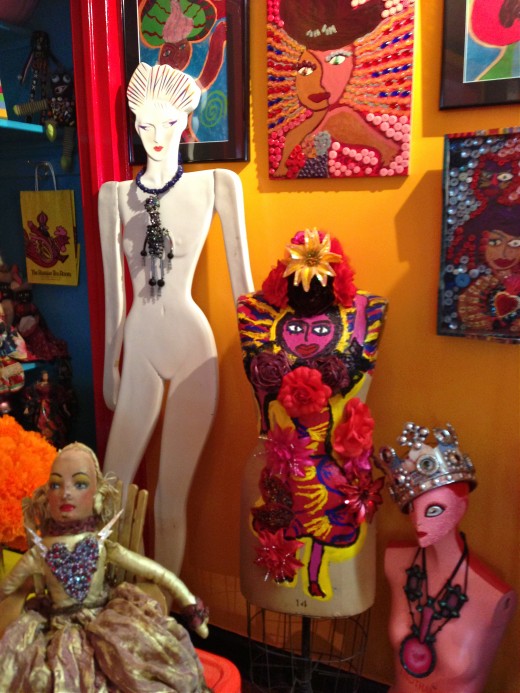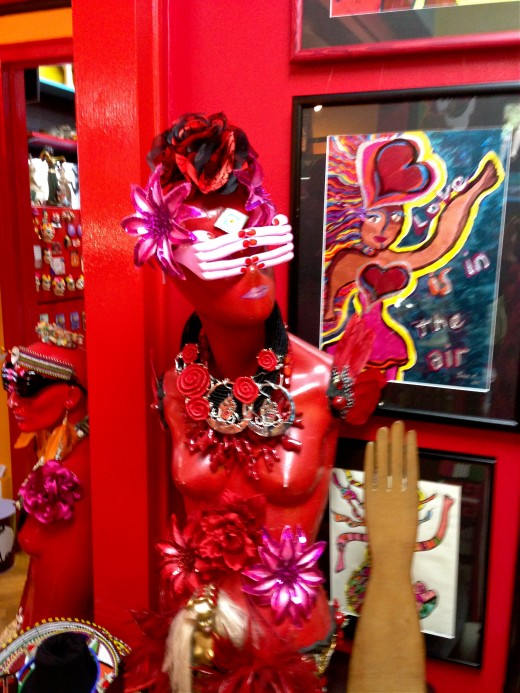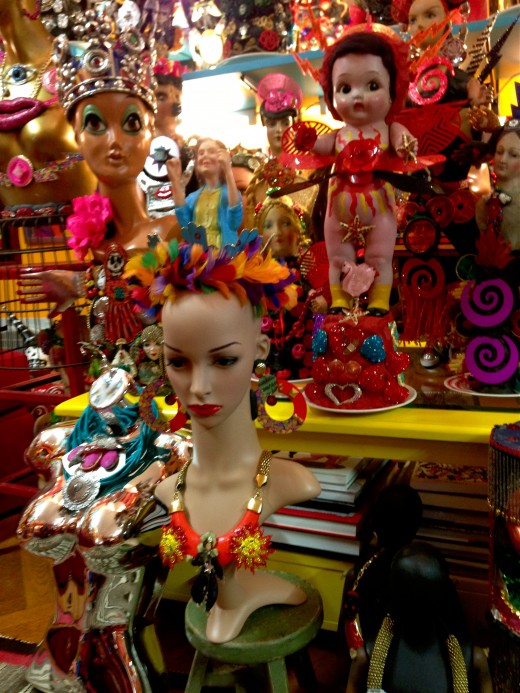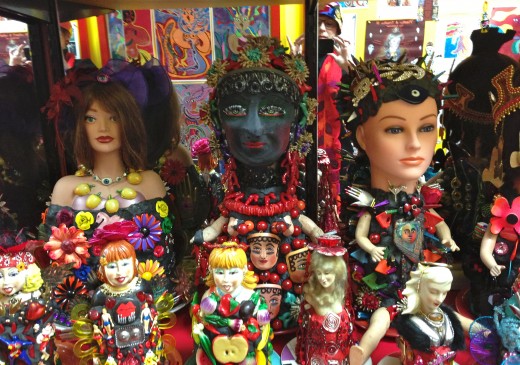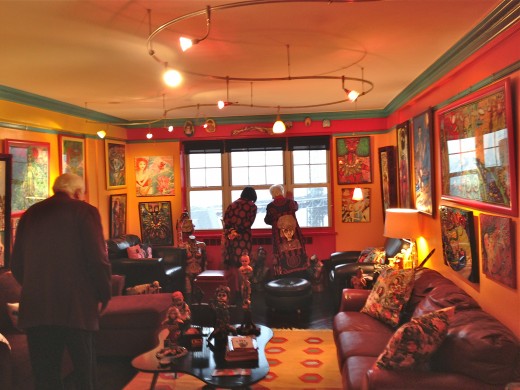 Sue's apartment in Washington Heights is a few steps from her studio, and has a stunning view of the George Washington Bridge.  Even on a rainy day, it was a glorious vista to behold.  Richard, Carol and Sue, wearing a jacket of her own design, catch the view from the living room.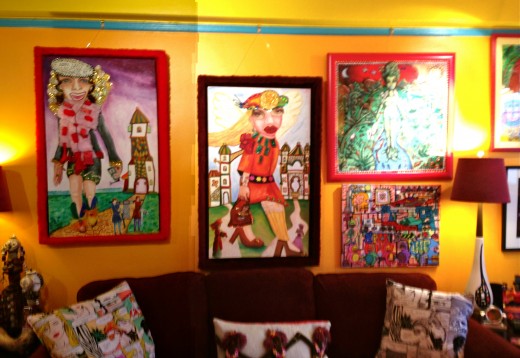 In her home, Sue displays the work of artists that she loves and supports.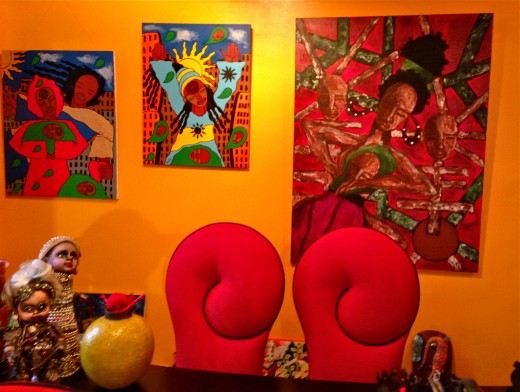 I loved the shape of the chairs in the dining area, and was enthralled by the art on every wall and in every possible space in her living area.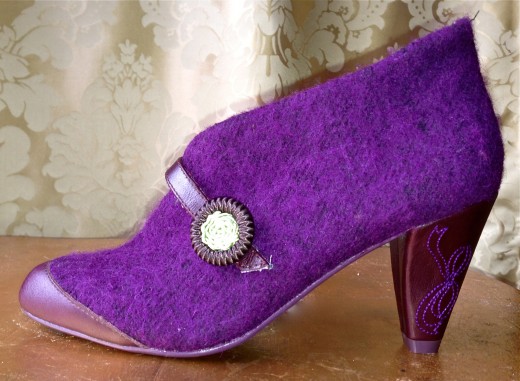 Back in Denver, while shopping for a birthday card for a friend at Talulah Jones HERE, a gift shop a few blocks from my home,  I thought I would be safe from all things irresistible in terms of adornment.  I was mistaken. I had forgotten that Talulah sold shoes, and these beauties were 50% off.  Is there no safe place to enter when on a spending diet?
The shoes are made of felt and could be a hat for the foot.  The radiant color captured my attention.  Perhaps Sue Kreitzman's influence made me buy them!  And here they are at home, ready to enhance an outfit and to step over to gorgeous Bella's Shoe Shine HERE at The Citizen Rosebud.  Can't wait to see what's "kicking" at this once a month shoe party!