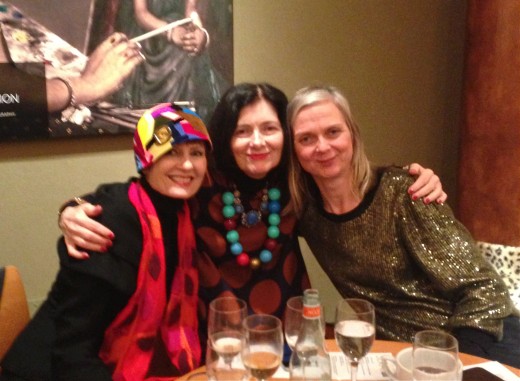 After visiting Sue Kreitzman's magical studio and apartment, we gathered at the Rubin Museum HERE Cafe for fun and frivolity, and the privilege of meeting the fabulous blogger from London, Alyson Walsh (on the right) of That's Not My Age HERE.  Blogger Carol Markel of Femme et Fleur HERE smiles brightly in the center!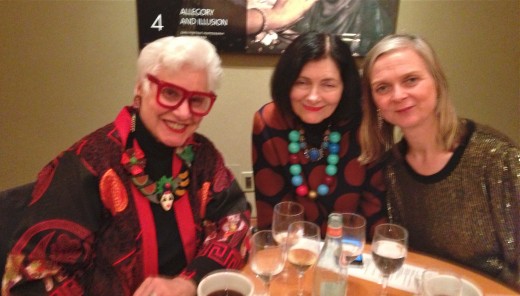 Along with Sue Kreitzman, who was leaving for her London home the next morning, we toasted to the celebratory gathering of Wild Old Women (Sue's term) and had a bite to eat, along with libations.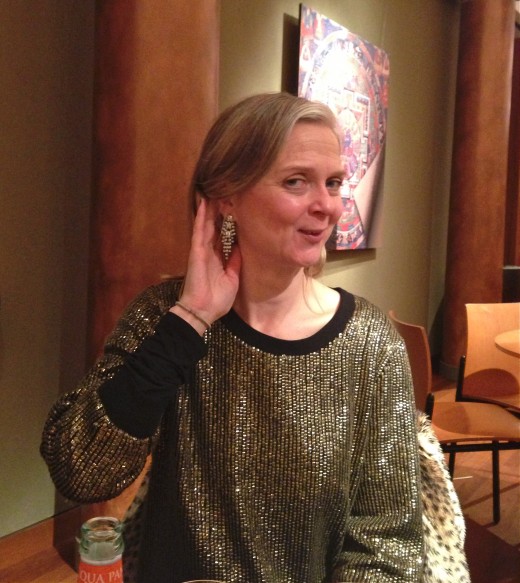 Meeting Alyson was a memorable occasion.  I've been enamored with her blog for years, and found her to be even more beautiful, engaging and witty in person, if that is at all possible.  Here she is, revealing her holiday bling, which sparkles in unison with her sweater.  I've found that meeting like-minded bloggers to be one of the most exciting and meaningful aspects of blogging.  This gathering was no exception!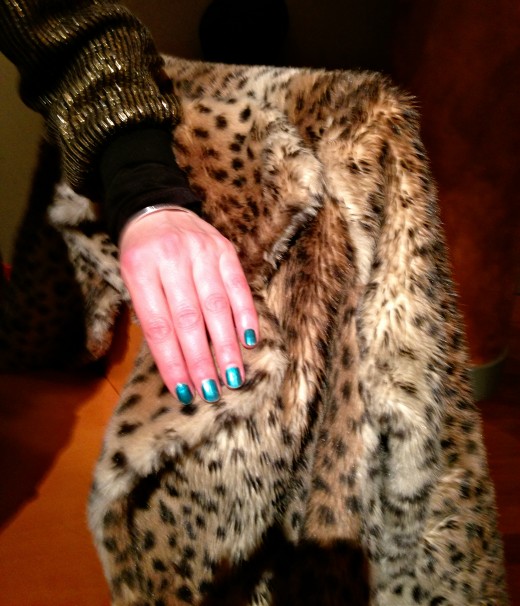 I loved Alyson's choice of nail polish, which playfully accessorized her vintage faux fur coat!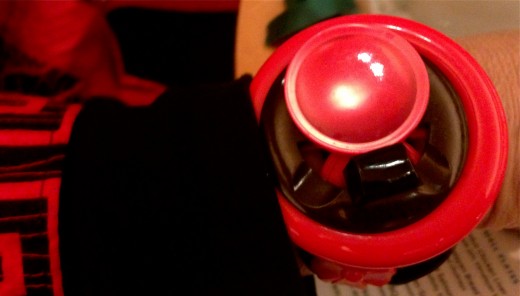 Sue Kreitzmans's bracelet caught my eye with its unique and intricate design, pairing with her jacket to perfection.  Catch Sue's documentation of our day HERE on her Google page, which also displays photos of the charming Richard Cramer, whose presence also graced this gathering.
This visit to NYC met all expectations, and more.  Reentry takes time as I integrate my experiences, returning to the life that I love in Denver, enriched, re-energized and ready for the next adventure, however it takes form.
HAT ATTACK #7 will be featured on Saturday, February 1st.

Whoever wants to can join in!  Just compose a post that includes any hat, headwrap, headpiece, fascinator, hair flower, headband or other adornment for your head that you love on Saturday, February 1st.  Participation will be open for one week, or until Friday, February 7th.  Follow the directions HERE provided on Style Crone to post your photo and hope to see you there!