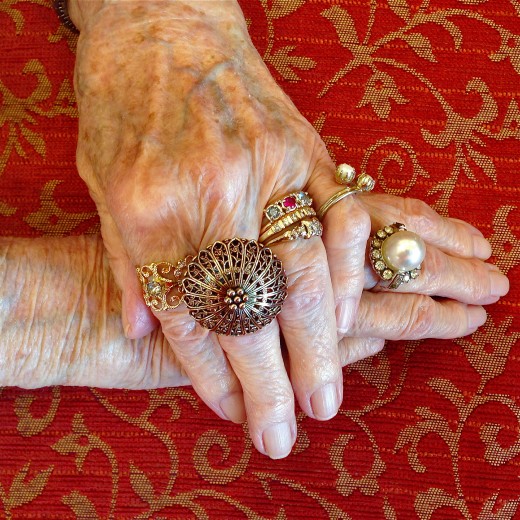 I just returned from a visit to Minnesota to visit my 95-year-old mother Norma.  Living in an assisted living facility, she continues to be an inspiration to me.  She loves to play bridge, which requires intact cognition and the ability to strategize.  Every evening in the facility, a group of residents gather to play cards, and my mother wouldn't miss an opportunity to adorn her hands with rings from a collection which she has maintained over a lifetime.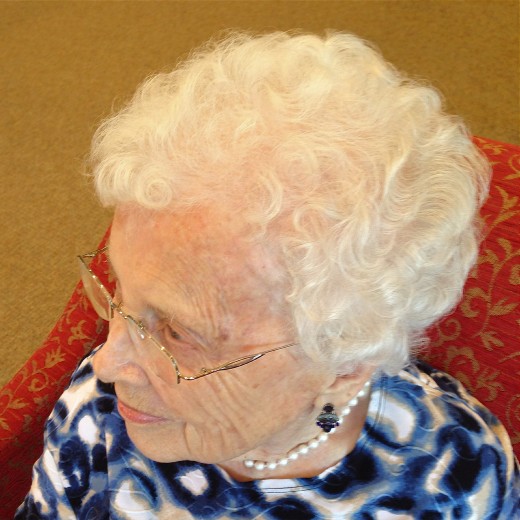 Her white hair is her crowning glory, and as I grow my hair out from red to white, I see my future in the photo above.  She never lets a day go by without choosing earrings and other accessories to partner with an outfit from her closet.
Macular degeneration limits her eyesight and she walks with a walker, but it doesn't interfere with her ability to enjoy life to the fullest and engage with a sense of humor. Totally independent with activities of daily living, Mom loves to tell stories of the past, but she lives in the present.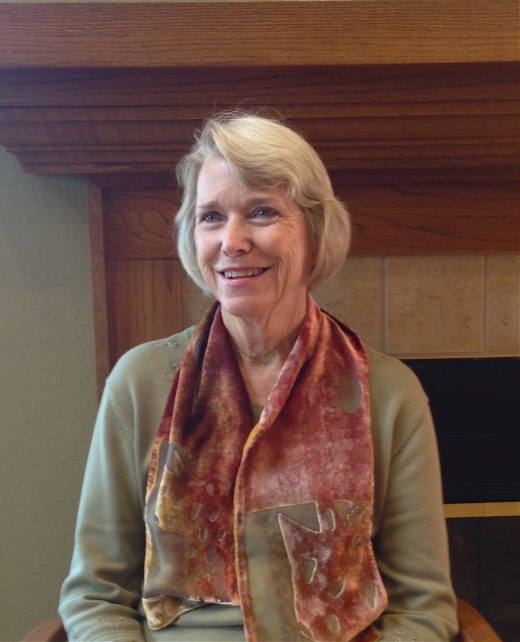 Captivating Crone Series
Jan, my best friend from high school, joined us at the facility for photos, laughter and conversation.  Jan is 72, like myself, and at times volunteers to play cards with the residents, which of course includes my mom.  She tells me that my mother is a role model for others because of her ability to accept loss and limitations, and move forward with grace and good humor.
Jan's hair has been its natural color for several years and she's wearing a gorgeous silk velvet scarf which she purchased during a trip to Sweden.  Her warm smile is no different than it was when we first met in 1956.
I love connecting with Jan during my visits to my home state of Minnesota.  After graduating from nursing school together in 1964, our lives diverged, but we have rich history and we know each other deeply.  Long term friendships are one of the treasured gifts of aging.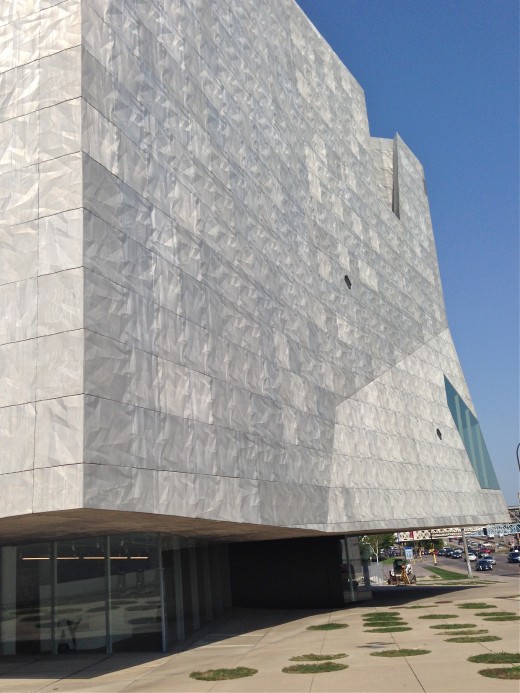 It has become a ritual for me to complete each Minnesota adventure with a visit to the Walker Art Center HERE in Minneapolis. The Walker is a multidisciplinary contemporary art center and one of the "big five" museums of modern art in the country HERE.  I have seen some on the most impactful exhibits of my life at this revered Minnesota landmark.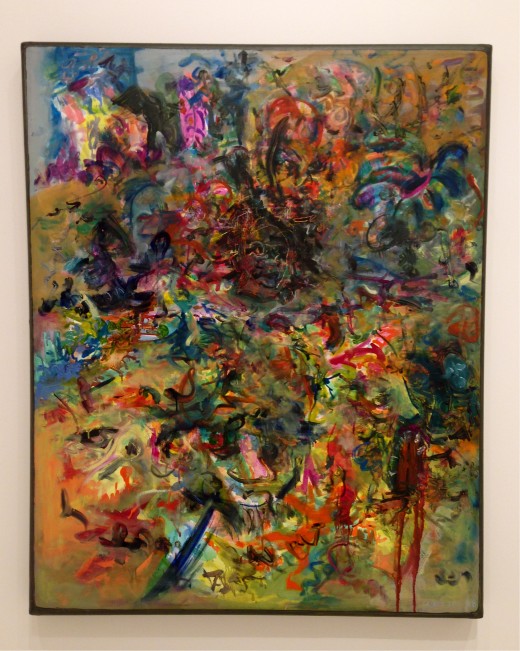 I checked out the exhibit honoring Jack Whitten: Five Decades of Painting HERE.  The above oil on canvas was titled Martin Luther King's Garden.  As an abstract painter, Jack Whitten explores the concept of "Soul Mapping" HERE, and I was enthralled with the first exhibit to span the full breadth of his work.
Later in the day I flew back to Denver, inspired by my return to the "Land of 10,000 Lakes" and the place on earth that holds more memories than I can articulate or count.  Until the next time.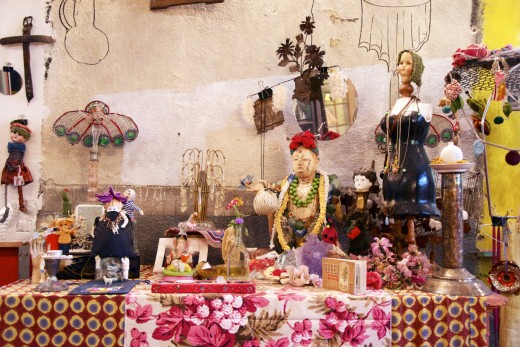 Now back in Denver I look forward to the opening reception (October 1st from 6:30-9pm) of my friend Susan Wick's art exhibit Wild Women Never Get The Blues HERE. The show will be at the Boulder Museum of Contemporary Art from October 1st through January 3rd, 2016.  It's an exhibition not to be missed!
 "Showcasing 50 years of the prolific and eccentric work of Susan Wick, this exhibition will feature a site-specific, immersive installation with a selection of paintings, drawings, artist books, ceramic works, knit works, puppets, and masks, among many other objects."…The Boulder Museum of Contemporary Art.