The Idiosyncratic Fashionistas And The Frida Kahlo Exhibit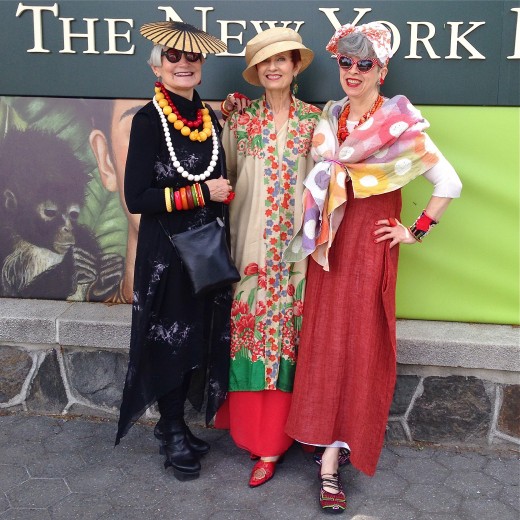 My glorious trip to NYC began with the Idiosyncratic Fashionistas, a visit to The New York Botanical Gardens HERE in the Bronx  and The Freda Kahlo Exhibit: Art – Garden – Life HERE.  Jean and Valerie have blogged about our adventure HERE, with a beautifully written and detailed post which includes more photos of tropical beauty, information on exhibit features which we didn't have time to visit and images of additional Frida inspired outfits worn by garden visitors.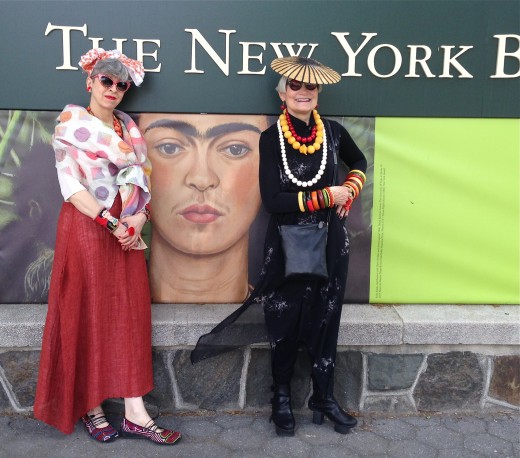 Valerie, on the left, and Jean, on the right, frame Frida perfectly in their creative ensembles of the day. Valerie wore a deep orange Ivan Grundahl sleeveless dress, an Osamu Mita woven throw, Pleats Please blouse, antique ethnographic necklaces, and knitted cuffs with Frida's portrait (cut from socks).  Jean wore a black sleeveless voile shirt which she adorned with cascades of bakelite and prayer beads.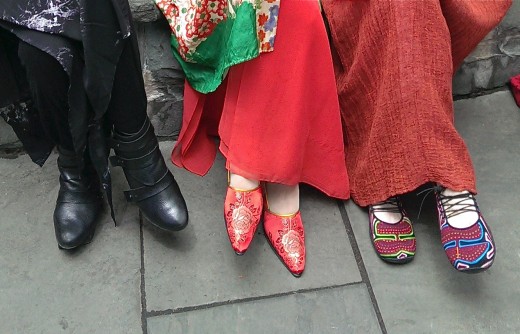 Jean donned Trippen boots, that's me in embroidered red fabric shoes, and Valerie wore flats made of Kuna Indian molas.  Our diverse choices of footwear withstood hours of walking as we made our way through the Enid Haupt Conservatory, which showcased plants and flowers reflecting Frida's intense interest in the botanical world. We strolled through the rainforest, the desert and then to Casa Azuel (Blue House), all of which reimagined Frida's garden and studio in her lifelong home in Mexico City.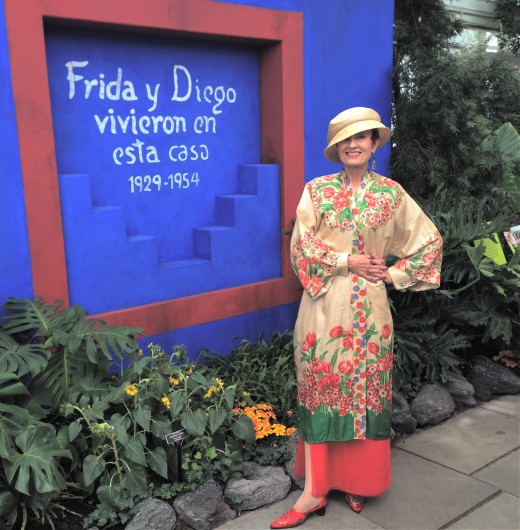 I wore a floral silk kimono and man's silk shirt (both from the 20's), a Maeve Carr straw hat from the 80's and a vintage red double layer chiffon maxi skirt.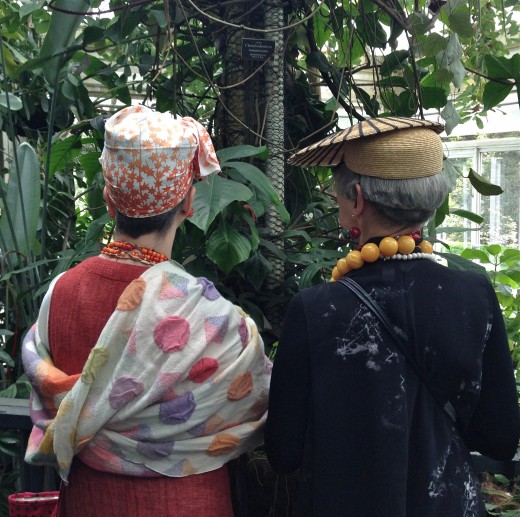 I was fascinated by the headwear that Valerie and Jean wore, and wanted to share as many perspectives and views as possible.  Valerie wore a Japanese tenugui (hand towel) as headwrap and Jean wore an Ignatius hat.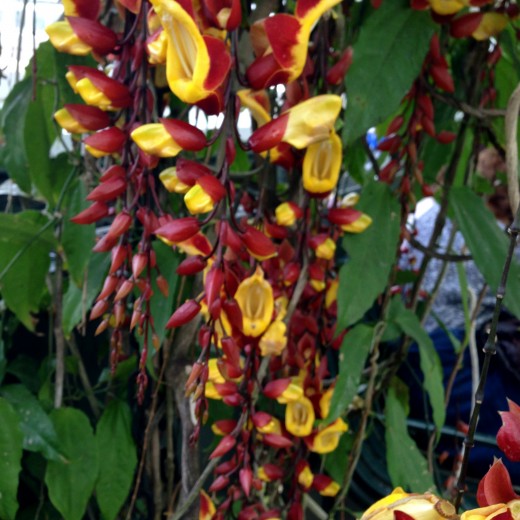 Along the way we were surrounded by a wonderland of natural beauty which enlivened our senses.  The above photo is only one example of the magnificence that was on display.  The Mysore Clockvine is native to India and its color combination will most surely find its way into an outfit in the future.  I already have something in mind!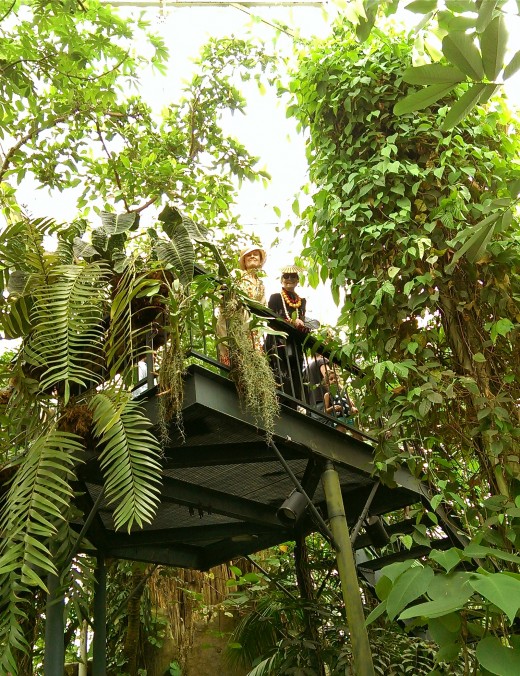 Valerie snapped a shot of Jean and me in the midst of foliage which comprised a rainforest canopy, accessed by a stairway.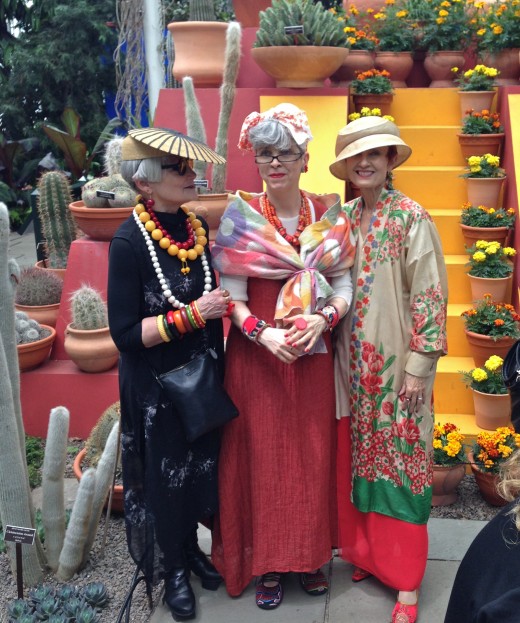 We spent time admiring a recreation of the pyramid which was located outside of the Casa Azul, where Frida lived with her husband, muralist Diego Rivera.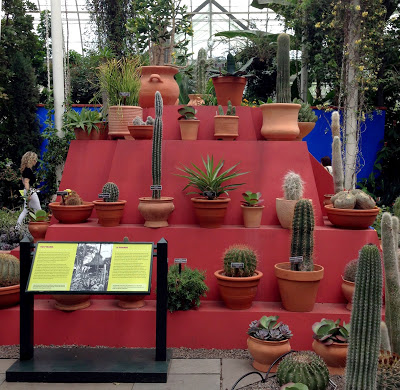 This photo by the Ifs captures the representation and details of another side of the pyramid; the original was designed by Diego Rivera in 1941.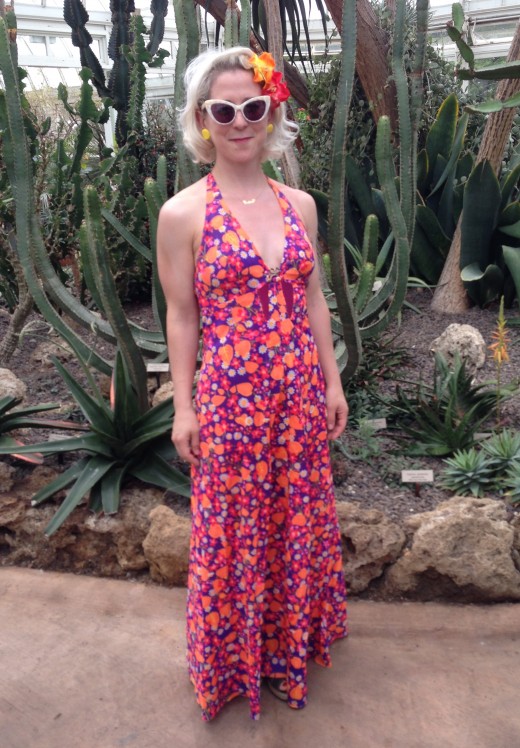 The other visitors provided as much visual delight as the gardens.  In this photo, Erica stuns with her colorful tropical print sundress and hair flower.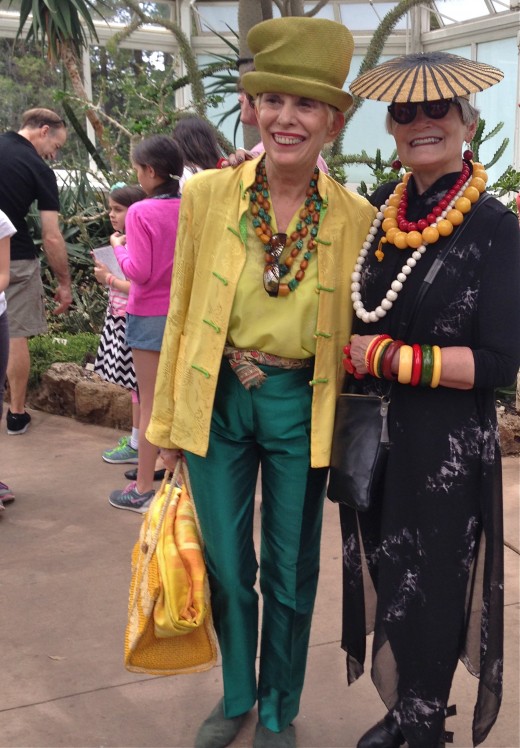 I was thrilled to be introduced to Sandy Long by Jean and Valerie, who was wearing the most spectacular hat which topped off her colorful outfit.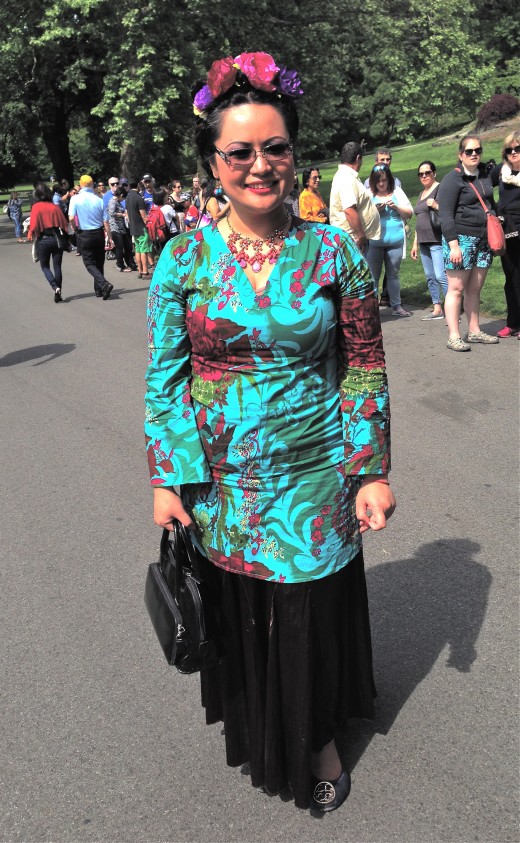 I loved everything about this woman's outfit, but was of course focused on the crown of flowers that adorned her hair.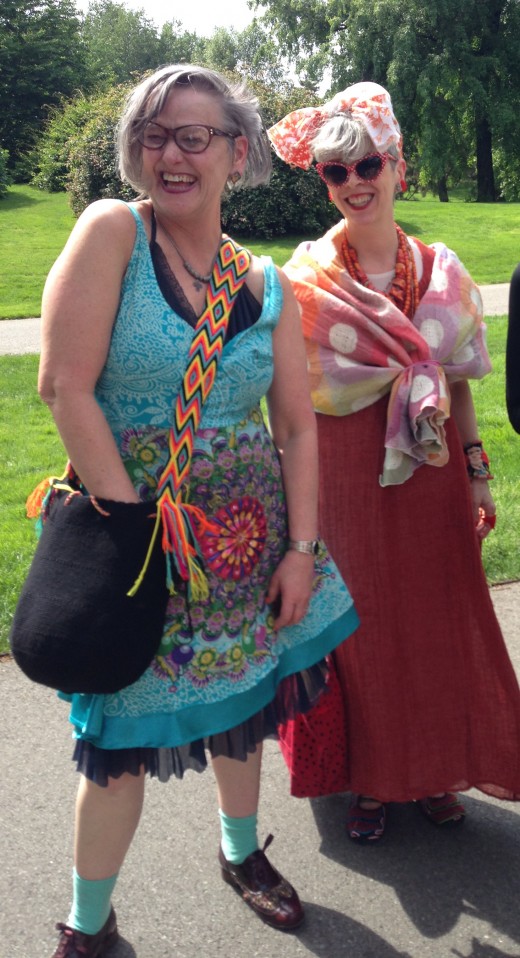 Valerie and this woman dressed in turquoise and prints shared a few laughs as we strolled along the garden's grounds.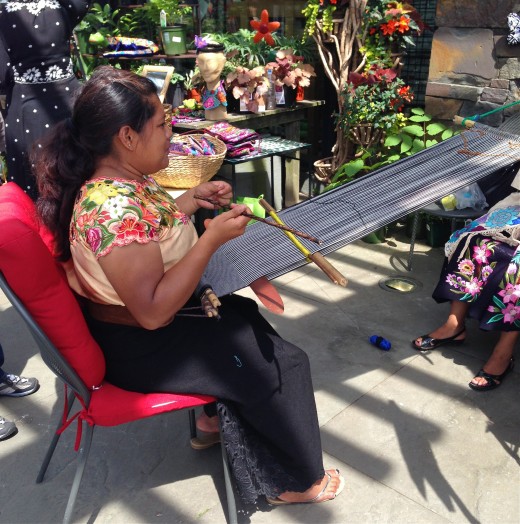 Outside the entrance to Shop In The Garden HERE a woman demonstrated traditional backstrap loom weaving, dressed in a beautifully embroidered top.  The gift shop provided an opportunity to browse through Frida-inspired items, which functioned as another gallery within the gardens.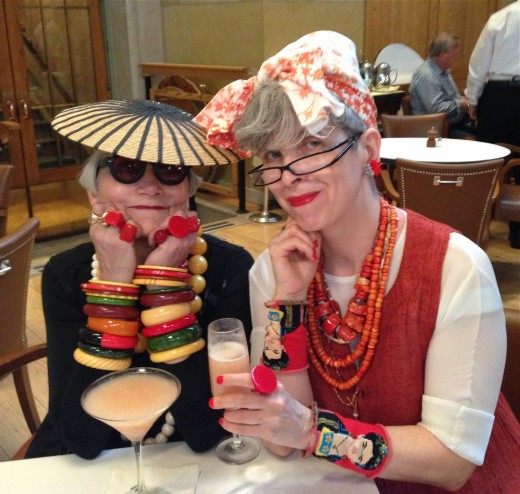 To top off the day, we enjoyed cocktails at Cipriani, a restaurant at Grand Central Station, which is where our journey began hours earlier.  This photo depicts the gorgeous bakelite that Jean is famous for wearing and Valerie's wrists display her Frida cuffs made from socks, which you can create too, by following the directions on this post by the IFs HERE.
There's never a dull moment when hanging out with these two generous, warm, witty and creative women.  They embody the vibrancy and beauty of a city that opens up my world more fully with every visit.