The Partnership With Andrea Li Jewelry Designs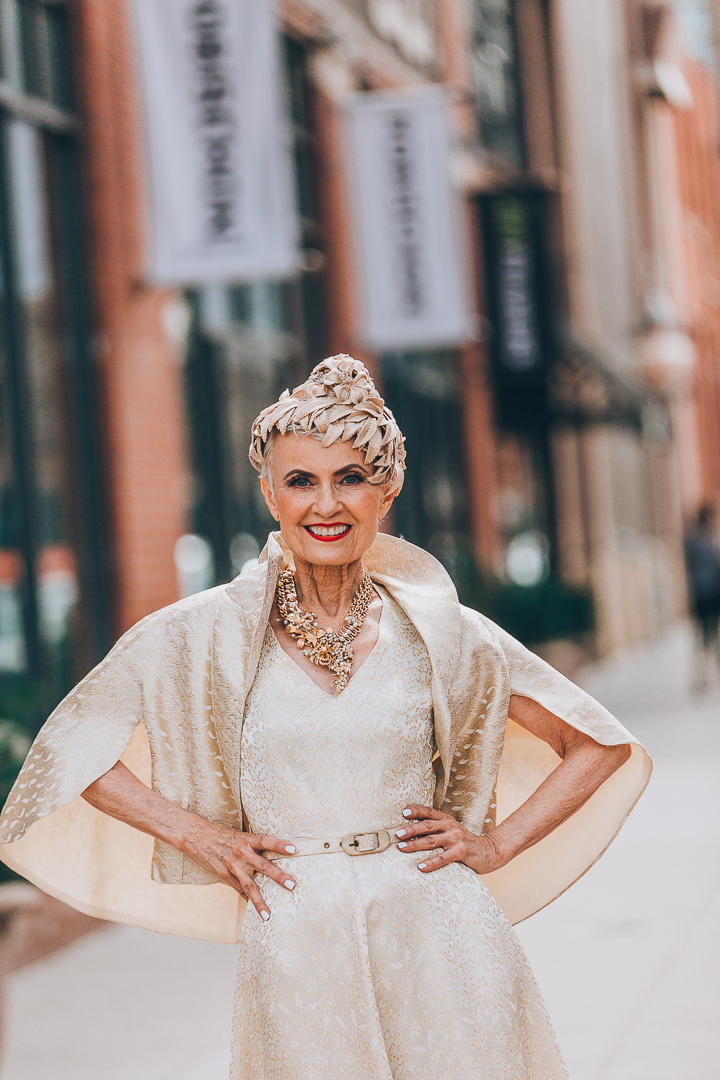 Recently I had the pleasure of meeting jewelry designer extraordinarie Andrea Li, and my life will never be the same as to how I view personal ornamentation. I was instantly captivated by the quality, beauty, workmanship, and intricate designs of her jewelry.
Simultaneously, I felt a connection with Andrea as a person. I was impressed with her talent, kindness, creative energy, work ethic, and accomplishments in all areas of her work. She was in 100% as soon as we decided to collaborate.  This clarity of vision was embraced by her talented team and myself, and the process magically flowed from our first interaction.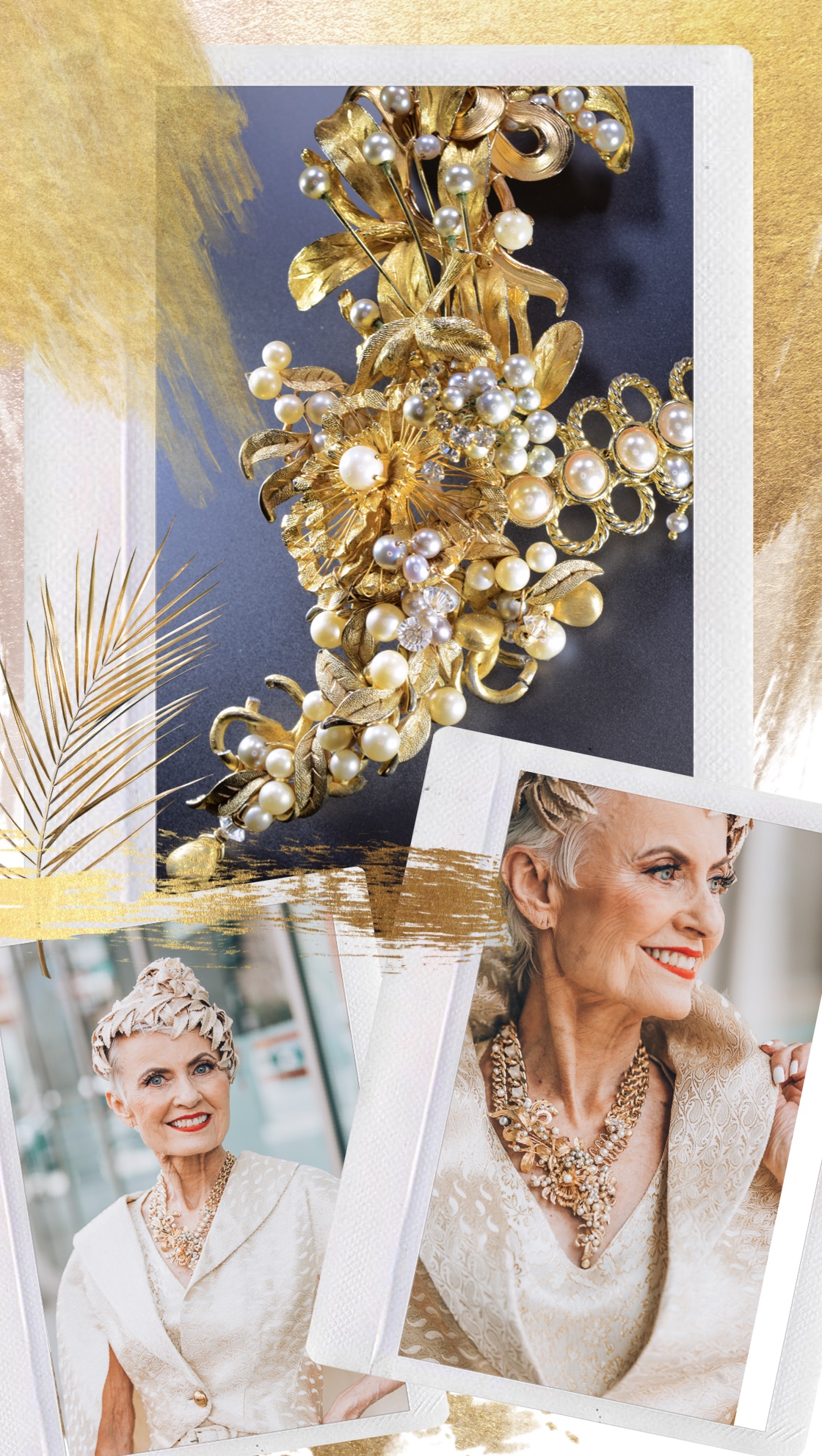 Wearing Andrea Li Design:
Pearl and Gold Vintage Statement Necklace.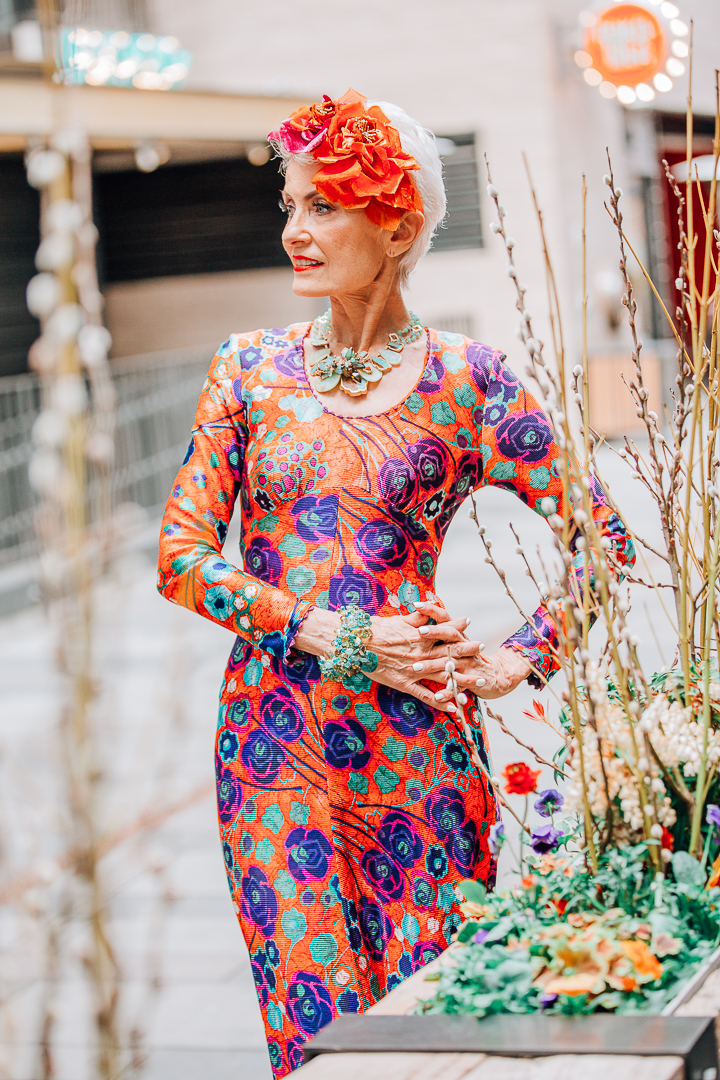 The evening before the shoot, Andrea and I spoke on the phone about which pieces from my collections would harmonize best with her art.  Before I talked with her, I was thinking about black as the most appropriate background to showcase her pieces. I was mistaken and pleasantly surprised.  She preferred color as the backdrop to her one-of-a-kind creations.
In between conversations with Andrea, I perused my collections, choosing garments and headwear that reflected her vision.  As a result, my choices included a wide range of colors and patterns, some being vintage and some consignment store discoveries. The same was true for the hats that I selected. Sustainable fashion for a sustainable brand. It was exciting to work with an artist with values that mirror my own.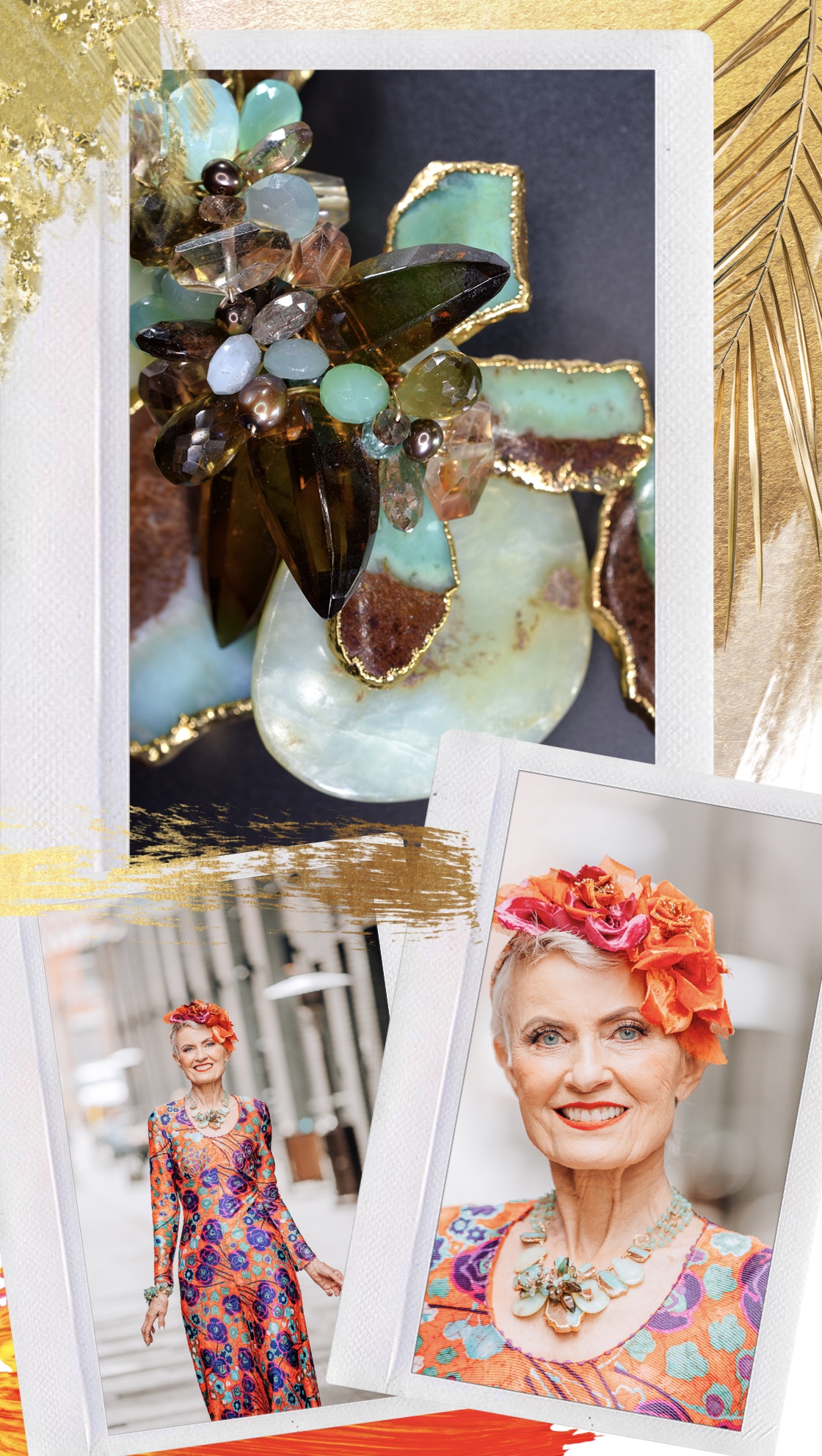 Wearing Andrea Li Designs:
Signature Chrysocolla Gemstone Statement Cuff.
Gemstone Malibu Aquarius Necklace.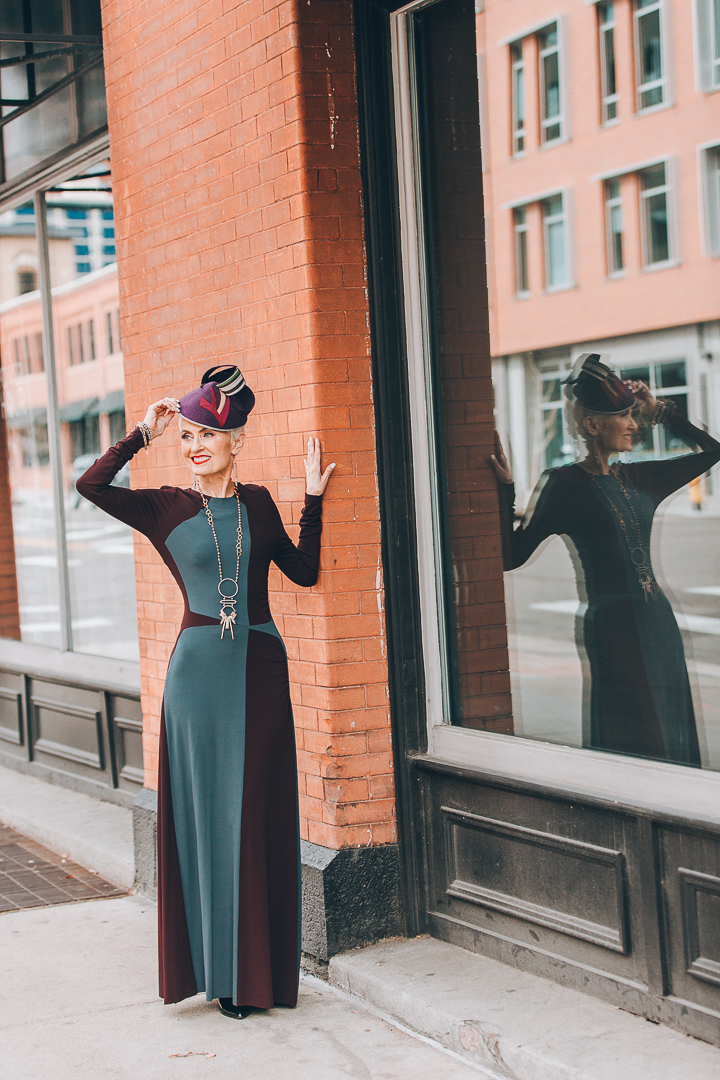 The day of the photo shoot was a celebratory event. I brought wardrobe choices from my closets to Andrea's studio, and she chose ensembles that would coordinate with her jewelry designs. Including hats, of course.
During this time my hair and make up were in the process of transformation by the multitalented Mel Akana McIntosh. Not only is Mel a makeup artist and hair stylist, she is a classically trained opera singer, a competitive figure skater, a dancer, and an accomplished entrepreneur.  Needless to say, our conversations were spirited and multifaceted.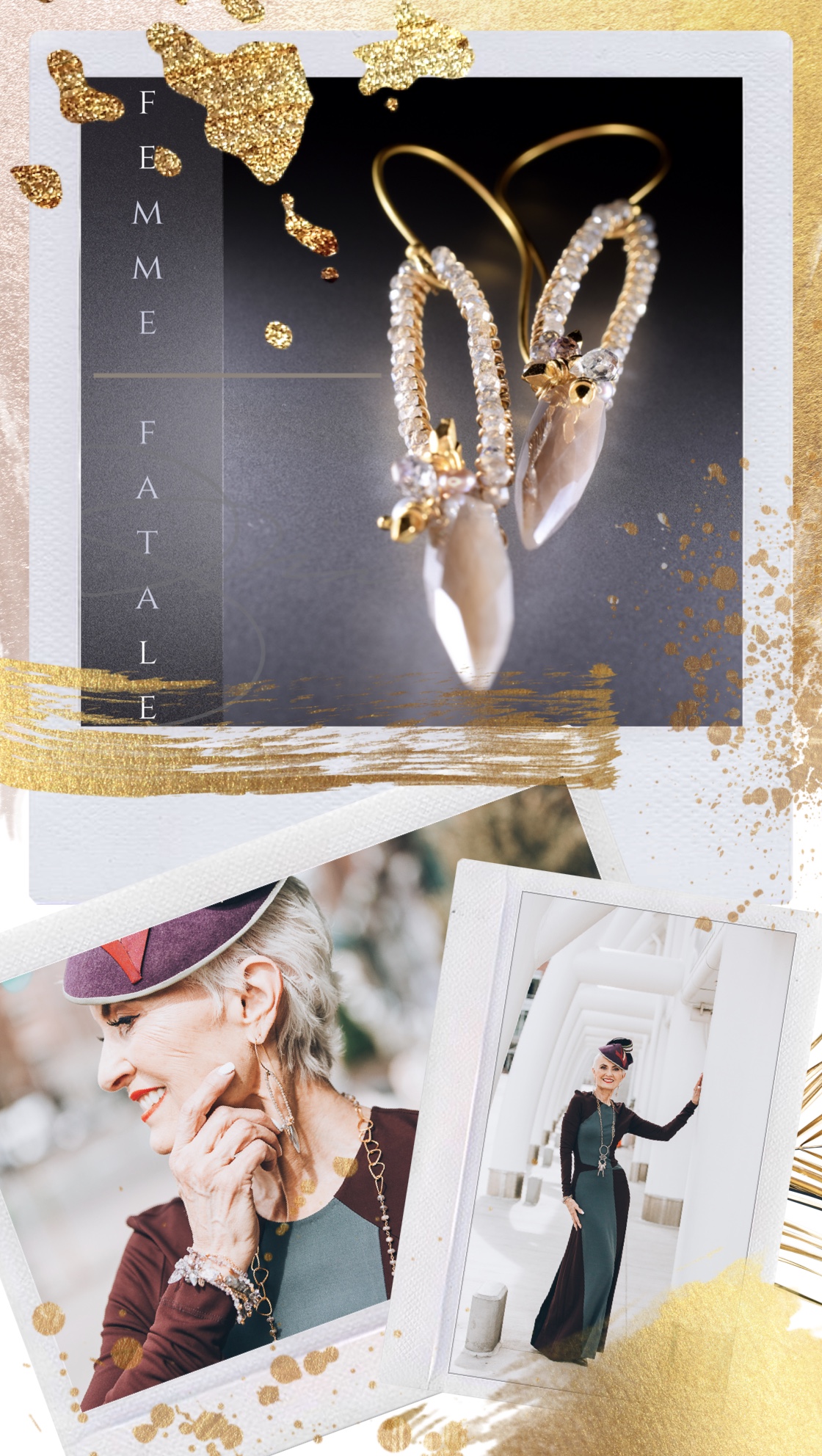 Wearing Andrea Li Designs:
Kali Long Multi-Circle Gemstone Drop Pendant Necklace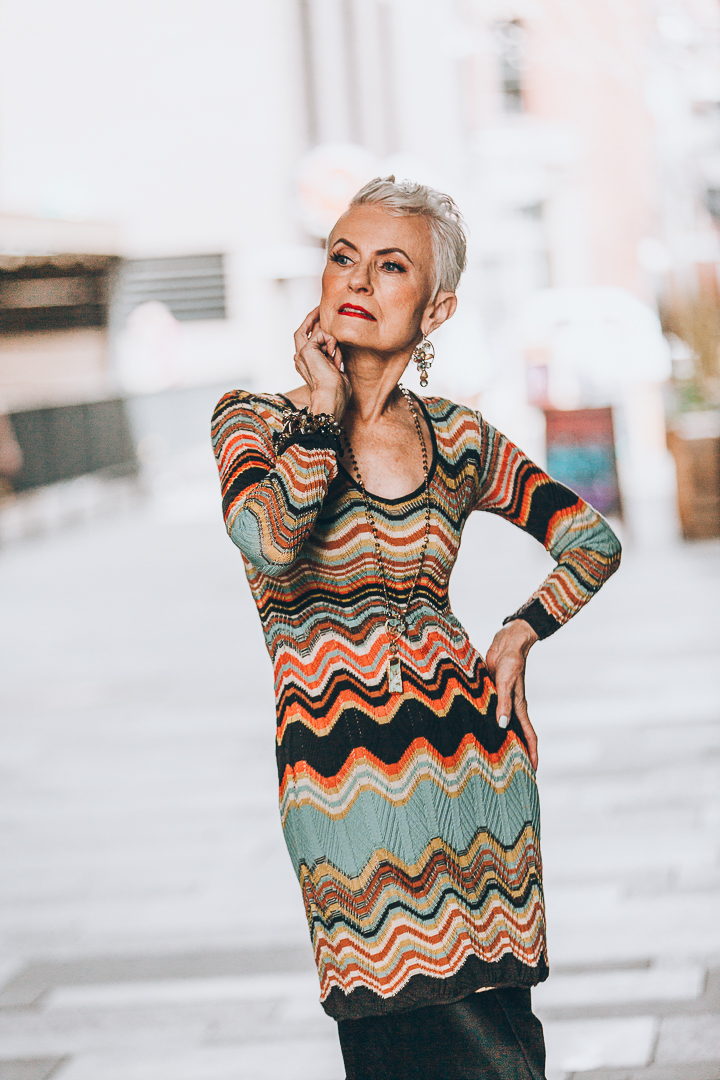 Then off to the shoot with photographer Nicole Marcelli , who is brilliant behind the lens. Nicole specializes in lifestyle and fashion photography, and loves the freedom and creativity that her profession allows her. She has been working with Andrea for years and it shows in how smoothly they create together.
We floated through several iconic Denver locations.  Time flew, as we laughed and talked ourselves through five outfits accessorized by Andrea's treasures. The energy was palpable, as it is when in the presence of an intense focus on a common goal.  At the end of the day I remember saying to myself that without Style Crone, magical moments like these would not occur.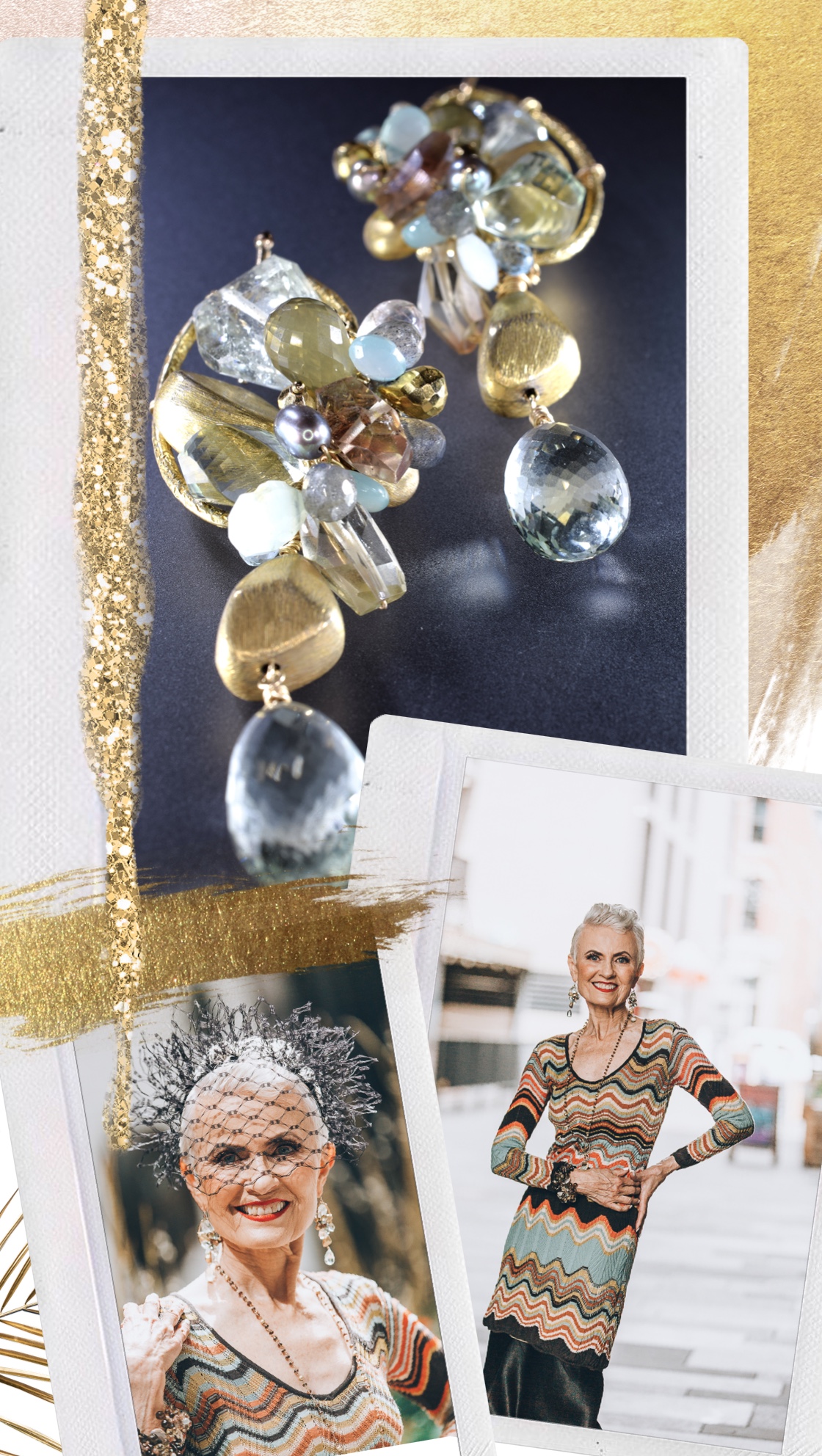 Wearing Andrea Li Designs:
Gemstone Silver Screen Necklace
Signature Dinosaur Agate and Gemstone Cuff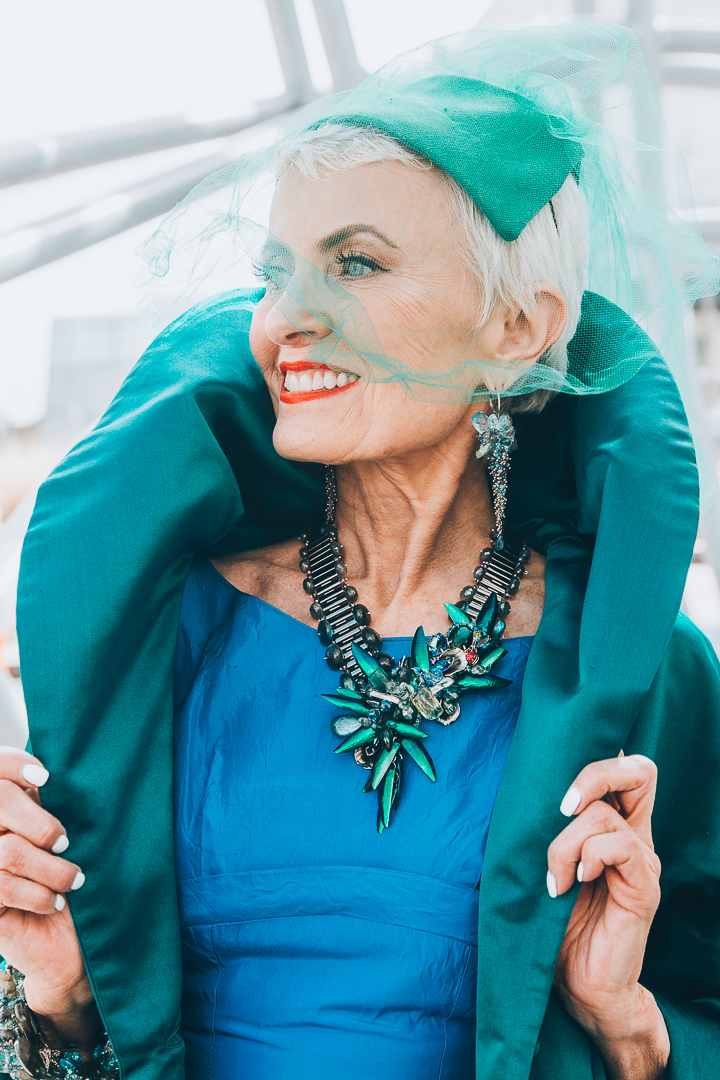 Wearing Andrea's designs with my ensembles made me feel regal and elevated.  Hats have always been my signature and will continue to be so. However, I feel a new obsession coming on! My interest in artisan jewelry has been ignited and I always follow a new thread of passion, learning and growing along the way.
After the shoot, Andrea and I wandered over to a neighborhood restaurant for a bite to eat and time to debrief the day that we had experienced together. When in the midst of intense creative energy, food is not on my mind or a priority.  What ensued was a wonderfully fun conversation, cementing our relationship and ensuring that we will be planning more adventures together in the future.  I learned so much from her, which includes her mastery of social media and technology.  It was a day to remember always.
Andrea has generously offered a coupon code for an exclusive gift with purchase (a handmade 14k gold filled pendant necklace) for only Style Crone followers: STYLECRONE19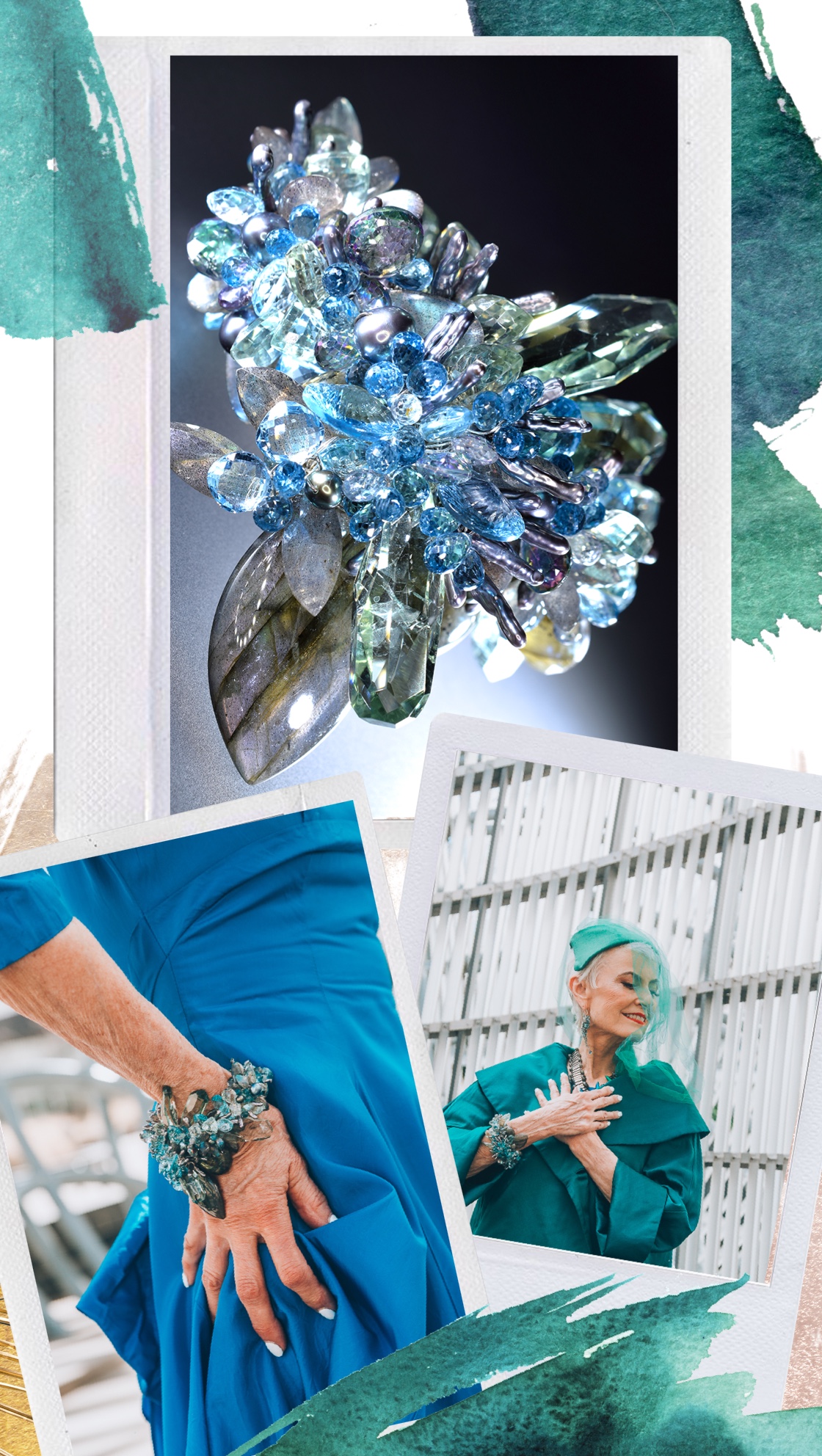 Wearing Andrea Li Designs:
    Vintage Gemstone Betelgeuse Necklace
Signature Statement Gemstone & Labradorite Cuff Bracelet
Signature Collection Gemstone & Blue Topaz Statement Earrings
This is a sponsored post and my adoration of Andrea Li Jewelry is wholeheartedly authentic!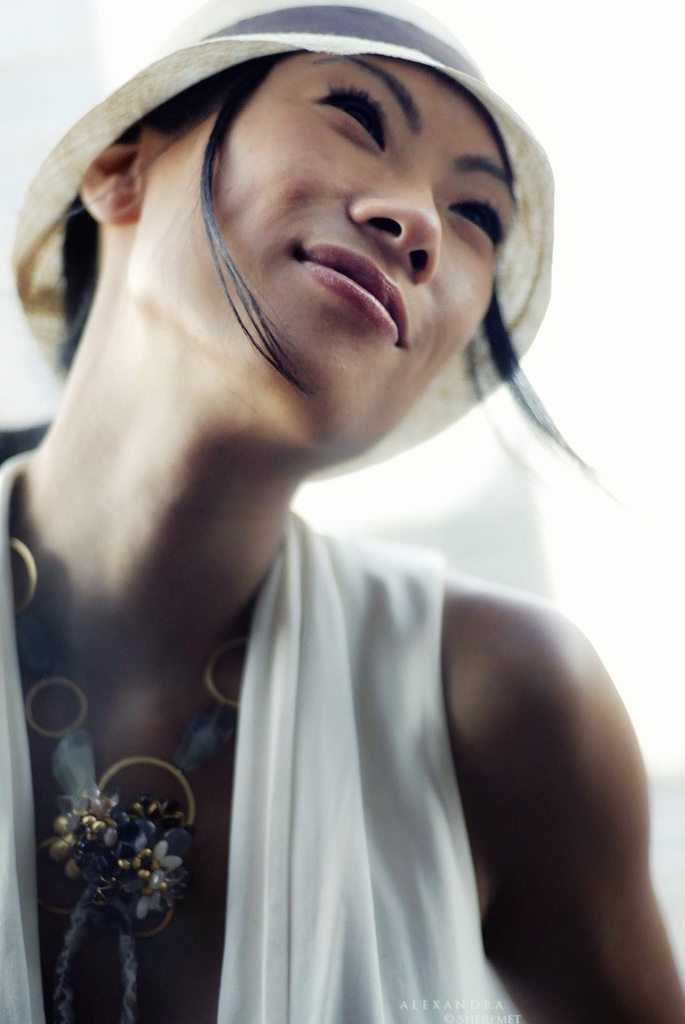 Photo Above – Andrea Li
Bio – Andrea Li
As far back as I can remember, I've always had an obsession with jewelry. Not just any jewelry but fantastical jewelry. The bigger, more shiny and sparkly the better. Growing up in a conservative household where there were firm rules about flamboyant self expression, jewelry became a sort of forbidden fruit.
I can recall on one rather dreary morning, after making our usual trek down the mountainside to catch the school bus on it's route to the main road, I settled into the stiff faux leather bench seating. Excited to finally be away from the glaring eyes of my parents, I pulled out the biggest most ostentatious pair of earrings that I had managed to sneak out of the house earlier. I proudly put them on and instantly felt 'cooler' as a result. I didn't really understand it at the time, but what I had discovered in that moment was the transformative effect that jewelry has.
I was hooked.
I create one of a kind limited collections of jewelry. These are exclusive collections because once they sell out, they're gone forever. Each anthology is inspired uniquely by nature, mythology, astrology, history and more. Being timeless and seasonless, these heirloom-quality pieces are sure to be the centerpiece of any modern woman's wardrobe.
I am most proud of the ability for my jewelry to create human connection. Encompassing everything from my collectors and wearers of my art to runway show productions, shoots, engagement with social media followers, conferences, live events, charitable organizations, relationship building with influencers and industry peers and so much more. Art has a  distinguishing trait of connectivity to it. It brings people together, shared interest or not. It democratizes the human experience by participating in the cultural conversation that pushes civilization forward.
Manufactured brands and fast fashion are the gold standard in a world driven by commerce. We are overrun by products that are unremarkable and meant for mass appeal. My brand is not for the masses but rather those who are on the edge of the bell curve. I want to capture the imagination of free thinkers and wayfaring souls of which the status quo simply won't satisfy. It is for those who are brave enough to embrace their unique nature and who are confident to be a pink flamingo in a sea of pigeons. My brand is different because it's not like other brands. It doesn't need to be accepted by all, just a few who say, I get you and me too.
Above is the video that Andrea created, which encompasses the day of our collaboration. Thank you to Andrea, Nicole, and Mel for the momentous and artistic journey that we seamlessly embarked on together as a team.  It was an adventure as vibrant as the jewelry designed by Andrea Li.