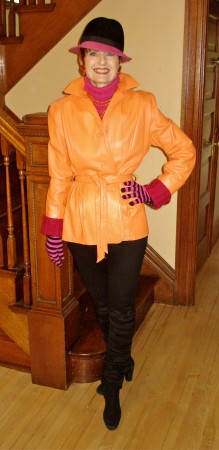 Photo by Nelson
Vintage orange leather jacket and vintage jewelry-estate sales, black fur felt fedora with fuschia brim-by Guy NYC, fuschia sweater-H&M 10 yrs ago, black/pink striped fabric gloves-street vendor.
This morning Nelson and The Style Crone went over paperwork, legal documents, and files together.  I took notes in a special journal that has a black fabric cover with a regal gold dragon design.  I purchased this journal at an Indian import store years ago and it now becomes clear that it was waiting for this purpose.  I can't rely on my memory to work without cues.  I know that this is true in partnerships in general, but there is a division of labor to sort through.  We have become so intertwined over the years. It is excruciatingly painful to walk through this process, and on the other hand I am acutely aware of how we have been a team for many years, how smoothly we flow together and take care of one another.  There is beauty in that and I cannot comprehend the loss.
The afternoon became devoted to 'the very subtle' orange and several shades of pink.  I have become more spontaneous in the planning of my ensembles and if an item is in sight it will be considered.  I find myself throwing things together as unfamiliar thoughts roll through my head.  Fortunately the hats are on display in the hat room, and as usual it starts with the chapeau as I process the morning through my outfit.