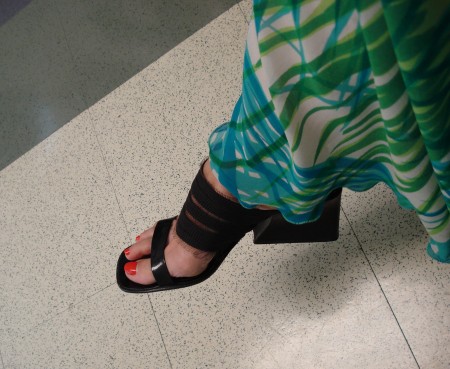 Photo by The Style Crone
Shoes – consignment store.
Nelson has chemo every two weeks; after his infusion in the clinic he leaves with a chemo pump which he wears for two days at home.  The pump delivers a chemo drug continually during that period of time.  Yesterday, as his infusion was nearing completion in the clinic he was given a 'spill kit' and handout with instructions as to how to handle a leak from the pump, which  included the following: Do not touch the chemo spill with unprotected hands.  Wear the provided gloves, gown, face shield and mask.  YIKES!  And this is the chemical that goes directly from Nelson's port into his vena cava?  How reassuring.  That would be the toxic spill outfit and not an ensemble I want to think about.  Quick – time to take shoe photos!