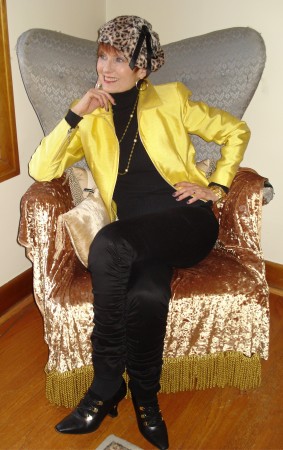 Photo by Kathleen
Vintage felt leopard print hat with black ribbon and yellow vintage beads-estate sales, yellow silk Donna Karan jacket and black  St. John heels with gold trim-yard sales, and the black ruched jeans that have been a seasonal favorite.
When in doubt, wear leopard!
I am finding that my single focus is spending time at home with Nelson and savoring every moment with intention, although I continue to go to yoga and appointments that contribute to self care. Without self care I will have nothing to give!  What good would it do for me to remain in fetal position, although a few moments of that pose could be restorative and highly helpful at times.  Speaking of self care, I have been receiving Classical Five Element Acupuncture treatments from Kathleen Robinson of Stillwaters Acupuncture on a monthly basis for about 16 years.  Kathleen is a wise and insightful healer and another member of my 'Personal Enhancement Team,' helping me to reach for a semblance of balance and harmony.  The Style Crone decided to give Nelson a photography break, so this month's appointment included photo shoot. We found that it was a perfect intro to needle placement and it never hurts (pun intended) to add a bit of frivolity and laughter to an experience!