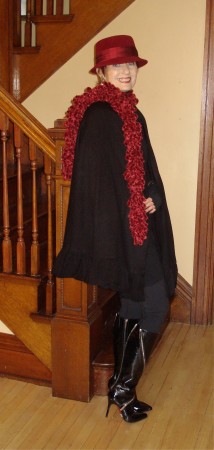 Photo by Camille
Yesterday,  November 1st was Nelson's birthday.  CLICK HERE for the 2010 celebration.  All Saints Day and how appropriate!  Camille and The SC spent the day together, which began with yoga and ended with dinner at Racines, the restaurant which hosted the gathering after his memorial service. We played Nelson's favorite music in the car as we wandered without a goal throughout the city, and time passed quickly as it does when in a trance.
The boots are what The SC refers to as 'special effects.'  This means that you put them on in the car to wear into the restaurant, sit down, walk out and have driving/walking shoes waiting for the ride home. Nelson would have been delighted with such frivolity.  I found the boots this past summer after leaving a restaurant, having had lunch with friends and came upon a sidewalk sale featured by a well known boutique.  They were wildly blinking at me from under a display table and as I pulled them out I noticed that they were my size.  Luciano Padovan patent leather zipper boots with the original price of $945 for $48.  How could I resist and call me shallow if you like!  The boots were accessorized by an unlabeled black cape, a burgundy fur felt Makins CLICK HERE fedora, and a NYC year 2000 street vendor burgundy faux fur boa.
We had a plate for him placed next to us at Racines.  At the bar!  It was perfect!