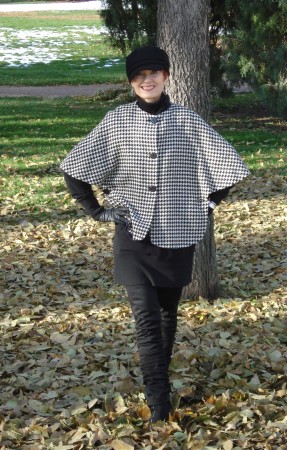 Photo by Camille
Wendy Brandes CLICK HERE, gorgeous blogger and talented fine jewelry designer, published a 'Houndstooth' slideshow on the Huffington Post, which included a photo of The SC wearing Nelson's houndstooth fedora CLICK HERE . Not really thinking about houndstooth as a trend at the time that I published this photo and blog post HERE,  I now realize that I have more where that came from!   This vintage houndstooth cape is just one of the items that had been waiting for an outing within my limitless and now minimally organized closet.  Today it became a piece of my layered 'What to Wear to a Mammogram Call Back' ensemble.
It has been six months since Nelson's death and over the past month I've been making appointments to catch up with self care.  Sorting out my life is as layered as my outfit.  So getting a call back on Monday after my 'past due' mammogram triggered fearful thoughts. Was the Emperor of All Maladies CLICK HERE refusing to leave my space?  Did he have a firm grip on me and would I need to spend more time as his companion?  Was he demanding my attention once again and was it in my destiny for him to take up permanent residence in my life?  By some twist of fate was I to compose outfits as a recipient of care and not a caregiver?  I spent this past week allowing these thoughts to surface, but used the grounding tools that I had learned during Nelson's illness to take part in the familiar time span between medical procedure and what had been, in the past, frequent overwhelming and negative results.  I had an extreme desire to stay present and not allow The Emperor to rule.  To cease the rumination. To experience the first Colorado snow of the season without my partner.  To struggle with the loss of his presence as I prepared for the ultrasound appointment, throwing an outfit together, feeling grateful that Camille was here to accompany me and take a hurried photo in the brown and fallen leaves in the park on the way. Wait for me as I waited for the results that brought an overwhelming sense of relief, but along with it the gathering of memories, the lingering of medical trauma that other women and myself were experiencing in parallel, in the same room, contributing our stories or our silence, but receiving the outcome information separate from one another.  Having shared a few moments with strangers, intimate and intense, likely never to see them again.  Yet their stressed faces remain in my thoughts.
And there is newly fallen snow on green grass in the background of the photo taken yesterday amidst deadened leaves.