Earlier this week I returned from a trip to Minnesota to visit my 97-year-old mother Norma. Residing in an assisted living facility, she continues to be an inspiration to me.  She loves to play bridge, and every evening  a group of residents gather to play cards. For this activity, my mother wouldn't miss an opportunity to adorn her hands with rings from a collection which she has maintained over a lifetime.  Every year when I visit it has become a ritual to snap a shot of her hands with a few of her rings.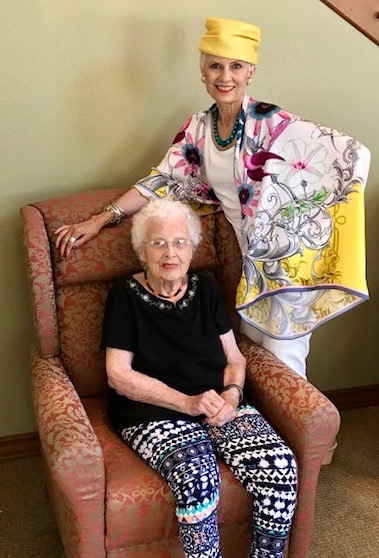 This year I asked Mom about what she thought contributed to her longevity.  Her answer was, "exercise, a positive attitude, and genes."  Her mother lived a relatively healthy life until the age of 98 and her father lived until almost 90.
She remains open to the life enhancing practice of trying something new. Mom loves to wear the colorful leggings that were gifted by her friend.  She accessorized her ensemble with the "verging on red" lipstick that I brought for her. I think the lip color looks beautiful with her natural white hair!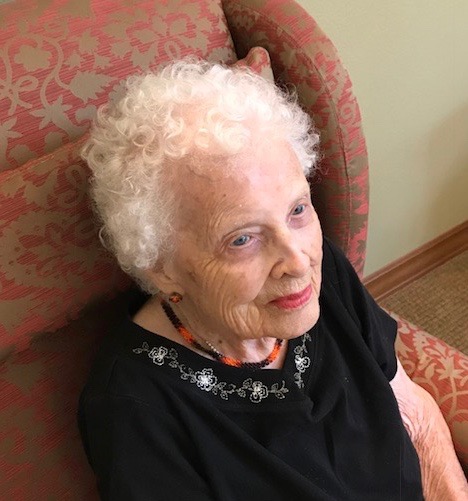 Macular degeneration limits her eyesight and she walks with a walker, but it doesn't interfere with her ability to enjoy life to the fullest and engage with a sense of humor. Enlarged cards facilitate her bridge game and she enjoys listening to audio books. Totally independent with activities of daily living, Mom loves to tell stories of the past, but she lives in the present.  Currently the oldest resident in the facility, she is admired by her peers for her positive mindset and kindness.  She provides an example for all.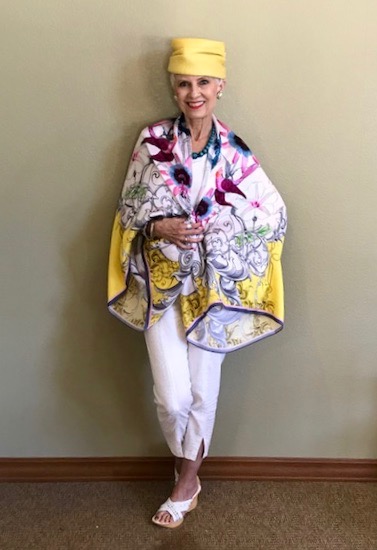 Photos by my dear friend Janet
Linking up with Catherine's #iwillwearwhatilike HERE at Not Dressed As Lamb and Patti's Visible Monday HERE at Not Dead Yet Style.