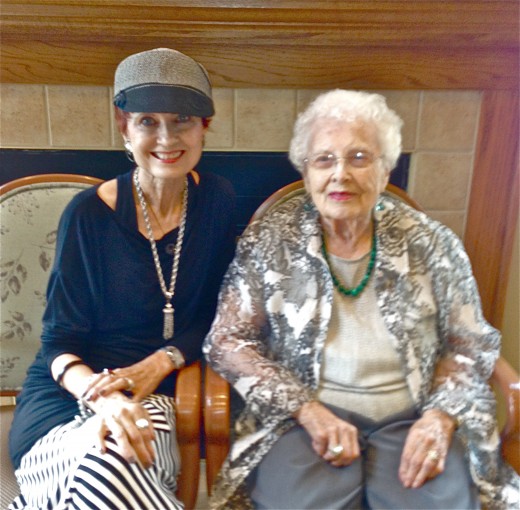 Photo By Assisted Living Staff
The SC traveled to Minnesota last week to visit Mom in her assisted living facility.  As you can see, she appears as lively and vibrant as she did a year ago HERE, when I visited with Camille.
She tells me that when she makes a decision, such as to leaving her home for the assisted living and before that, no longer driving her car, she never looks back but only forward.  She states that this is how she continues to feel happy and engaged with life.
Mom continues to play bridge and other card games almost very day with her enlarged cards that allow her to see despite  macular degeneration.  She has a daily routine where she exercises, meets every day with a carefully assembled outfit accessorized perfectly despite her lack of sight and socializes with other residents and staff at will.
As I watched her prepare for the day, she does so with deliberation, as though a mediation.  She needs no assistance and has a sense of humor which requires abstract cognition.  She is the oldest resident in the facility, but that is not how she appears!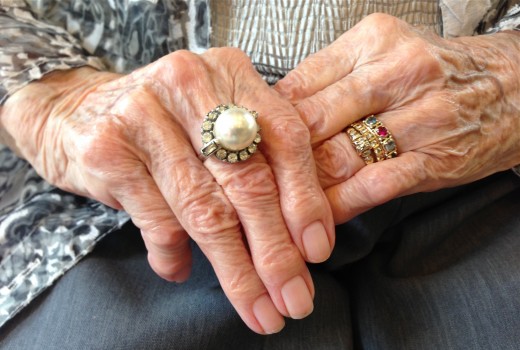 Mom loves to wear rings when she plays card, and before my visit I found this pearl beauty surrounded by rhinestones at The Vintage Studio HERE in Minneapolis.  She was delighted with its size and sparkle, and immediately placed it on her middle finger.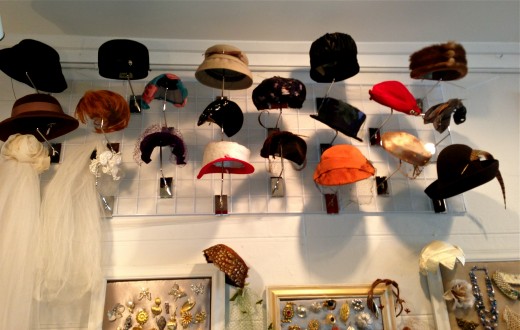 The Vintage Studio has a delicious selection of hats, with an equal amount of inventory on a second wall of Karen Kinney-McMullan's vintage salon.  I must say that there will be a few hats downsized from my collection upon my return.  Yes, that means that there were several that I couldn't resist, which meets my criteria for purchase.  My love for a new chapeau is one of the joys of life that keeps The SC moving forward.