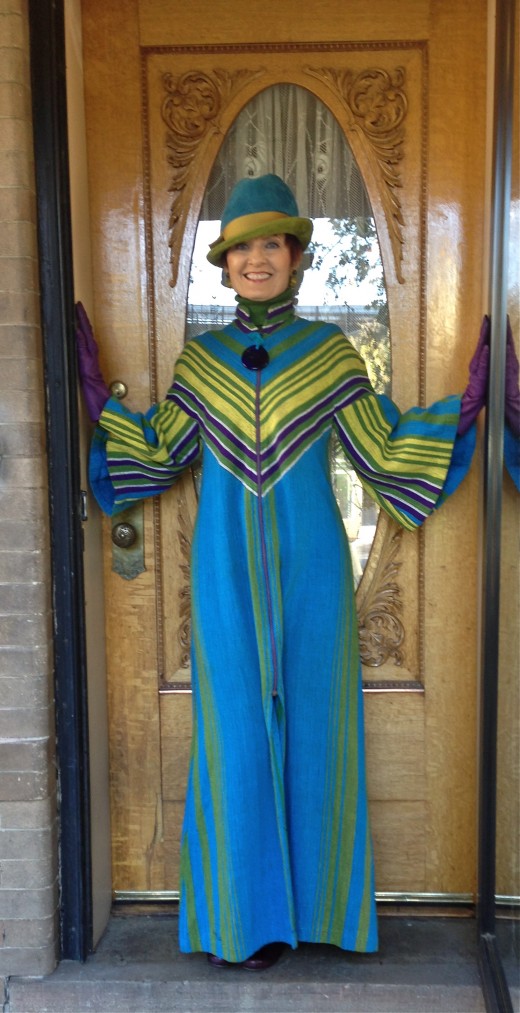 On a cool but sunny Colorado afternoon, The SC and Diana took a stroll around the block.  For the occasion I wore a piece that caught my eye at an estate sale this past summer.   Made in Israel, it was a sleeper until I tried it on; the unique sleeves are what made me fall in love.  And the round piece of blue glass hanging from the zipper.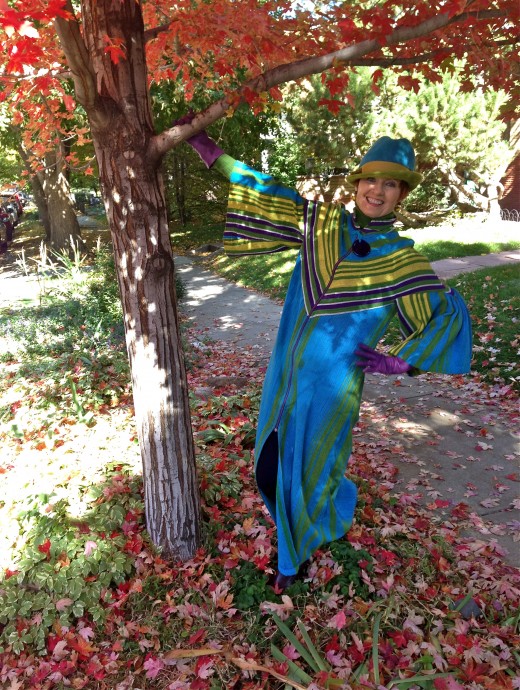 The tree in front of the neighbor's home to the north is always one of my fall favorites. It's leaves turn a brilliant shade of red in October, and the tree produced shade that created shadows on the multicolored kaftan (and The SC's face).
Obsessing about where and when to debut the unique character of this garment, one of my friends suggested that it could be worn as a maxi coat and my perceptions immediately took flight. It's the perfect weight for comfort on a beautiful fall day such as this.  And when the hat room revealed this consignment shop vintage Francois fedora, the pleasure zone in my brain surely lit up with about the same color as the leaves on the tree.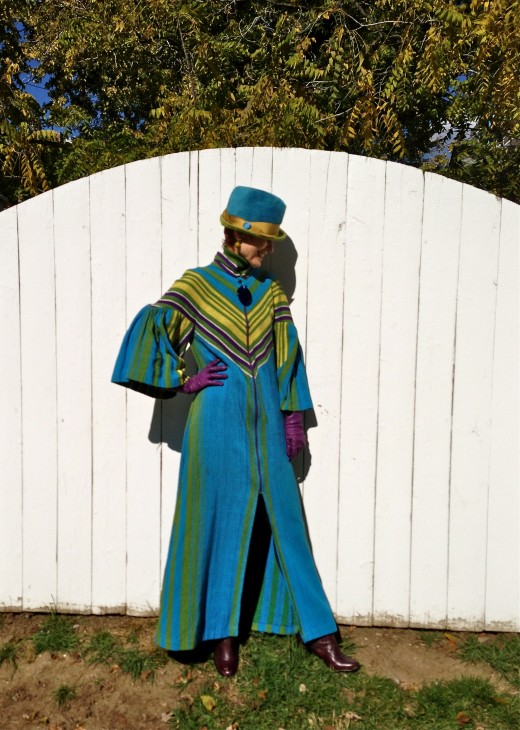 I love the feeling of "seeing" a garment or accessory in a new way.  That instant when my mind opens to the idea.  Or any idea that provides a new way of thinking or challenges a belief that is self-limiting.  The rush, the excitement, the moment of discovery.  To be curious and flexible is at the heart of life.
As one of my yoga teachers stated this week, "To live is to be slowly born."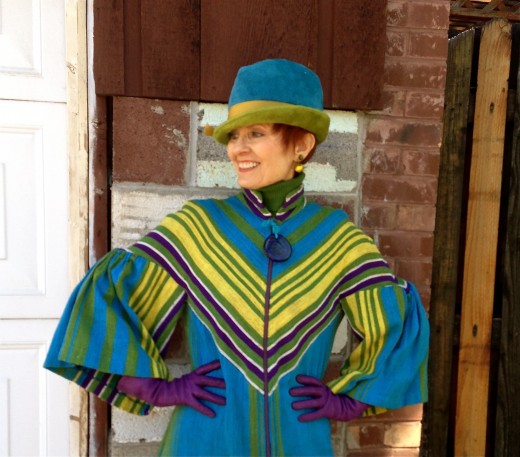 As we sauntered around the block and into the alley, multiple backgrounds exploded on the scene.  Exploring the alley could have continued for the rest of the day!  From dumpster divers to neighbors walking their dogs, it is a subculture of diversity.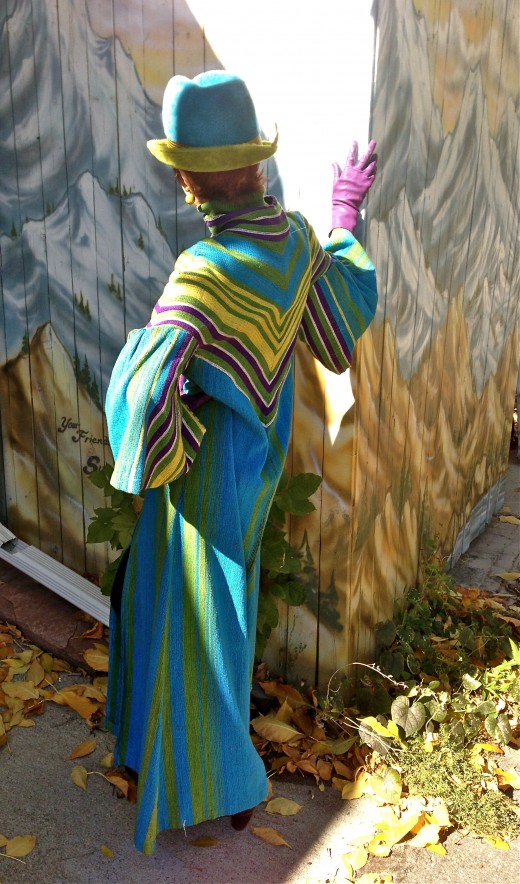 The mountain mural was a personal favorite.  Beauty exists in unexpected places and this glorious example of alley art has inspired me to get creative in the space behind my back garden gate.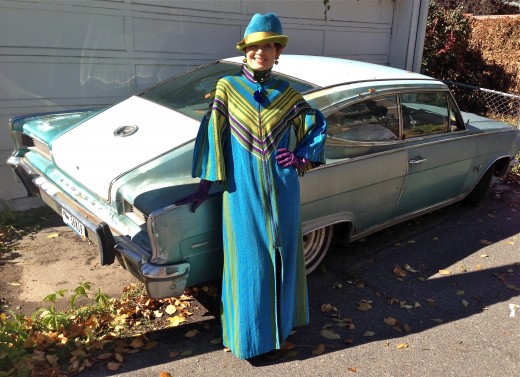 Photos By Diana
A vintage car parked in back of a neighbor's garage was another found object which screamed "photo shoot."  I hadn't noticed it today.  I've observed that looking for backgrounds for photos brings with it a new set of eyes and opens up the world around me.  Even in the alley!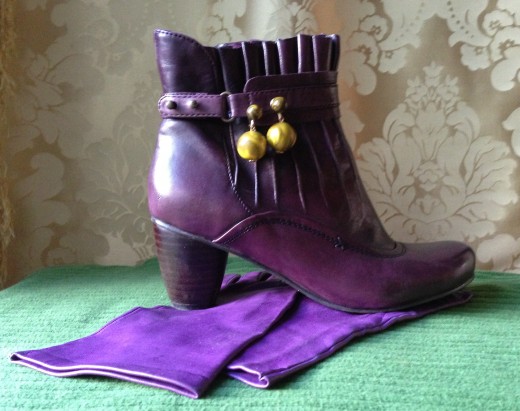 To accompany the fall coat and fedora: purple Everybody booties – retail sale, vintage purple leather gloves and vintage yellow/olive-green dangle earrings – estate sales, and green turtleneck – Target.
HAT ATTACK #4 will be featured on Friday, November 1st! THAT'S JUST FOUR DAYS FROM TODAY!
Whoever wants to can join in!  Just compose a post that includes any hat, headwrap, headpiece, fascinator, hair flower, headband or other adornment for your head that you love on Friday, November 1st.  Participation will be open for one week, or until November 7th.  Follow the directions HERE provided on Style Crone to post your photo and hope to see you there!