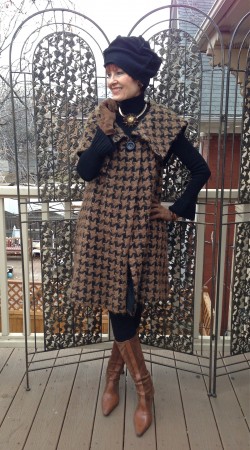 On the veranda in the winter in the midst of a cold snap, The SC ponders the similarities of physical and emotional healing, as relating to my recent fall and rib injury and the experience of loss.  The initial shock of disbelief and numbed emotions, but then the realization of pain.  Learning how to move in the world and navigate with certain limitations.  Slowly going with the process and plateaus of recovery, fearing that it will never change and allow life to return to full range of motion.  An awareness of uncertainty and vulnerability, and the ability to choose a path on the journey.  Discovery of what can be controlled and when to surrender.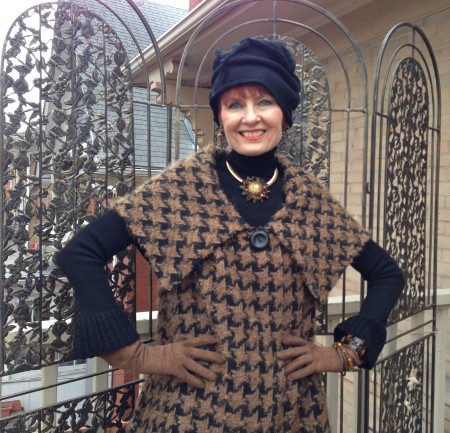 Trying new movements/behaviors to adjust to the altered landscape.  Discomfort moves from day to day in the areas affected, with surprising and subtle realizations as healing takes place from the center and radiates, as though in a concentric circle.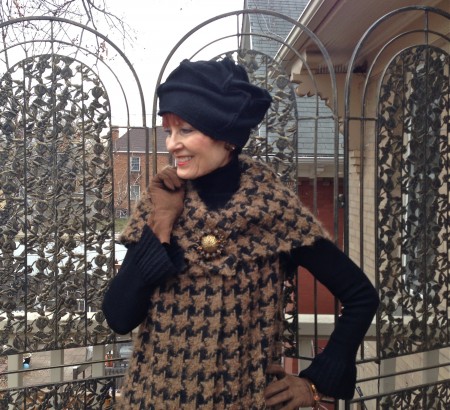 The effects continue to be felt as time goes on, although all of life, with its movements and activities, can be enjoyed and embraced.  However, discomfort remains in certain situations, reaching for an object on a high shelf or stretching into a new experience that triggers excitement or stress.
Just as with new life, this cape can be experienced in several ways.  With a brooch hanging from a simple gold necklace around the neck and above its large black button or drawing together the edges of the collar into a new shape, a different look, another option to explore.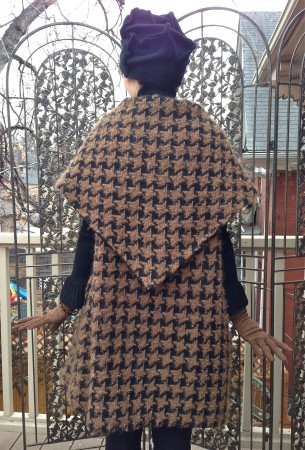 And then there is always the viewPOINT from the back, which has the ability to indicate a new direction. Healing reveals countless silhouettes, with hope for a forward trajectory.  And a plethora of comforting outfits along the way.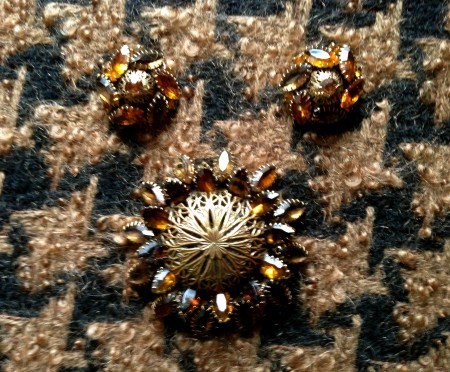 The vintage jewels that hold everything together.
Photos by Diana.
Vintage wool camel/black houndstooth cape/jacket – antique mall while shopping with Jean of Dross Into Gold HERE,  black boiled wool patchwork cap – Mieko Mintz, tall camel leather/suede boots, vintage suede gloves, jewels – estate sales, black turtleneck sweater – consignment store, black leggings – retail.
Thank you to Patti at Visible Monday HERE for providing community, structure and a supportive and creative forum that I look forward to every week.