Hat Attack #42 – Irina Sardareva Hats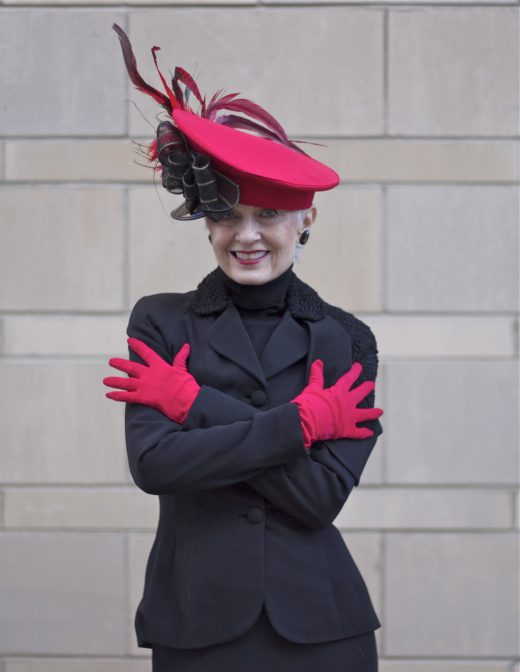 January's Hat Attack is a collaboration with Irina Sardareva HERE, a talented Bulgarian milliner who I met on Instagram.  I love connecting with hat designers from across the world and discovering diversity of style and self-expression.  This has been an unexpected source of great pleasure.
Thank you to all who participate in sharing your "headwear expressions." I can't tell you how much I appreciate your love of millinery and your generous offerings. Happy New Year to all, and may your 2017 be filled with many magnificent hats.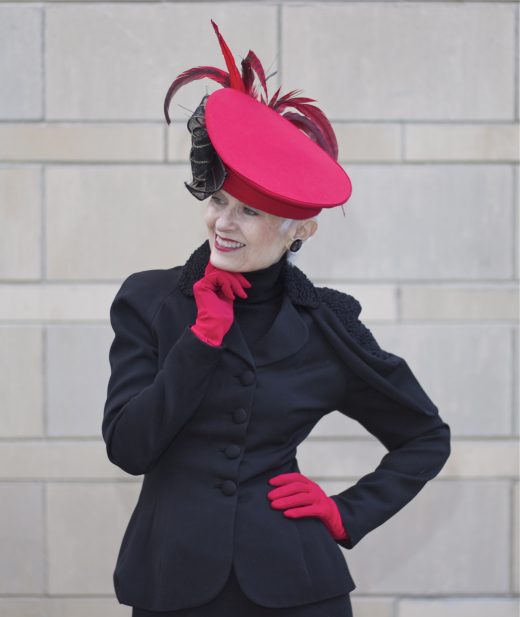 "The red cap beret is inspired to transform a parade military cap to a peaceful and beautiful party beret. The base has the original shape of a Bulgarian army parade cap but is made in red instead of khaki green.  I added a sinamay bow and shiny red and black feathers to make it look more 'parade' and 'burlesque' so it can be worn at a party instead of a military parade."….Irina Sardareva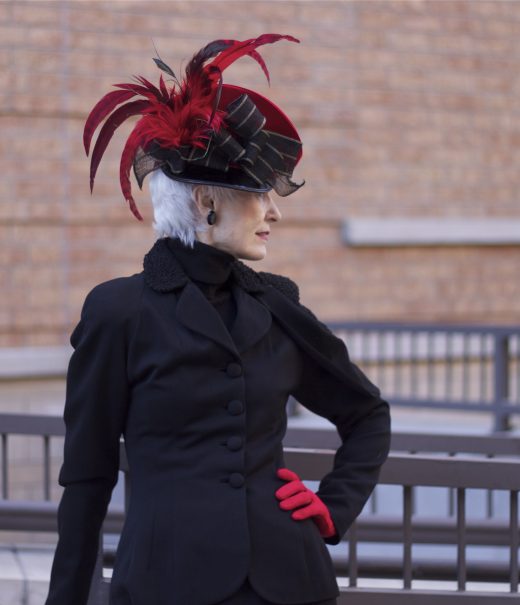 Photos By Daniel
 Why I love millinery by Irina Sardareva
While living in a country under a totalitarian regime when I didn't have a choice of what to wear, wearing a hat was a way to express myself and to be different. When the socialist regime fell at the end of 1989 I had 30 hats in my wardrobe. So passion became my job. I love it because you can express so many different feelings and statements wearing a hat; each one is a role you can play. When in my atelier I meet customers that say that hats do not suit them. I love to change their mind and seeing the excitement and happiness in their eyes when they see themselves in a mirror. I create everything with love because this is my way to send positive energy to people, and make every woman who wears my hats and fascinators feel happy and beautiful every day.
About Me By Irena Sardareva
I started my life journey as a hat designer visiting a hat production warehouse in Ukraine, in the early 90's.  There I first discovered the love for this special accessory. I bought a couple of hats and came back to Bulgaria, starting my business as a hat retailer at the very beginning.  My next step was to start travelling across the country and finding the old and forgotten hat blocks in Bulgaria.  This was the moment when I really started designing hats. I then ordered  hat blocks from La Forme hat block atelier in Paris and started buying rabbit felt cones and capelines from Tonak and sinamay and parasisal from London and Paris. Year after year of hard work, I became the best hat designer in Bulgaria.
Now I am working with my son George, who inherits and keeps on with the millinery business and looks after our etsy online shop – www.IrinaSardarevaHats.etsy.com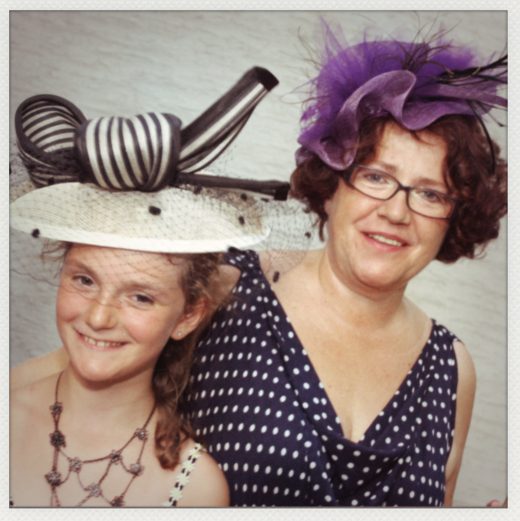 Thank you Irina (with her granddaughter in the photo above) for your love of millinery, for collaborating with Style Crone on January's Hat Attack and for your gifts to the wonderful world of headwear.
Linking up with Catherine's #iwillwearwhatilike HERE at Not Dressed As Lamb and Patti's Visible Monday HERE at Not Dead Yet Style.
Now it's your turn to throw a little headwear my way. Give The SC a JANUARY HAT ATTACK and kindly link to Style Crone somewhere in your post. The link-up will be open through January 31st.
Anyone can participate in the celebration of headwear!  All you need is a URL, which can be acquired from Instagram, Facebook or your website.  All forms of headwear are appreciated:  hat, headwrap, headscarf, headpiece, fascinator, hair flower, headband or other adornment for your head that you enjoy.  Multiple photos are encouraged!
[inlinkz_linkup id=687147 mode=1]