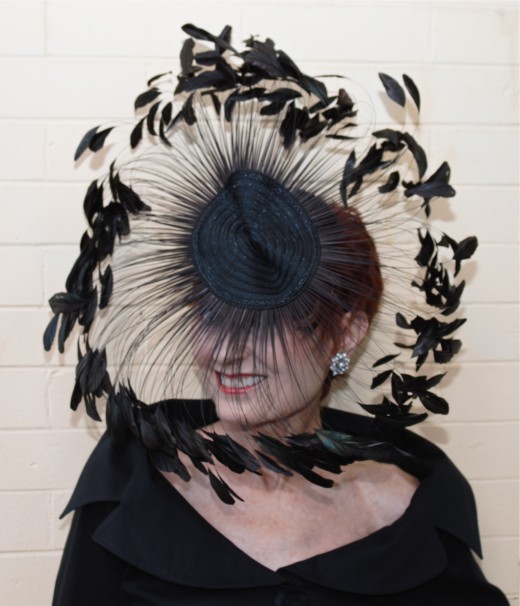 Hat Attack is celebrating its first anniversary and in honor of this milestone, The SC is wearing a hat created by Diane Harty HERE from Frisco HERE which is a short drive from Vail and is referred to as  the "Main Street Of The Rockies."  I stopped into Diane's studio with Mr. J on our trip down the mountain several weeks ago.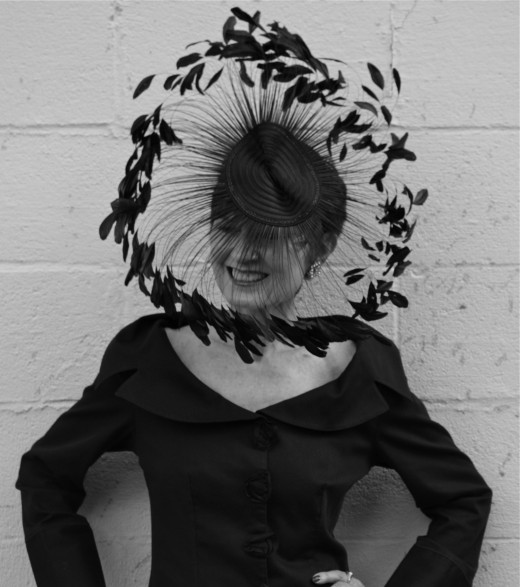 July's headpiece is the "Halo," made of straw and stripped rooster feathers.  It is a major "face-framer" and makes me feel alive with its dramatic movement.    
"I am a one person studio, specializing in hats constructed on an antique straw machine.  Most of my hats are created from strands of braid 5 to 12 mm wide.   This requires a specialized, antique chain-stitch sewing machine.  My pieces range from the basic sun or cap style hat to abstract or representational  sculptural cocktail hats. I approach each hat as a sculpture as I do not use any blocks or forms to create the shape as I stitch.  This gives each hat a uniqueness and vitality."  ~ Diane Harty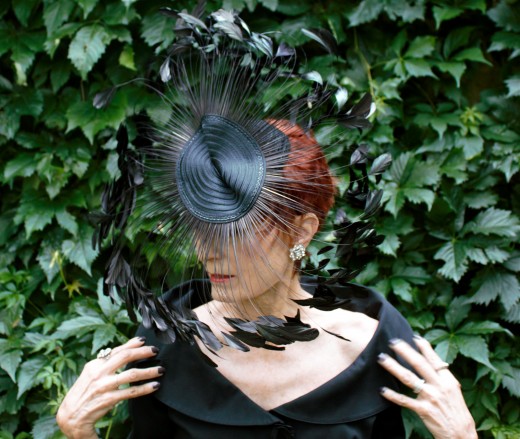 Photos by Daniel
I've entered a new phase in my hat consciousness.  The hat room is bursting at the seams and I no longer need or want to possess every hat that I adore.  I've become aware that wearing a hat that I love for one or two times satisfies my longing for its beauty, and that part of my mission is to spread the word and promote milliners or hat makers that I admire.  I would like to be a drop in the ocean of contribution, increasing the health of the millinery industry, with the goal of expanding "hat love" in any way that comes to mind.  I would like to give back to the artistic world of headwear, which has brought me years of pleasure.  And at the same time practice the art of "letting go."
In the spirit of this mission, July's hat is not in my possession, but for sale directly from Diane Harty, along with other beauties that are created in this magical studio located high in the Colorado Rockies.  Diane's contact information is available on her website HERE.  Style Crone does not benefit financially from this post. However, Style Crone benefits greatly by the wearing of this magnificent and energetic piece of art, if only for a delicious few moments in time.
The generous and gorgeous Bella of The Citizen Rosebud HERE has activated the coupon code HATATTACK, giving you 15% off any purchase of $10 or more from her Etsy Shop HERE.  Check out the fresh-picked vintage treasures that she has to offer!
The SC is linking up with Patti's Visible Monday HERE at Not Dead Yet Style.  Patti is lovely, as she mixes old with new.
Now it's your turn to throw a little headwear love my way!
Please display your hat, headwrap, headpiece, fascinator, hair flower, headband or other adornment for your head that you adore, give The SC a JULY HAT ATTACK and kindly link to Style Crone somewhere in your post.  Can't wait to see the beautiful contributions that you share throughout the next week. Participation will be open through Monday, July 7th.
[inlinkz_linkup id=421576 mode=1]