The Emperor of All Maladies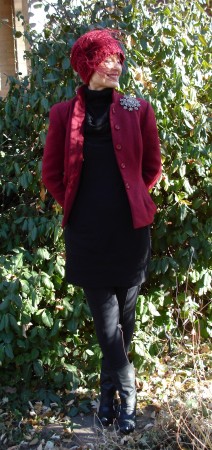 Photo by Nelson
"Watch and wait" turns into an acute situation as Nelson's clot becomes more complicated.  We try to do everything possible within our control to be healthy, but when cancer calls, we stop everything and listen.  Listening for what I'm not sure. Listening because of fear, because of uncertainty, because of its power? Nelson is reading the book The Emperor of All Maladies, A Biography of Cancer by Siddhartha Mukherjee; cancer is described as  "an infinitely resourceful adversary."   When it comes right down to it, we realize that we cannot cure or control this disease.  Cancer IS the Emperor (or Empress) and it chills me to my Style Crone bones.
As it turned out, after spending the afternoon in the oncology clinic, Nelson was sent home with anticoagulation injections for the weekend.  I have given many injections in my past life as a health care provider, so it's similar to riding a bicycle in that the skill is a body memory. But it's different when the injection is for a loved one.
However, at the end of the day we decided that going out to dinner was the only thing to do – an act of defiance if nothing else.  And it was date night!  So we both adjusted our hats as the wind threw the ostrich feathers on The SC's hat into her eyes, accompanied by a huge snowflake rhinestone pin for extra confidence.  And of course the Emperor as an uninvited guest.