Brooks LTD At The Maven Hotel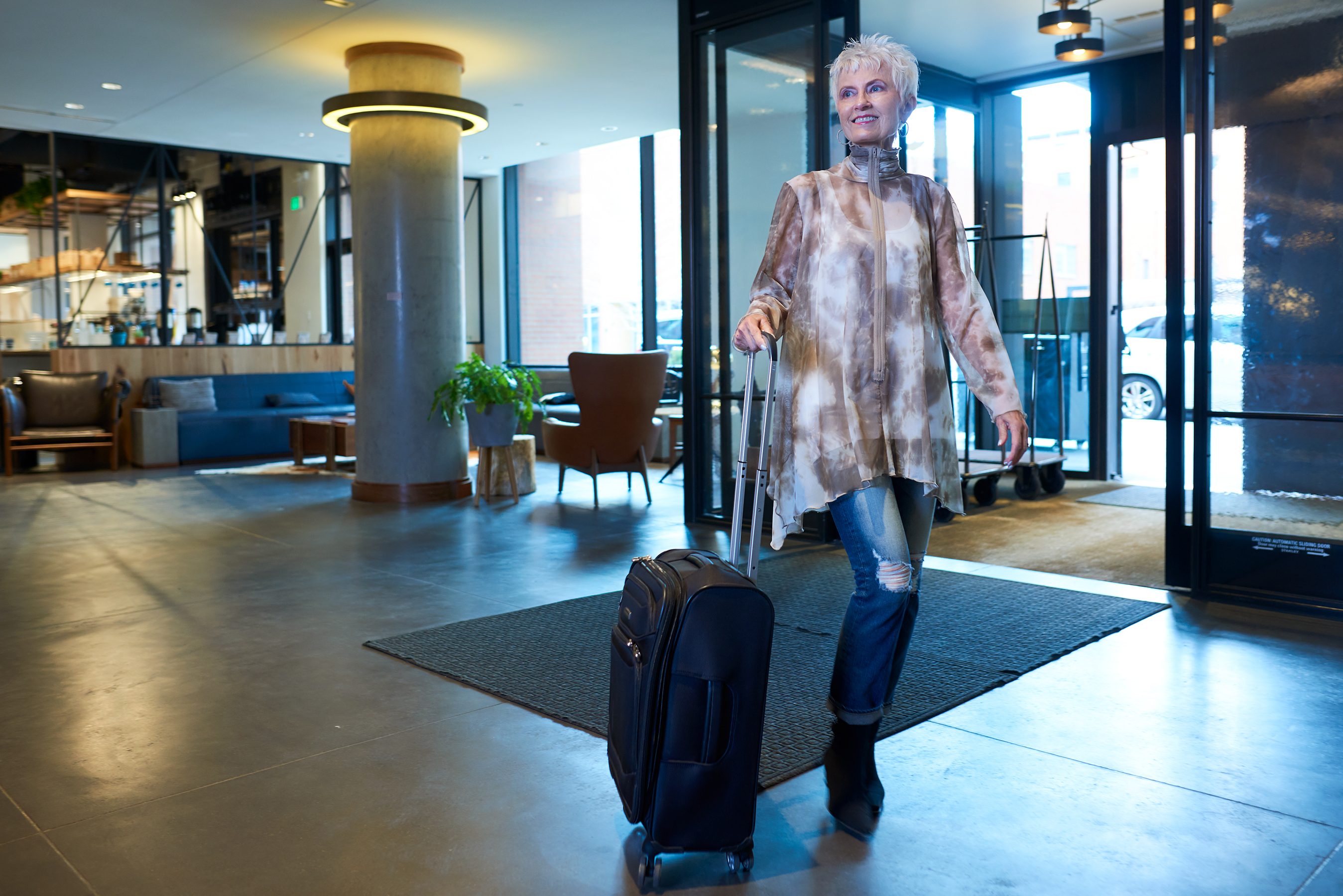 Recently I was part of a photo shoot featuring the designs created by my friend Brooks Luby HERE, Denver fashion designer extraordinaire.  The shoot took place at the Maven Hotel  HERE, which promotes Colorado artists. The definition of the word "maven" is someone who is skilled in a particular field, often crafting handmade items. This term describes Brooks to perfection and she chose the ideal location to highlight her latest designs.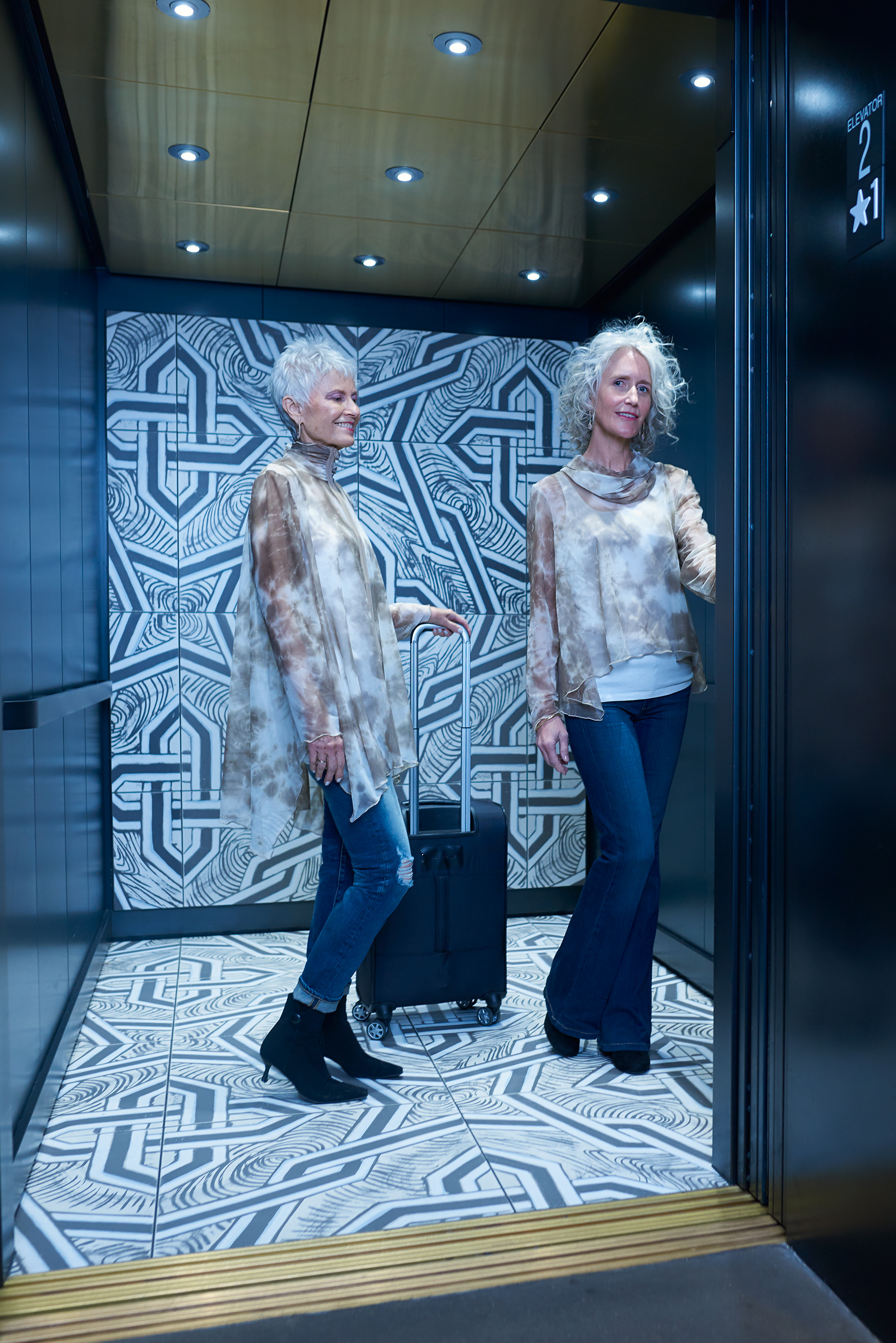 It was a privilege and honor to work with the beautiful model Mallory High.  In the above photo we are wearing Brooks' lifestyle mesh tops, which come in mocha, navy, or newspaper print and are available for purchase online HERE.  One size fits most, the pieces travel without wrinkles and wash quickly, and they make a unique statement. The tunic that I'm wearing is light and summer ready!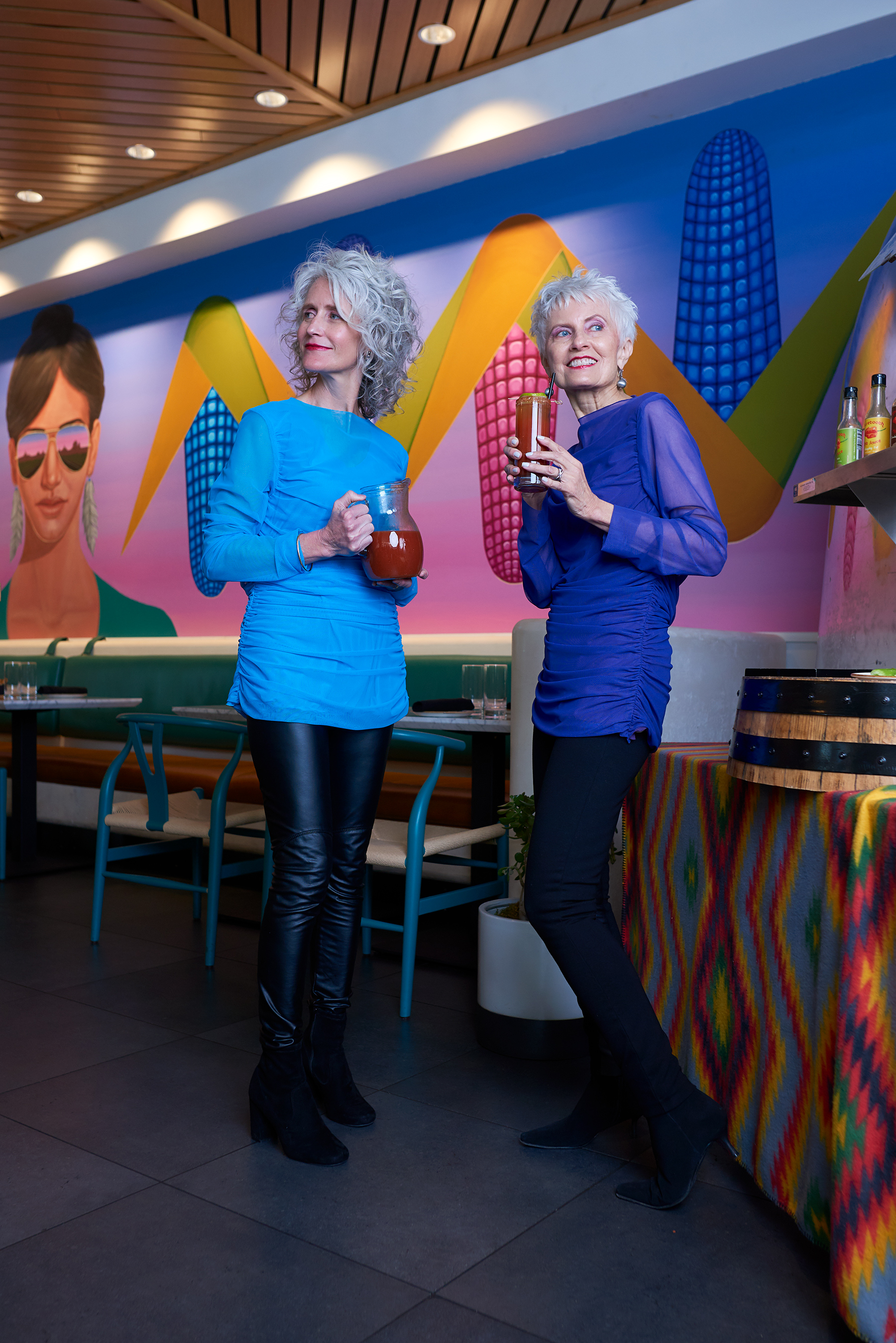 The gathered mesh tops in the photo above are also packable and can go day into evening.  I love how the bright blue colors play with the art on the walls of the Maven. This design is not available online, but can be special ordered.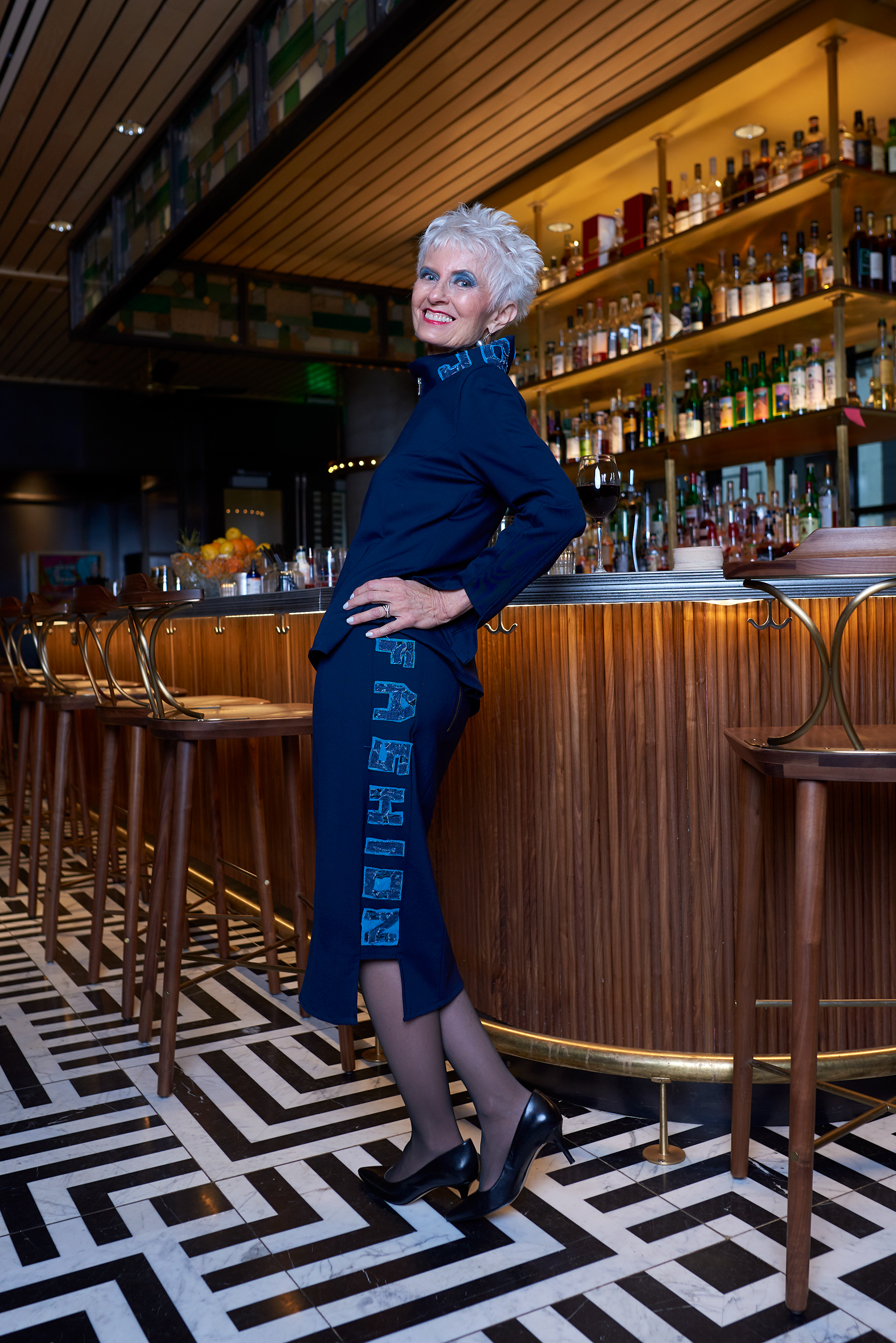 In the photo above I'm wearing a cotton and spandex one-of-a-kind suit, which is a dream for travel and the pieces can be worn separately to create a totally different look. The graphic design on the garment can be customized and the suit can be worn throughout the seasons.
The art of custom design requires a collaborative interaction between designer and client HERE.  Our friendship and love of fashion has proven unique each time we work together. Beginning with the concept to the final fitting, each piece is a unique original. All of Brooks' creations are designed and sewn locally by her in the LoDo district of Denver, Colorado.  Sustainability is important to me!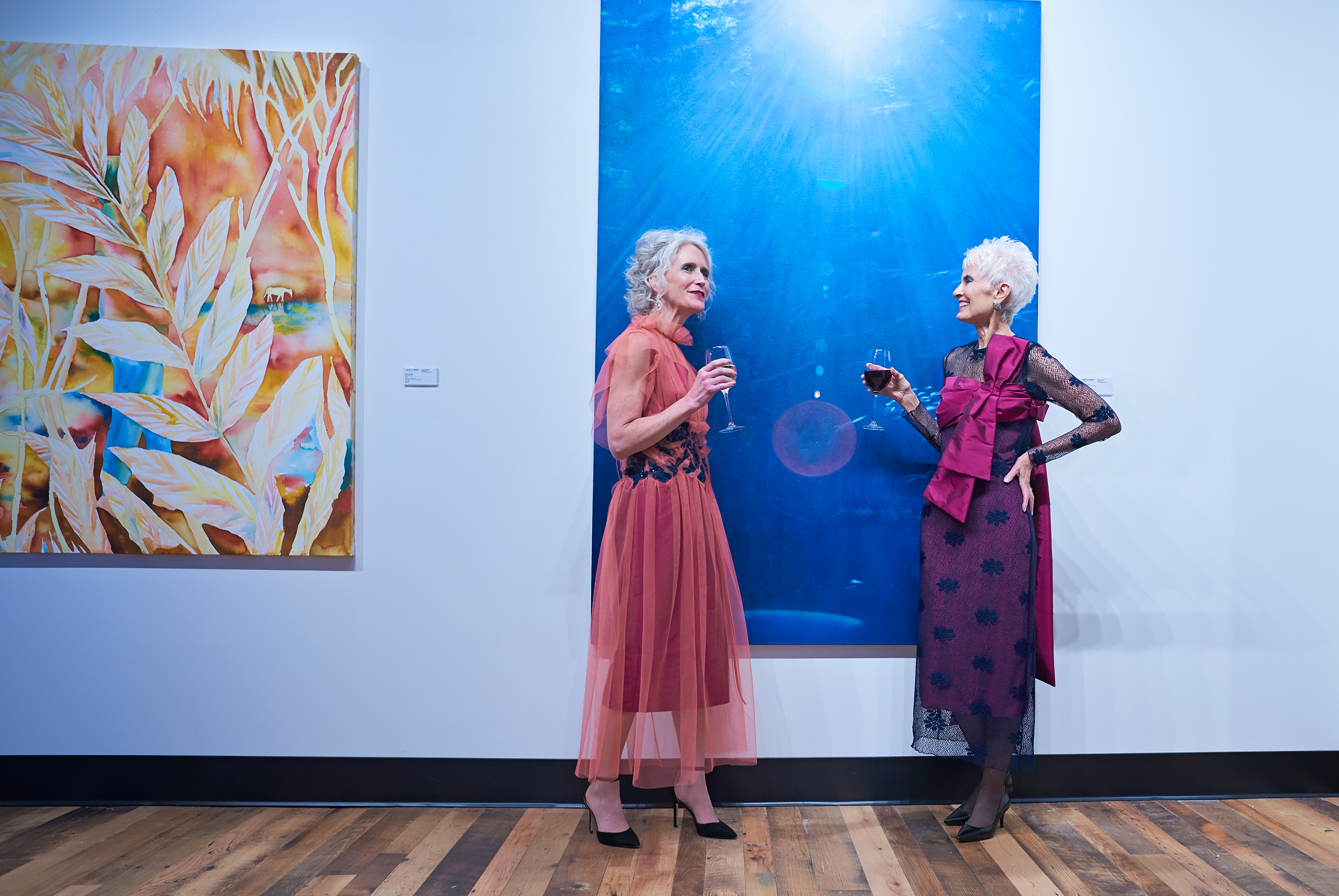 In the NINE dot ARTS Gallery HERE in the Maven Hotel, I'm wearing a one-of-a-kind sheath dress with a taffeta statement bow wrapped at the bodice.  Mallory is wearing a salmon tulle dress lined with fuchsia taffeta and adorned with hand stitched and appliquéd flowers.
This is not a sponsored post, but rather a collaboration with a treasured friend and a talented group of Denver artists who are listed below, along with their Instagram galleries.  I love the experience of working with a team of professionals who are devoted to their passion.
Photographer: JJConstantine @jjconstantinephoto HERE, Designer: Brooks LTD @brooksltd HERE, Models: The Style Crone and Mallory High @malloryhigh HERE, Coordinator: Mary Spicer @marylizspicer HERE, Hair: Stephanie Fugazzi @stephanie.fugazzi_hair HERE, Makeup: Tiaja Pierre @tiajamaisondebeaute HERE.