What to Wear to Yoga and More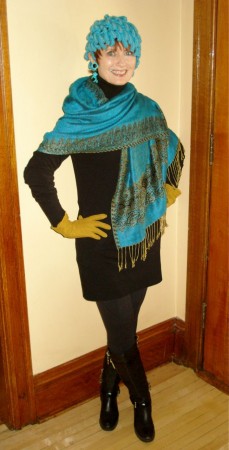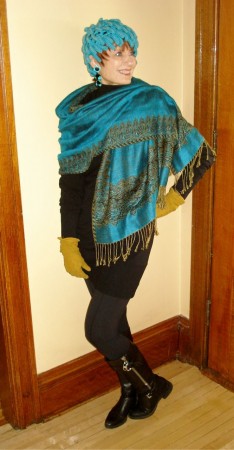 Photos by Nelson
Vintage turquoise knit headwear, vintage turquoise/black plastic dangle earring, vintage mustard gloves-estate sales, turquoise/mustard faux pashmina-street vendor, black yoga wear foundation.
The Style Crone enjoys putting outfits together that can travel from yoga to activities before or after class. This headwear looks like short turquoise dreadlocks to me, and never fails to bring a smile to my face when it catches my eye in The Hat Room.  It stopped me in my tracks yesterday, so I knew that it needed an outing.  So I gave it two!  Yesterday it went from yoga to lunch at a friend's home and today it did a quick coffee with friends followed by yoga and lunch with Camille.  The teacher in class spoke right to my heart with the words, 'Unclench your jaw and soften into your struggle.'  I will take that right home with me!
Our support system is extremely important right now.  I am grateful for our generous, talented, funny, brilliant and empathetic friends!  And for the supportive, loving, kind and extraordinary comments from the readers of Style Crone that at times bring me to tears. Thank you for all that you give!