What to Wear to Chemo #11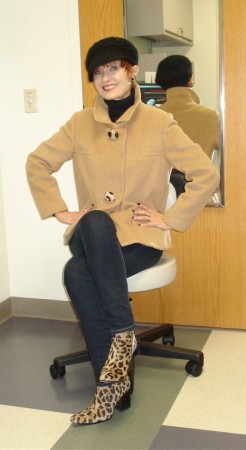 Photo by Nelson
Vintage 'Neusteter's' camel jacket with leopard print buttons and vintage leopard print earrings-estate sales, Donald Pliner leopard print boots-consignment store, jeans-Buffalo Exchange, Hortensia black knit cap-The Hat Shop.
Nelson chose to have three weeks between chemo treatments because he didn't want to be carrying a chemo pump on Thanksgiving Day.  Not a celebratory accessory!  However, leopard print is always a celebratory adornment to accompany us  back to the 'front', and there are new mysteries to be investigated.  Nelson is receiving only one chemo drug today because his liver lab values continue to increase.  The suspicion is that one of the drugs is negatively affecting his liver. Nelson saw the silver lining in a limited chemo regime, which means he will be feeling much better over the next two weeks. As one of my yoga teachers said the other day, "Find something you like about this pose."
And the possibility of a blood clot sent us down to radiology for an ultrasound.  A feeling of numbness clouds our activities as the medical team attempts to solve the enigma.  As it turns out, the diagnosis is a superficial clot, which requires no treatment at this time except for 'watch and wait' and the tincture of time.  We can do that!