The Meetup With Jean Of Dross Into Gold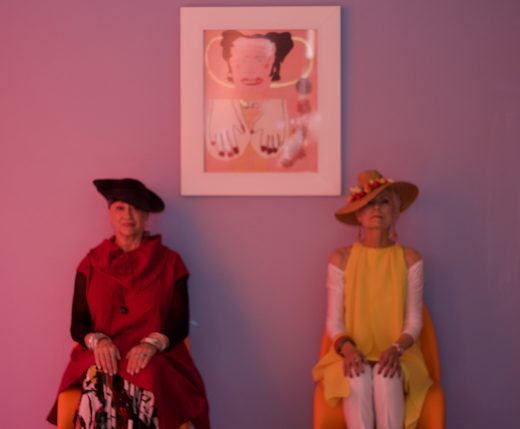 This past week I spent several days with the gorgeous blogger and instagrammer Jean of Dross Into Gold HERE, who was visiting Denver with her husband Joey Sommerville HERE.  Joey, a talented blues/jazz musician who plays the trumpet and keyboards and is an inspiring vocalist, was performing with his band over the weekend at the Genuine Jazz and Wine Festival in Copper Mountain HERE. It was the perfect opportunity to spend time reconnecting with Jean, which over the years has become a summer ritual.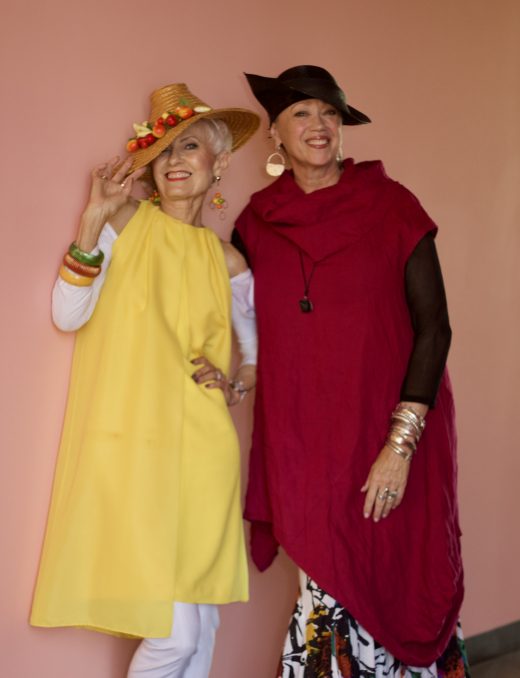 Jean was the first blogger that I met over six years ago, and we have been friends ever since.  She is creative, kind, brilliant, mischievous and talented.  We always have a wonderful time together, which includes cutting a wide swath through estate sales, thrift shops and consignment stores.  We have similar interests and endless energy in pursuit of our art.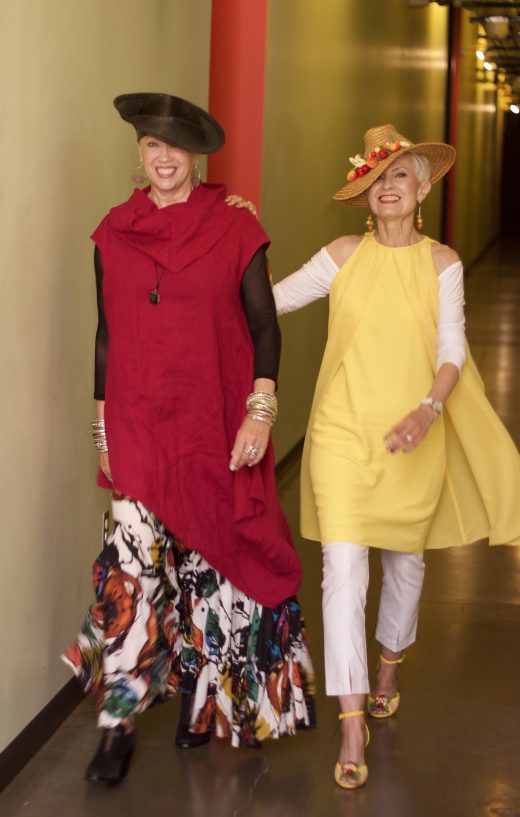 Jean's visit included a photo shoot with Daniel, which allowed for a tornado of laughter and creativity. We traveled to the Taxi Development HERE in the River North neighborhood of Denver, where we took residence in an office building which provided backgrounds with interesting and quirky spaces, art and brilliantly colored walls.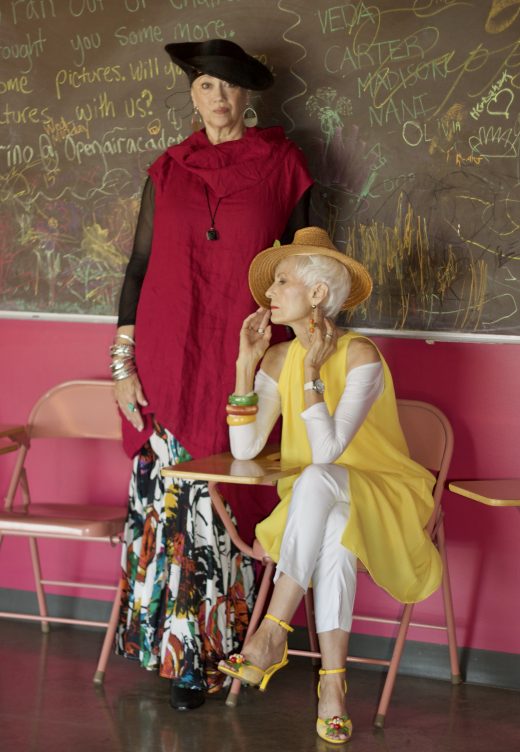 We took full advantage of scenes that inspired us, playfully collaborating, experimenting and creating. I can't think of a better way to spend time.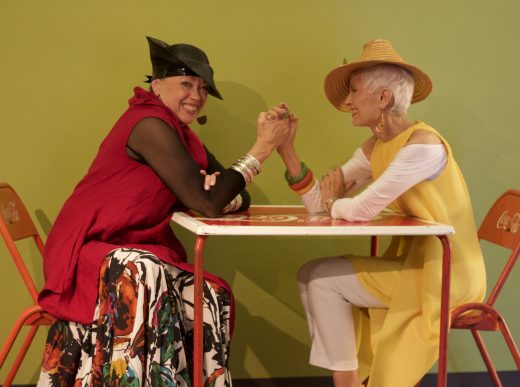 Arm wrestling anyone?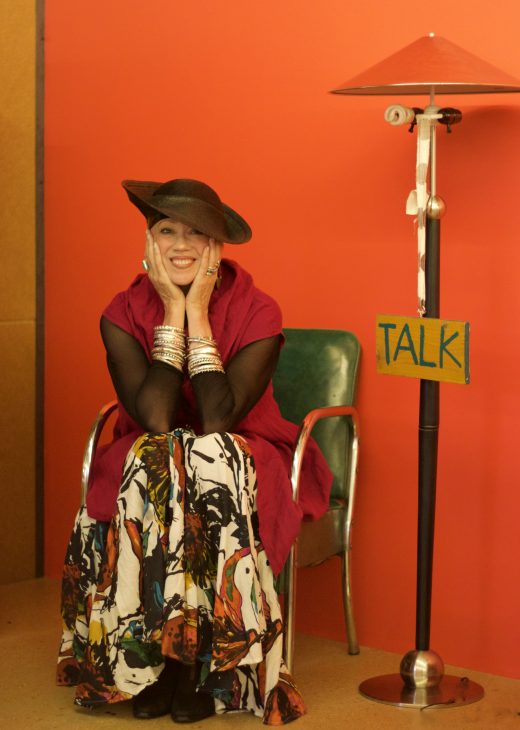 Jean is wearing a linen tunic from Ready Trading Taos HERE, a multicolored underskirt of her own design, earrings and necklace by Lynzee Lynx HERE, vintage Kokin HERE hat from the Style Crone hat collection, and her signature silver bangles that "sing" when she walks.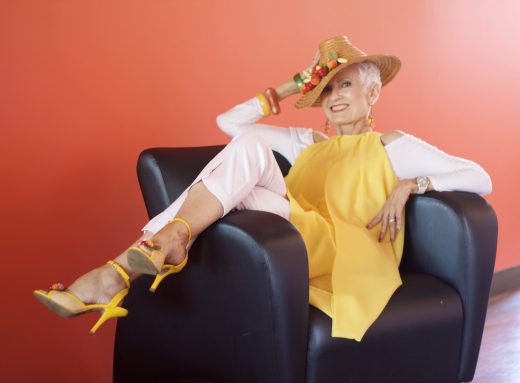 I'm wearing a vintage yellow tunic from Lili Vintage New Orleans HERE, a gifted vintage straw hat with fruit trim, estate sale vintage bracelets and earrings, and retail sale heeled sandals with fruit trim, purchased years ago.  The white background was purchased retail over the years.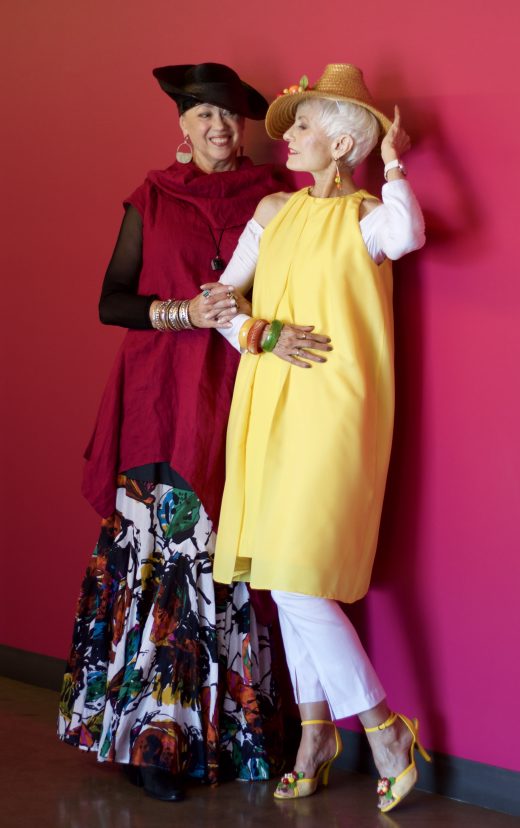 Daniel brought out the best of both of us with his humorous comments and his insightful direction.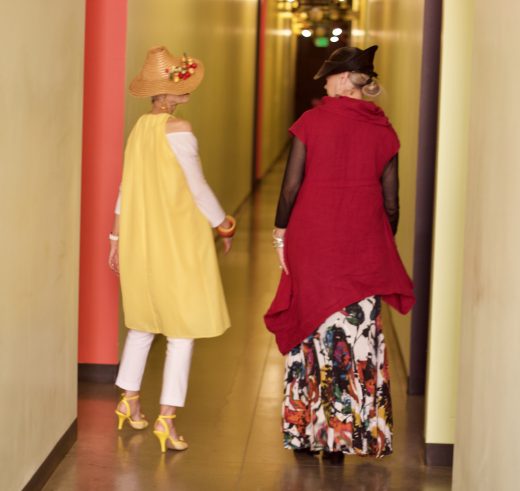 A candid shot in the hallway as we plot our next move.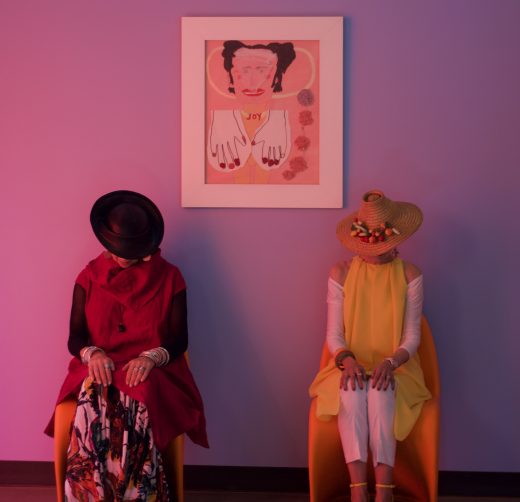 Photos By Daniel
In the above photo we're sitting under a piece by the iconic Denver artist Susan Wick HERE. Though our photo shoot had come to an end, our adventures have not.  There's always a next time to build on a relationship that evolved from the very best part of blogging, which is meeting people with similar interests, including the exploration of style and its magical power to heal and transform. Which I believe is what the world needs now.
Linking up with Catherine's #iwillwearwhatilike HERE at Not Dressed As Lamb, Patti's Visible Monday HERE at Not Dead Yet Style and Cherie's Shoe and Tell Fashion Link Up HERE at Style Nudge.