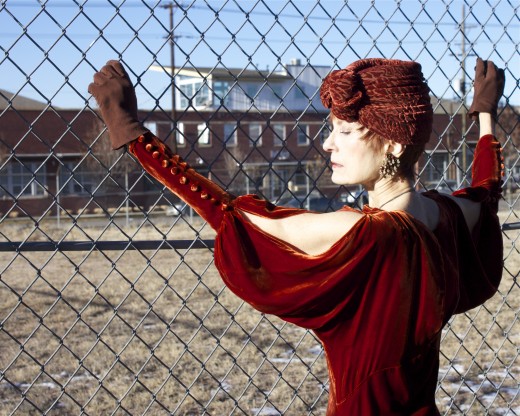 I've been ill this past week, after many years of life without even a short-lived virus to slow me down.  I have been humbled once again by how quickly life turns on a dime. Not life threatening, but energy draining and immobilizing, it was another reminder of the importance of health and well-being.
But the show must go on, and fortunately this post was waiting in the wings for completion prior to my malaise.  Continuing with the gown series, The SC and Daniel headed to the RiNo neighborhood in Denver HERE, knowing that we would find a few spots along the way for a touch of juxtaposition.  Making it up with no plan, we stopped whenever we came upon a location of interest. This chain link fence against the clear blue sky of a crisp January afternoon became our first opportunity.
Magically a mural appeared on the wall of a building not far from the fence.  Multi-colored and bold, it felt perfect as background for the vintage rust colored silk velvet gown with billowy open sleeves adorned with covered buttons.  Estate sale vintage brown suede gloves added warmth as they harmonized with vintage brown suede pumps.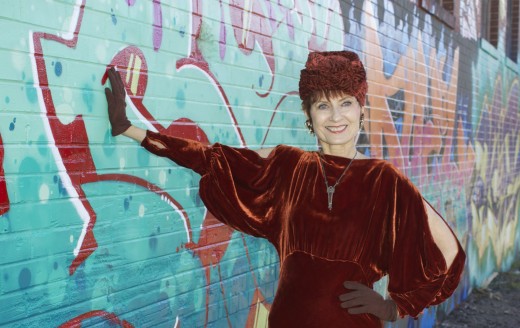 The rust silk velvet turban was custom-made for the gown by Jean Bjorn HERE, a talented milliner who lived in Denver over 20 years ago.  I wore this ensemble to holiday parties during that era,  spending hours dancing in its silk velvet splendor.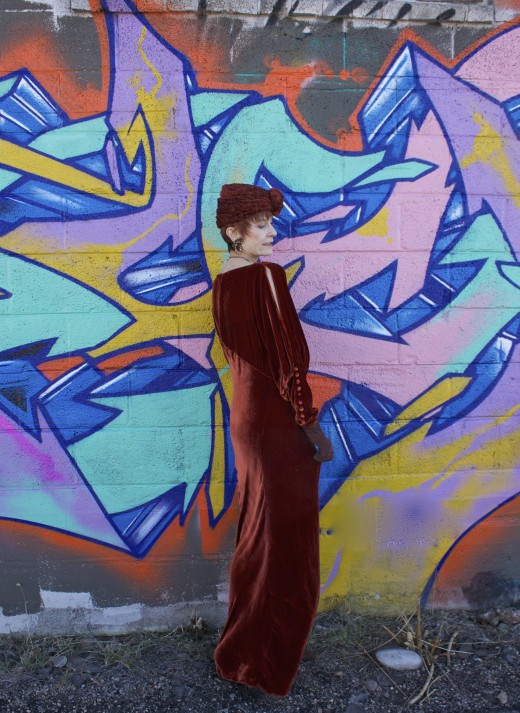 Today I'm giving this gown new life, and loving its drape, texture, lines and intricate details.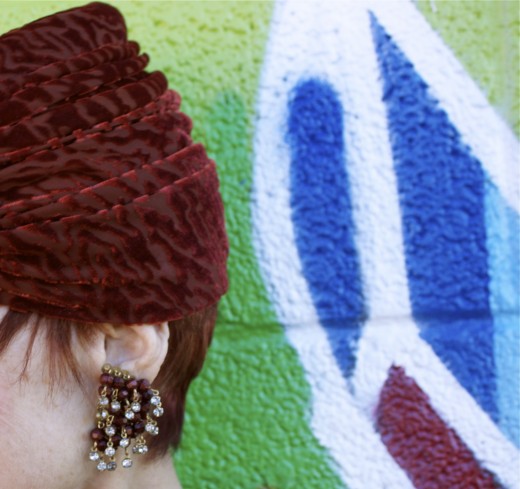 I accessorized with estate sale vintage earrings with movement and a gifted deco pendant.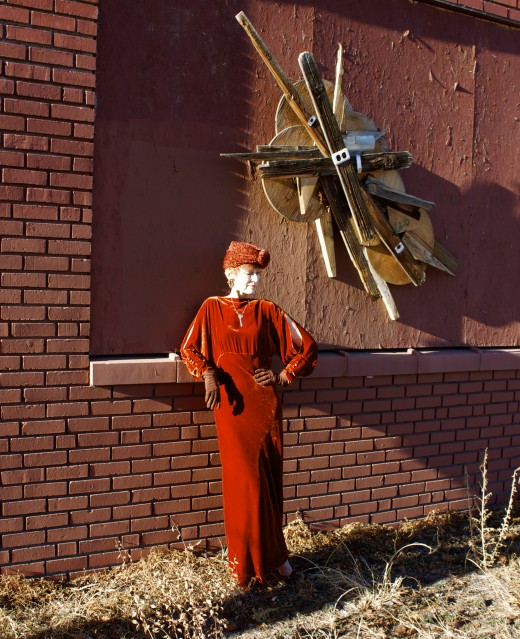 Photos By Daniel
Across the street from the mural was a brick building with an art installation displayed prominently on its wall, which appeared to be a painter's palette made of skis. The sun felt luscious, landing on the bricks and my gown with its appreciated warmth. In less than one block we found everything we needed as our photo playground, with the only goal of having fun.  I consider it an afternoon well spent!
I'm linking up with Patti's Visible Monday HERE at Not Dead Yet Style.  She's looking gorgeous in her Karina dress and brilliant smile.