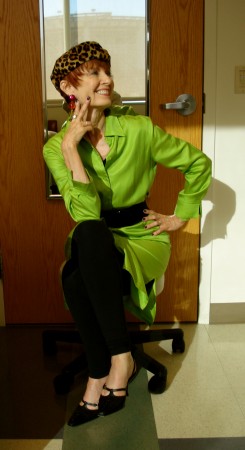 Photo by Nelson
Green jacket, hat, belt and shoes-estate sales, earrings-NYC flea market, yoga pants.
Here we are in "chemo-land" again and Nelson's tumor markers are sliding up and his liver function values are "out of whack."  Must be that one glass of wine last Friday evening (oh how I wish that was true).  Or maybe it's the drugs he received during his surgical procedure.  So that means PET scan next week, so will need to get my outfit together for that festive event.
Nelson said today after our exam room photo shoot, "When I see myself in the mirror I look so healthy. I have to fight the feeling that some day the dam is going to burst."  When The SC looks at Nelson, he appears healthy and I have the same struggle in my heart.