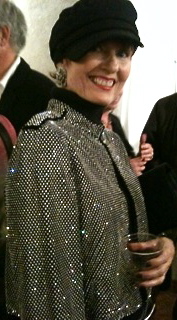 Photo by Total Stranger
A friend captured me for an evening of frivolity, and The Style Crone wore her vintage rhinestone jacket purchased at a thrift store during a "hit & run" lunch hour at work years ago.  I could hardly believe my good fortune!  The label is Stavropoulos (New York and Athens) with another label Martha (New York, Bal Harbour, Palm Beach).  Every rhinestone is perfectly in place and when the sun hits the jacket, brilliant rainbows dance playfully across every surface in sight!  A disco ball jacket!
We attended a benefit where I had the honor of meeting Mondo, runner-up on Project Runway this season.  He was totally delightful and stunning in black and fuschia.  He revealed that he started his career with millinery, which endeared him to me immediately.  Then on to a friend's art show where this photo was taken and sent to my email before I returned home.  An evening of fun from beginning to end in the company of friends and new acquaintances, accompanied by "sparkles-a-plenty!"  Much gratitude!