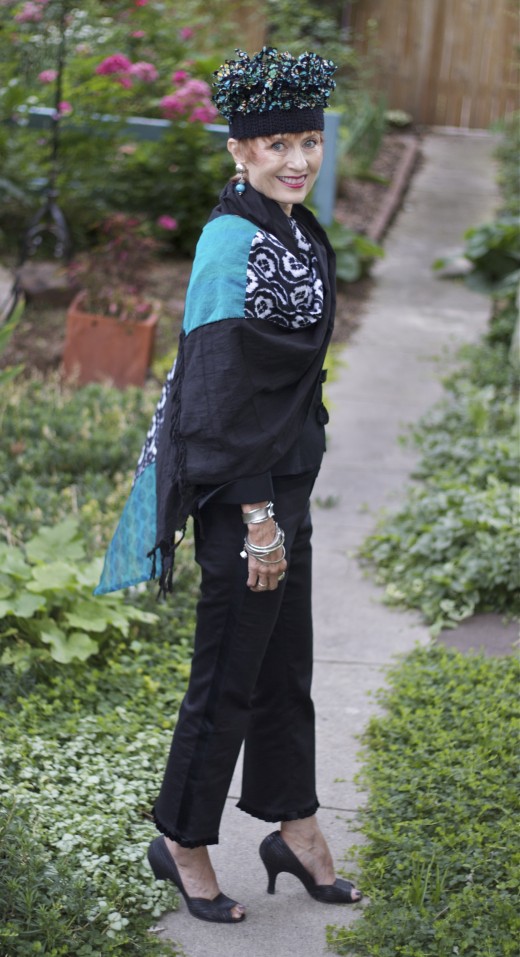 Photo By Daniel
The connections and friendships that develop over time with the wonderful people who I've met through blogging and with Instagram have been incredible gifts that would not have been received without the extraordinary power of the internet. To meet some of these like-minded beauties in real life has created memorable experiences that I would never have thought possible.  Many times we share similar interests, but no matter where on the planet they live, the time spent together is always magical and spirited.
In May I was graced with a visit by Sarah Jane Adams of the Instagram site saramaijewels HERE and of the website Saramai HERE .  On her site she sells the gorgeous jewelry that she designs, which evolved from her passion and many years of experience with handling and selling antique pieces. Check out her interview on Sylvia's 40+Style HERE to learn more about this amazing woman who is "a little bit vintage, a little bit street."
Sarah is from Australia and was accompanied by her husband David, the gentleman who takes her magnificent photos.  They flew in from NYC, stopping in Denver to then drive to Las Vegas for a jewelry show.  They had many stories to tell about their recent adventures in NYC and Philadelphia and of their many years spent traveling the world. I was all ears!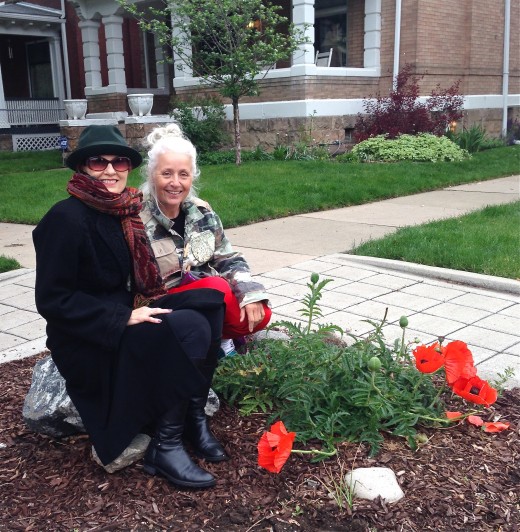 Photos By David
We share a love for yoga, so Sarah and I indulged in an early morning class at my studio before she and David left on their road trip. Sarah is authentic and real in every way and even more beautiful in person.  Her gorgeous white hair tops off every creative outfit that she composes.  When the light hits her hair at the perfect angle, it appears as a halo framing her face.  It was a meetup to be treasured and remembered always.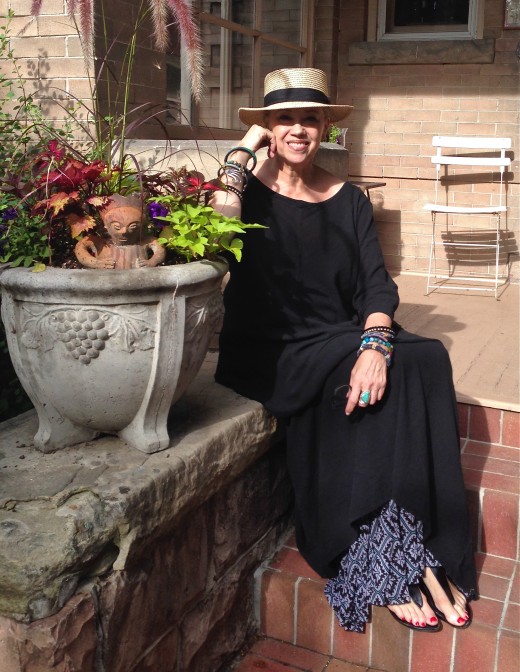 Photo By The SC
In July I was honored by a visit from Jean of Dross Into Gold HERE and her Instagram site  HERE.  Jean was in Denver to catch the Jazz And Wine Festival in Keystone HERE, where her husband, jazz musician Joey Sommerville HERE, was scheduled to perform.  Unfortunately, his flight was cancelled following an earlier performance in Ohio, and he didn't make it in time for the Colorado show.
Our plans changed because of this shift, and we focused on our common love of exploring estate sales and thrift shops.  Instead of traveling to the mountains and taking photos at the concert, we talked about everything under the sun, explored Denver neighborhoods, and went with the flow of the day.  Photography took a back seat to enjoying the moments that we shared and finding treasures along the way.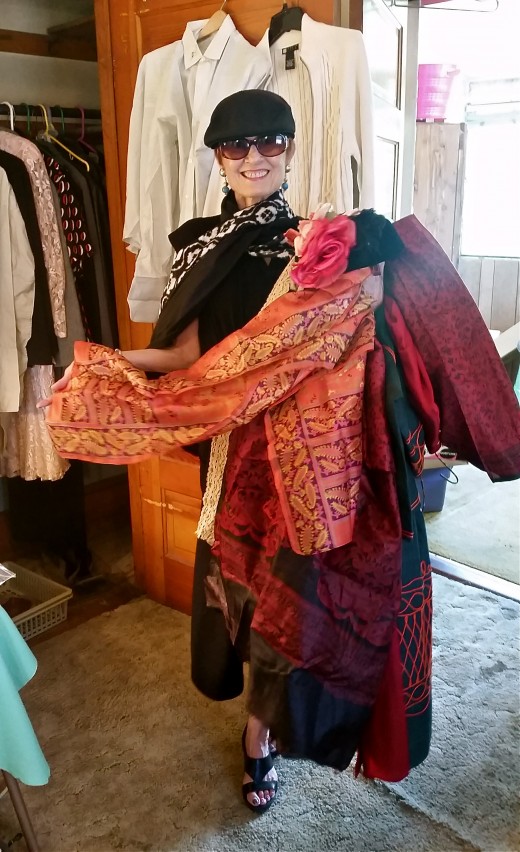 Photo By Jean
Jean caught me in "estate sale mode," with a pile of purchase possibilities draped across my arms. It was a whirlwind weekend of fun and fabulous finds.  Jean is gorgeous, kind, fun and engaging; she's the first blogger that I met after launching Style Crone and I continue to be amazed by her style, skills and artistry.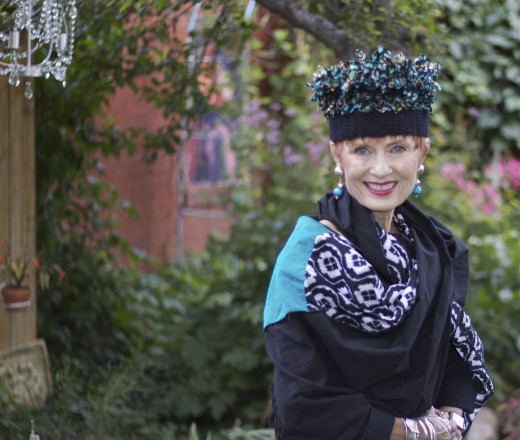 Photo By Daniel
Jean is a talented upcycle artist, discovering fabrics and pieces in thrift shops and then creating new designs from previously loved garments.  She generously gifted me with this handcrafted hat and the "better than infinity scarf,"  both of which I'm wearing in the first photo on this post and the image above.  I love the textures, mix of colors and creativity of her designs.  She has an "eye" for the unique and beautiful and I enjoyed every moment of her visit.
Along with Jean"s creations, I'm wearing black cropped cotton tuxedo pants from a consignment store and heeled open-toe pumps and jewelry from estate sales.