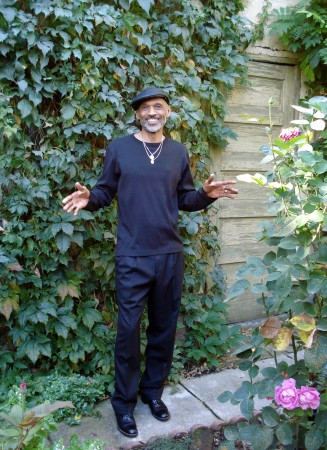 Photo by The Style Crone
Black leather Kangol newsboy cap purchased around the corner from the chihuahua dogsitting gig in the West Village NYC December '09, black Banana Republic long sleeved T bought in the Washington Square area NYC for Camille's Alvin Ailey student performance June '01, black Stacy Adams shoes which carry memories of dancing many the night away at some R&B club.  Nelson can make any outfit shine!
I look upon Nelson and his beauty, inside and out, and I can't believe or accept that we are in the midst of this medical crisis.  With grace and elegance and inspiring to all, he has endured over five and one half years of treatment: radiation; hyperthermia; PET scans and a multitude of other scans, scopes and tests; surgical procedures too numerous to count, and now the fifth (I think, because it's difficult to keep track) series of intense and brutal chemo.  And apparently gone are the days when tumor markers obediently glided downward in response to the powerful drugs. In its place are blood test values that chaotically leap helter/skelter and our emotions follow in their path in similar unpredictability.  Yet Nelson continues to present the picture of radiant health and vitality, except for about five days after chemo (which is every two weeks).  Check out those kind and mischievous eyes that the SC has had the pleasure of looking into since 1977.  What cosmic trick is in the works?  I am immensely grateful for the many years that I have had by his side, and now sad, fearful, and helpless to change the course of what's to come.  The feelings that I can't seem to "yoga" away.  Or stay in the moment of this very day.  Enjoying his humor and deepness of thought, word, and deed.