Italy, You Cast A Spell On Me
VENICE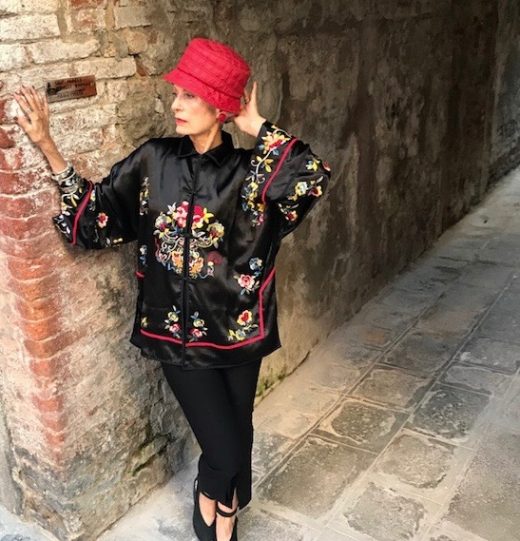 It's been almost a month since I returned home from Italy, and I'm just now posting about my travel experiences.  It took time to catch up with my life in Denver, integrate all that I learned and stabilize once again.  It's past time to seasonally change the hat room, which is always an intense project.  I have been in the unfortunate space of "blogger's block,"  struggling to find my voice and my ability to write. Hopefully today will be the day that my blogging routine will be back on track.
I'm including two images of the four cities that we visited.  The second photo of each location is not necessarily the "best" image, but rather the most impactful in terms of my emotional response in the moment.
Our Italian adventure began in Venice and the above photo was taken in an ancient part of the city, with winding narrow streets that always ended in a square filled with gatherings of people and children at play.  It was easy to get lost in the labyrinth, enjoying the scenery along the way.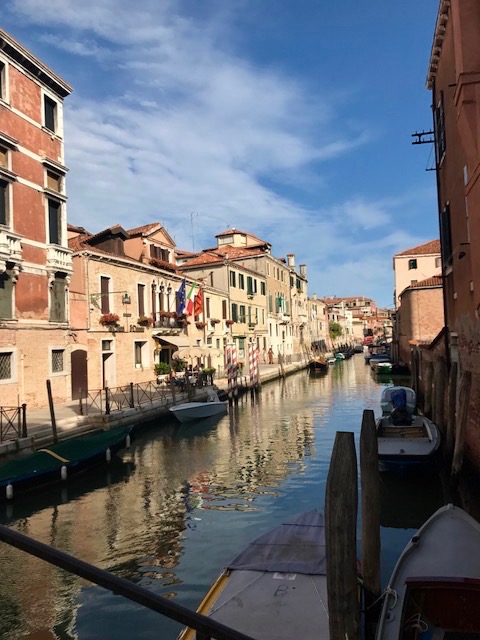 There are no cars, motorcycles or bicycles in this gorgeous city of canals.  It was a respite from the noise of most cities, as everyone traveled by water.  The concept was appealing and magical, and we took full advantage of walking and traveling by boat or water taxi.
The food throughout our trip was beyond my expectations. Food was treated lovingly and served with immense personal pride. Pasta was king and the fish was superb.  And don't let me get started on the wine!
FLORENCE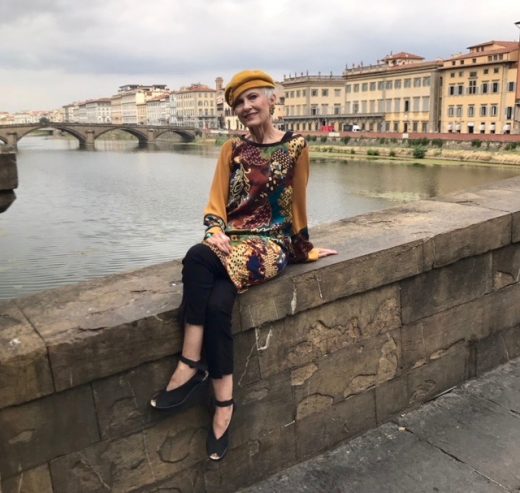 The beauty of Florence was breathtaking and the historical sites filled me with a sense of wonder.  Considered the birthplace of the Renaissance, its history was apparent around every corner.  Wandering the streets and discovering architecture, art, restaurants and shops was my favorite activity.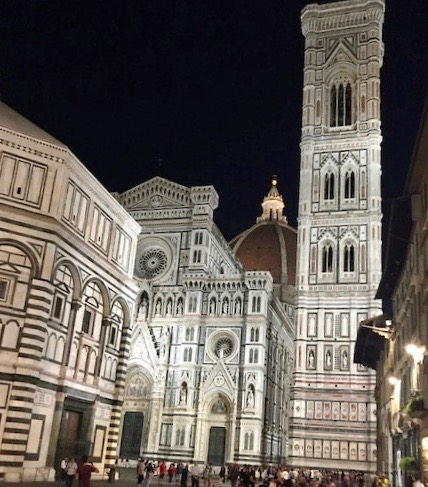 One night in Florence we happened upon the Basilica of Saint Mary of the Flower.  I'll never forget the splendor that magically appeared: I took a seat to absorb the view. This photo was taken during that moment of awe.
ROME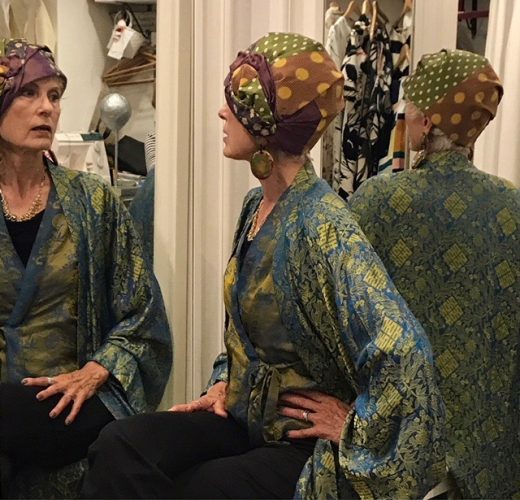 And then there was Rome!  Cobblestones, ruins, the electricity of the people, the Spanish Steps, the Colosseum, the Vatican, the art, the many fountains and sculptures.  My heart beats faster now as I recall memories and feel inadequate to put into words our experiences.
We happened upon a shop owned by a Danish-born fashion designer who has lived in Rome for 25 years.  Her sewing machine sits at the back of her shop and she designs and creates every piece of wearable art that she sells.  In the photo above I'm wearing a fabric cloche by the shop's proprietress ,Tina Sondergaard HERE  that just happened to harmonize with my outfit of the day. She single-handedly convinced us that visiting Scandinavia should be in our future. It was connections similar to this that happened everywhere we went.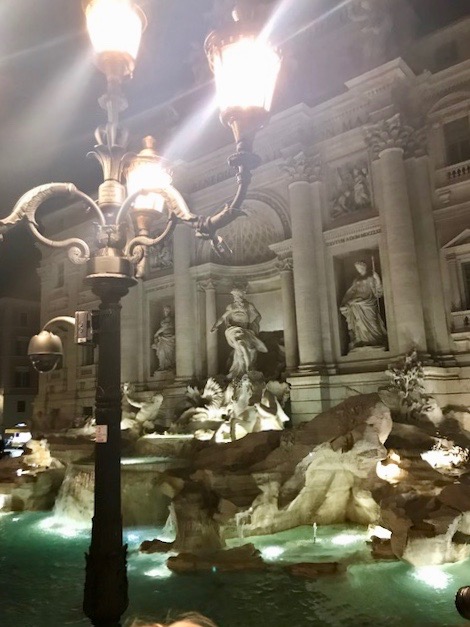 During our first evening in Rome, after a delicious Italian dinner in a small family owned restaurant, we wandered around a corner and discovered the Trevi Fountain. One of the most famous fountains in the world, it captured my heart.  It was the moment that I fell in love with Rome.
POSITANO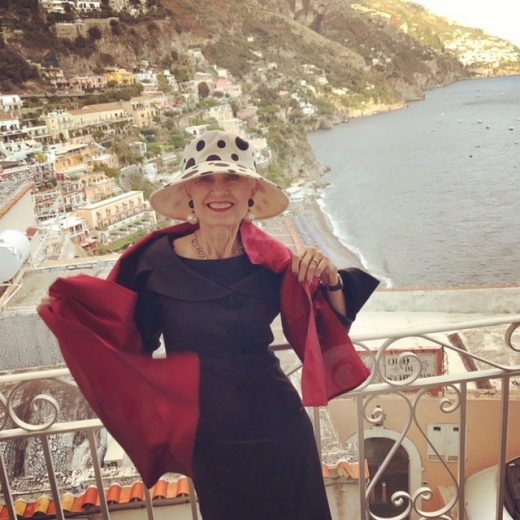 Positano, a cliffside village on southern Italy's Amalfi Coast, offered endless views and steep, narrow streets.  The town is perched on an enclave on the face of a hill and winds down towards the waters of the Mediterranean.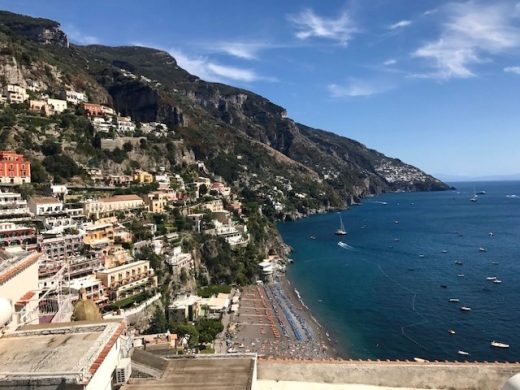 Positano was the perfect place to end our Italian adventure.  Though the town was filled with people from all over the world, it was charming and the ceramic shops were filled with exquisite pieces. A slower pace was appreciated after the intensity of Rome.
I used to think that my home, built in 1907, was old. I now have a different perspective after experiencing structures that were built centuries ago.  Travel is the best form of education. To be a guest in another culture is a gift of immense proportions.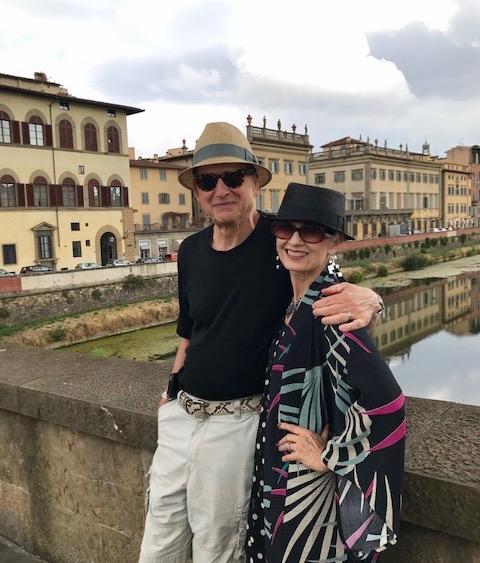 Mr. J is a wonderfully kind and mellow traveling companion. Together we navigated the challenges and transitions of travel with grace and humor, along with open minds and hearts. Our time in Italy has motivated me to continue to focus on health so that we can create more travel adventures during this time of life, which makes me feel more alive, engaged and energized.  For this I am grateful.